This Is Who Princess Diana's Niece, Kitty Spencer, Is Married To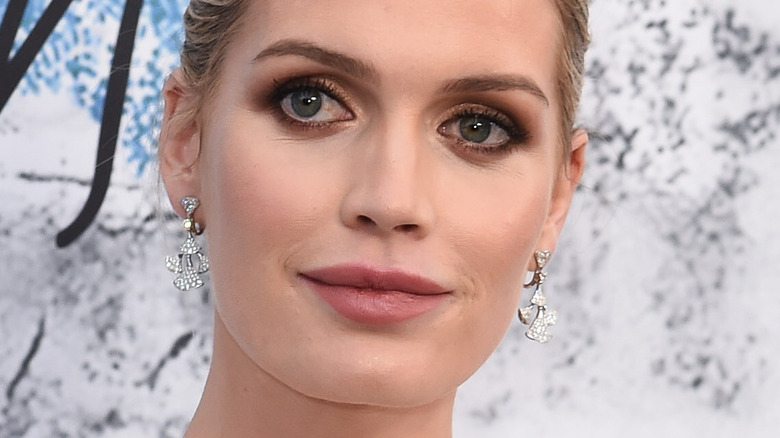 Shutterstock
Many of Princess Diana's relatives were in Rome in July 2021 for the wedding of her niece, Lady Kitty Spencer. The 30-year-old model tied the knot with South Africa-born billionaire Michael Lewis, who at 62 is just five years older than the bride's father, Earl Charles Spencer (per Daily Mail). 
Lewis, owner of high-end fashion chains Whistles and Phase Eight, was born into wealth. His grandfather founded a furniture company in the 1930s, which Lewis' father later leveraged "to buy a stake in clothing retailer Foschini Group in the 1980s" (per The Sun). Lewis has been the chairman of the board at Foschini Group since 2015. With a net worth at a reported $110 million, Lewis owns a $26 million mansion in London and a home in South Africa. He also has three grown children whom he shares with his first wife, Leola.
While Lewis and Spencer haven't revealed how they met, they were first spotted together in May 2018. The two have a lot in common, as Spencer was born in the U.K. and raised in South Africa. She later moved to London, where she works as a model for high-end brands, including Bulgari and Dolce & Gabbana (per Insider). Lewis reportedly popped the question before Christmas 2019. "She's been in Cape Town for the holidays and told her mother and the rest of the family," a source told Daily Mail. "Michael is loved by all of them. Despite his wealth, he's very humble and low key."
Kitty Spencer & Michael Lewis had a lavish Italian wedding
Lady Kitty Spencer married billionaire Michael Lewis at a lavish wedding in Rome. As the eldest daughter of Earl Charles Spencer, she is the niece of Princess Diana and a first cousin to Prince William and Prince Harry. Yet it doesn't appear that either brother was at Spencer's nuptials. In fact, it is unknown if Charles was in Italy for his daughter's wedding as her two brothers walked her down the aisle (per Independent).
Some of the notable guests in attendance included Idris Elba and his wife Sabrina, "Made in Chelsea" star Mark Francis Vandelli, and singer Pixie Lott. Spencer's sisters, Eliza and Amelia, as well as Lewis' three children, were also on hand to celebrate with the happy couple. You can see her gorgeous bridal gown in a photo of the newlyweds, via Instagram.
As for the age gap between the newlyweds — Spencer is 30 and Lewis is 62 — the bride has made it clear that she is not worried about what others think about the relationship. "You open yourself up to other people having opinions, and it just isn't relevant to anybody's life but mine and my family's," she has said (per Hello!). "I just look forward to a really happy home life: a happy marriage and happy children. And I feel very at peace that things play out the way they should."