The Truth About Michelle Obama And Oprah's Relationship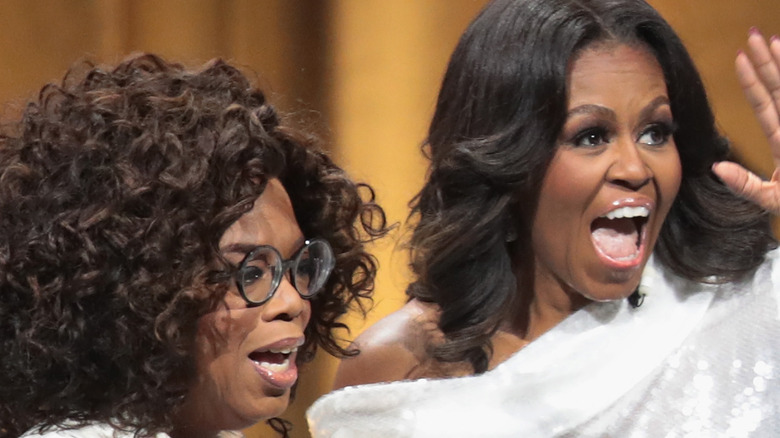 Scott Olson/Getty Images
We may receive a commission on purchases made from links.
Long before Oprah Winfrey became known for bagging the head turning interview with Prince Harry and Meghan Markle, she was every woman's girlfriend — the woman you turned to for advice for everything from books to cosmetics. So it would be easy to see why tongues wagged when she first endorsed a young obscure senator named Barack Obama for the presidency back in 2007 (via NPR). The decision was controversial at the time, because it was seen as a betrayal by some quarters of her gender — Obama, after all, was running against Hillary Clinton (via The New York Times). 
While it had always been assumed that Oprah and the Obamas shared a friendship, doubts started flying when former New York Times Magazine editor and New York Times bestselling author Edward Klein claimed in a 2012 book called "The Amateur" that then First Lady Michelle wasn't keen on the influence Oprah had over her husband. Klein also said that Michelle had a few unkind words about the influential star's weight (via The Telegraph). But is there truth to the reported rumors? 
Questions about Michelle Obama and Oprah Winfrey's friendship were raised by a 2012 tell-all book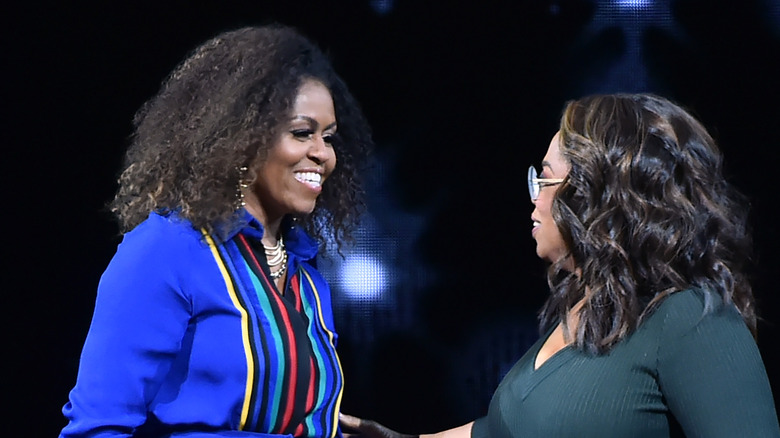 Theo Wargo/Getty Images
Because Edward Klein's 2012 book became a bestseller when it was released (one Amazon reviewer called the book "interesting and informative" and added, "I was well aware of the control that Axelrod and Emanuel had over him, however did not quite realize how much control Valerie J. and Michele had over him. I did learn that by reading this book"), it succeeded in putting the spotlight on Michelle Obama and Oprah Winfrey's relationship.
And while neither the White House nor Oprah Winfrey had much to say about the allegations at the time (via The Telegraph), a lot of water has flowed under the bridge since 2012. Autobiographies have been written, and countless conversations have taken place, most notably between Oprah Winfrey and Michelle Obama about the latter's bestselling book "Becoming" (via Oprah Daily). It has become clear that if, in fact, there was any ill will between the two women, that is well and truly in the past. 
Time has also provided media outlets like The Guardian the opportunity to question the truth to various claims that author Edward Klein put forward in his books. Some of his books, notably those involving the Clintons, raised the eyebrows of peers like Vanity Fair's Tina Brown. In an email, she said that while "Klein used to be a workmanlike scribe ... Ed figured out where the big bucks were and tailored his 'reporting' accordingly."