The Mineral Sunscreen Dermatologists Are Loving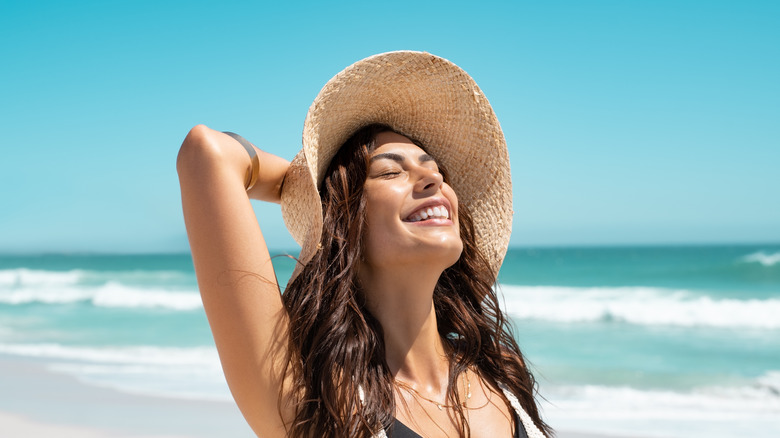 Shutterstock
Regularly using sunscreen is among the best ways to prevent skin cancer, according to the Skin Cancer Foundation. However, if you happen to have sensitive skin, you know how difficult it can be to find a good sunscreen that provides excellent UV protection without irritating your skin. You may even find yourself skipping the facial sunscreen altogether and following some of the other best practices instead, such as finding shade between the hours of 10 a.m. and 4 p.m. or using a broad-brimmed sun hat to protect your skin (via Skin Cancer Foundation). 
There's good news, though — especially if you have sensitive skin. Instead of using a chemical sunscreen, you can choose from one of the many mineral sunscreens on the market. 
Orit Markowitz, board-certified dermatologist and founder of OptiSkin in NYC, told Glamour that mineral sunscreen "is a type of sunscreen that is formulated with the minerals zinc oxide or titanium oxide — or sometimes both — as the active ingredient that provides UV protection. The minerals sit on your skin's surface and act like microscopic mirrors to reflect harmful rays." 
A potential issue with mineral sunscreen, though, is that it tends to have a reputation for leaving a white hue on your skin. However, one dermatologist-recommended version not only comes in powder form, but it also comes packaged inside its own brush, making it a breeze to use every day (via Everygirl). 
Here's the powder mineral sunscreen that's safe and easy to use
The Sunforgettable Total Protection Brush-On Shield SPF 50 is a great powder mineral sunscreen that comes with a built-in brush, per Colorescience. "This is my go-to mineral sunscreen because it makes reapplying so easy," Mona Gohara, MD, associate clinical professor of dermatology at Yale, told Everygirl. Even better, this convenient sun protection is the only powdered sunscreen that received the active use approval seal from the Skin Cancer Foundation (via Colorescience). Not only is it protective against UBA and UVA rays, but it's also water-resistant for up to 80 minutes, making it a great choice for daily use. 
Everygirl notes that the mineral powder comes tinted to provide a hint of coverage without causing breakouts or skin irritation, and it's packaged with the brush on the end of the container, making it easy to apply and reapply as needed. The Colorescience website shows that the product comes in four shades ranging from fair to deep hues. With a 4.7 star rating out of 5 stars, this unique and convenient mineral sunscreen seems like it's worth trying, especially if you have sensitive skin.