How To Pull Off Hot Goth, The Trendy New Post-Pandemic Look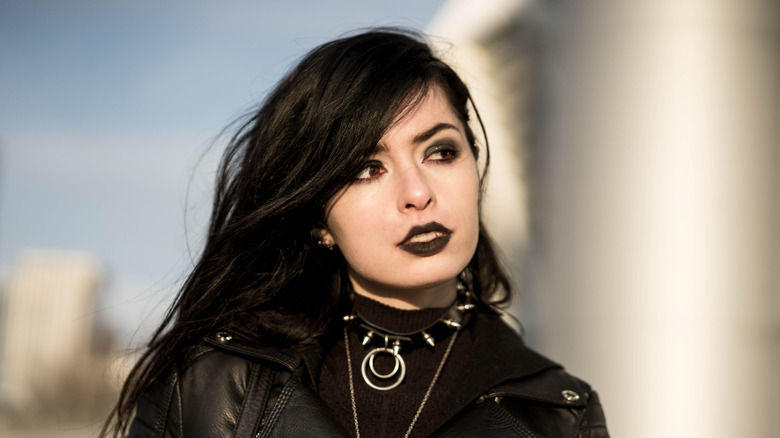 Shutterstock
More places are opened up, more people are vaccinated, and more fashion trends are ready to be shown off and worn! One, in particular, is the hot goth look. It has been seen from brands such as La Perla, Alexander McQueen, and Gucci and at stores including Unique Vintage, Dolls Kill, and Killstar. There are rules to pulling off these clothing items, though.
First of all, as stated by The VOU, one must avoid looking like they are dressing up for Halloween. Think less is more when putting together an alternative outfit, as incorporating too many gothic and grunge pieces can lead to a costume-y feel. W Magazine suggested opting for a spiked collar necklace, some funky platform shoes, or (not and) plaid clothes, as well as trying out things like harnesses and fishnets.
In addition, Rebels Market reminded people that corsets, combat boots, and band tees can help ease into and pull off this trend.
Incorporate these elements into your outfit to hop on the hot goth trend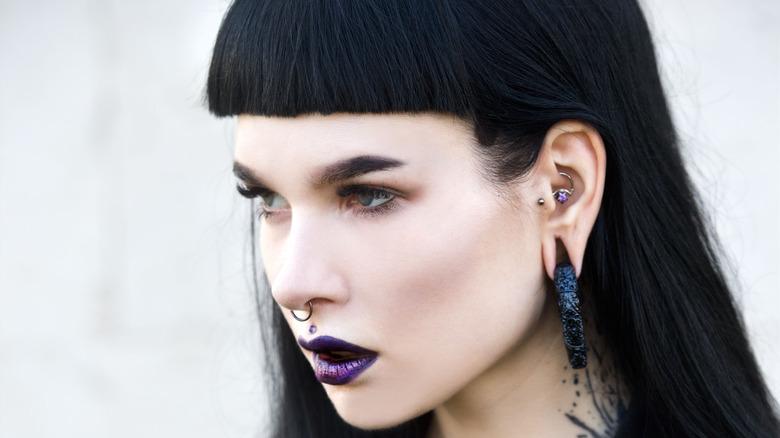 Shutterstock
While black is a go-to color within the realm of goth, it also incorporates punk, cyber, industrial, and Victorian elements, so feel free to get creative with mixing and matching (via Outfit Trends). To pull off this trend, think slip dresses with combat boots, pieces in deep red velvets, black drop tops paired with black leather mini skirts, and clothes that feature hardware. Also try out lots of straps and layers that have a steampunk vibe, neon touches added to all-black looks, and hair and makeup options that take a walk on the wild side.
While there are designers and shops, such as the ones listed out above, that specialize in this style, there are pieces in your closet now that could help build out the perfect hot goth ensemble. It's okay to start with a slow attempt by adding one and then more of these elements. Just remember to watch for that cut-off point, since a goth costume is much different than this current post-pandemic trend.