Top 10 Ideas To Elevate Your Silver Hair Style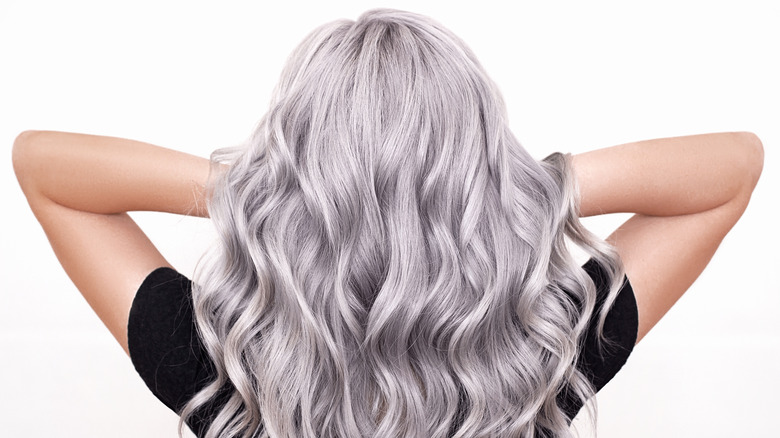 Shutterstock
Once upon a time, women whose hair had gone grey or silver felt the unyiedling societal pressure to dye it. Silver hair was long associated with aging, and in our culture, youth has long been equated with beauty. Thankfully, in 2021, beauty standards are becoming more inclusive in a number of ways, and one major hair trend is illuminating that fact. Not only are folks with naturally silver hair allowing their locks to fly free and without dye, but people are actually dying their hair silver to achieve a sophisticated, sexy look at any age (via Latest Hairstyles). 
 Even Kylie, one of the top influencers around, has gone silver. So if you're hoping to get in on the trend, whether with dyed hair or with your natural silver locks, here are some ways you can take the trend to the next level and affirm once and for all that silver hair is in!  
How to choose a shade of silver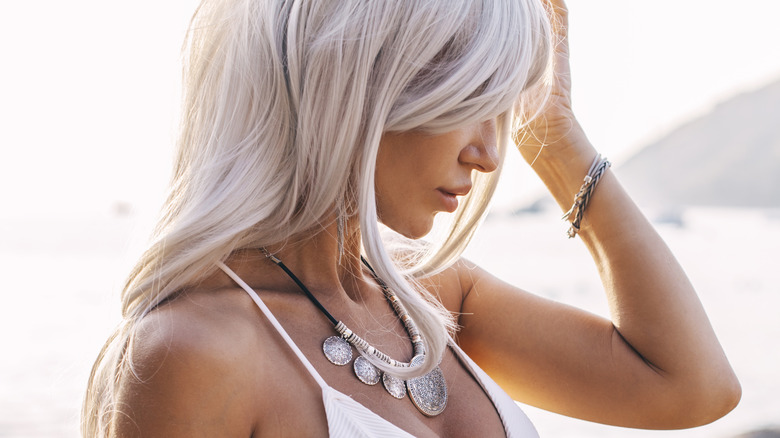 Shutterstock
If you are wanting to get in on the silver trend but aren't ready to go full silver, you could consider silver-toned highlights (via Hair Adviser). No matter your natural hair color,  stylist is likely to help you find a silver hue that would compliment your color rather than looking like too harsh a contrast. Another interesting option is to intentionally allow darker roots to show through and do an ombre-type color scheme (via Latest Hairstyles).   
Depending on your natural hair color and your skin tone, different shades of silver may look best on you. If, for instance, you're someone who would be flattered by a platinum blonde color, then choosing a white-silver shade may look fabulous on you (via Latest Hairstyles). It's also a great shade choice if you have thinner hair, as it can give the appearance of fuller locks. 
Another interesting shade choice is silver and rose gold highlights and lowlights (via Latest Hairstyles). While warm colors and cool colors are often thought to be the very opposite of complimentary toward each other, this combination can be stunningly beautiful on your hair! You can also combine silver with a colorful highlight or lowlight like slivery lavender.   
How to style your silver hair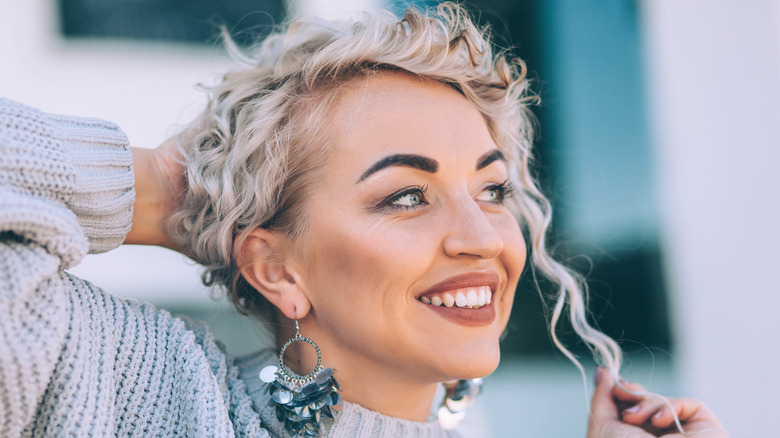 Shutterstock
Now that you've picked a shade, you get to move on to the next fun part: deciding on styles to show off your new color! For an otherworldly look for longer hair, consider interesting braids (via Latest Hairstyles). Pleated braids, loose fishbone braids, and complex french braids are all fun options and can make you look like a mystical mermaid, a woodland elf, or a renaissance princess. 
Pixie cuts can also be a powerful statement with silver hair (via Hair Adviser). Whether you have gone full silver or whether you have silver highlights and darker hair, a spiky-styled pixie can create an edgy, modern look. Short waves in a bob style is also a great way to use the silver to frame your face. Silver curls are also attention-grabbing as the silver catches the light in each bend and curve of each curl, and can be worn long or short.  
Undercut short styles are also a bold choice and can show eye-catching contrast (via Latest Hairstyles). A stick-straight bob is another great shorter option and can work wether you chose highlights, ombre, or full-color styles. 
So don't hide that silver! No matter your age or style, there is a shade and a cut that can flatter you!