The Truth About The Real Housewives Feud Between Porsha Williams And Kenya Moore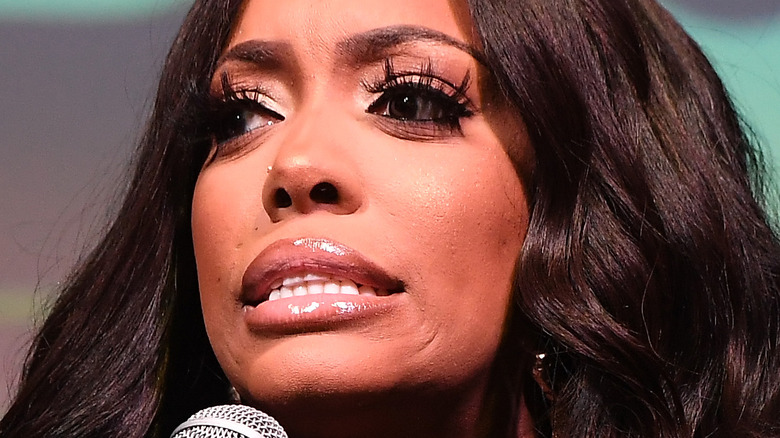 Paras Griffin/Getty Images
In Season 12, Porsha Williams and Kenya Moore were this close to putting all the name-calling and throwing shade behind them. Unfortunately, they both failed at moving forward in Season 13 as the fighting escalated between these two stars of the "Real Housewives of Atlanta" (via Screen Rant).
As fans may recall, these two have a long history of not liking one another. From fistfights to posting insults on social media to making up only to fall apart again, Williams and Moore cannot seem to get their friendship on the right path. Most recently, RHOA former and current cast members have expressed their feelings about Williams's engagement to Falynn Guobadia's ex-husband Simon Guobadia. Included in that roundup are Moore's comments which were expressed in a video posted to her social account, per Entertainment Tonight.
But what's the reason real why these two can't get along? The main point of contention for Moore appears to be being called a liar. According to People, Moore is over Williams not owning her behavior. "Porsha immediately said, 'She's lying. That's a lie.' That is why I won't let it go," Moore explained. "I am a dog with a bone because I am tired of people accusing me of lying."
The fighting slowed when the two women became mothers
Kenya Moore and Porsha Williams seemed to be on the road to friendship when the two chatted about their lives over lunch in Season 5. Although Moore was not all about sharing every detail of her life with Williams at the sit-down held prior to Williams' charity event, there was no beef at that time, (via Bustle). But then Williams introduced Moore as "Miss America" instead of her correct title of "Miss USA" at her charity event and everything went downhill real quick (per US Weekly).
Moore has cracked jokes about Williams' intellect, harking back to comments about the underground railroad being an actual train (per Screen Rant). Williams has thrown her own bombs calling Moore "evil" and claiming she was lying about plastic surgery (via US Weekly). All the name-calling led to a physical altercation at the Season 6 reunion after Williams pulled Moore's hair. The physical altercation resulted in Moore filing charges against the Black Lives Mattter activist (per Daily Mail.).
Let's not forget the slut-shaming that went down during Seasons 6 and 7 when Moore was ostracized from the group after Apollo Nidia claimed she tried to meet up with him in Los Angeles (via OK!). Nidia came clean in season 7 when he apologized to Moore for lying about the texts. 
Tensions between the two ladies appeared to die down when they became moms. The first-time moms agreed to put the past aside and Moore even attended Williams' baby shower (via Ebony). By Season 12, Moore was posting pictures of daughter Brooklyn, and William's daughter, Pilar, with hashtag #bestfriends.
But is the feud really over?
At the beginning of Season 13 of the "Real Housewives of Atlanta," Kenya Moore's friendship with Porsha Williams' was already off to a rocky start as the actress appeared to throw shade at the activist's participation in the Black Lives Matter Movement (per Screen Rant).
"Strippergate" ignited the fight between the two ladies as Moore launched an "investigation" to find out which of the cast members slept with the stripper, Bolo. She swiftly named Porsha and Tanya Sam as potential suspects of the late-night rendezvous, according to US Weekly.
The night in question planned and hosted by Kandi Burruss was meant to be a fun night of debauchery celebrating the upcoming nuptials between Cynthia Bailey and Mike Hill. However, the night launched a heated fight between the frenemies again (per People).
Williams made it clear that she no longer wants to pursue a friendship with Moore due to the way she treats friends, naming Moore's entrance at Marlo Hampton's hair event, according to Bravo TV.
But the issue really stems deeper for Moore who seems to be looking for some accountability from Williams on what she did at the bachelorette party. People reports Moore told Andy Cohen during the Season 13 reunion, "I would love for Porsha to just say, 'You know what, I'm sorry for accusing you of lying. I should not have made that choice.' And then if that is what it is, then I would be happy to let it go."