Who Is FBoy Island's Peter Park?
Courtesey of HBO Max
"FBoy Island" begins on HBO Max on Thursday, so there's no time like the present to get familiar with the show — and the cast too. On the new reality show, which was filmed earlier this year in the Cayman Islands, three female contestants have to decide whether 24 men are "FBoys" or "Nice Guys" based on their own labels — there are 12 of each. If successful, there's a cash prize in store (via People).
You don't need to be a math whiz to realize that means we'll have 27 new faces on our screens (including the host, comedian Nikki Glaser) and while it might be tricky to learn all the names and faces between now and Thursday evening, there's still time to become a little familiar with some of them. Take Peter Park, for example. Is he an "FBoy" or a "Nice Guy"? We don't know that yet, but what do we know about him so far? Let's take a look. 
Peter Park has over 80,000 TikTok followers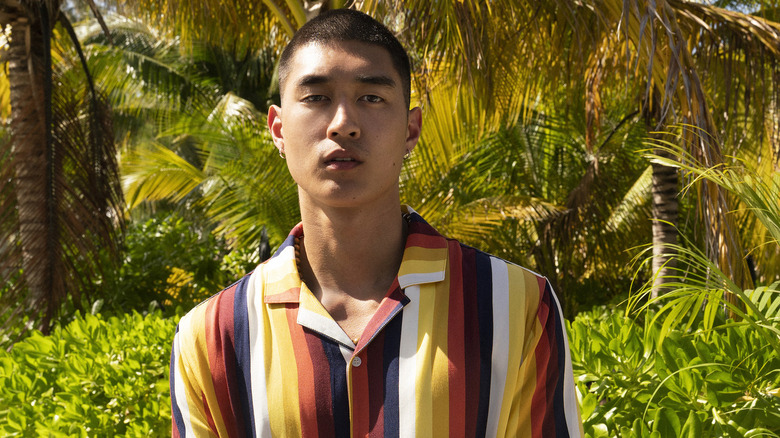 Courtesey of HBO Max
Per People, 30-year-old Peter Park is based in Springfield, Virginia, and works as a model. He likes to spend time with his mother and his friends, and enjoys a number of different pastimes. They include going on nature hikes, traveling and trying various foods, playing basketball, working out, and taking power naps — will he have enough spare time for those on the island?
Over on Instagram, he calls himself "thekoreanpapi" and has over 18,700 followers, while on TikTok he has over 83,000. He works with a number of modeling agencies, and shows off his muscles and tattoos in various snaps and videos across his social media accounts. He's someone that keen TikTokers might already recognize prior to the show airing, but for those who aren't familiar with Park, you'll have plenty of time to get to know him, alongside the other guys on the island on Thursday.