The Top 10 Vegan Nail Polishes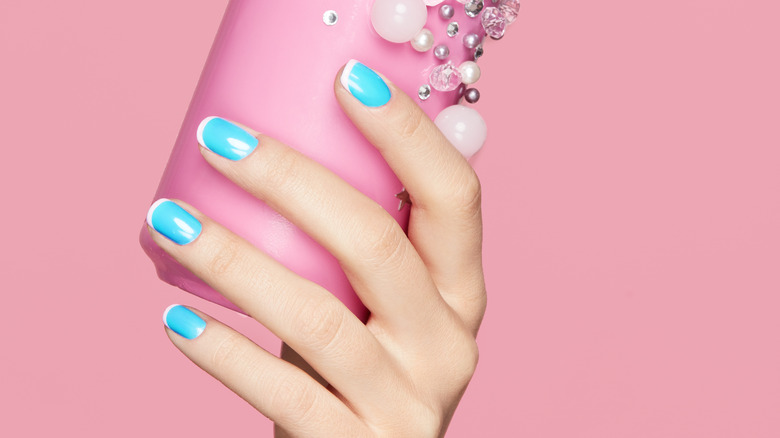 Shutterstock
You may be used to checking the ingredients list when you go grocery shopping, but do you check the ingredients in your cosmetics? If you are vegan and / or working to build a wardrobe or makeup collection that's cruelty-free, you'll want to make sure to take a look at your nail polish.
Some of the nail polish ingredients that come from animals include carmine, guanine, oleic acid, and shellac (via VRG). Keep in mind that some nail polish brands may bill themselves as cruelty-free but not necessarily as vegan — the two descriptions aren't interchangeable. If a nail polish is described as cruelty-free, it doesn't test on animals. If it's designated as vegan, it means that there's no animal-derived ingredients in it (from Cruelty-Free Kitty). It can be tedious to read the fine print on nail polish to see what's in it and hope for the best, so here's some of the best vegan and cruelty-free nail polishes out there.
Vegan nail polish comes in hundreds of colors
Made in the USA, ella+mila nail polishes are vegan, cruelty-free, and free of 17 potentially harmful chemicals (via ella+mila). Narineh Bedrossian, founder, named the company after her twin daughters — when she failed to find nail polishes for her girls that didn't include chemicals, she created the business (from Business Insider).
You'll be happy wearing Smith & Cult nail polish since it's cruelty-free and vegan, and you'll be equally happy to display them since the wide range of colors comes in elegant gold-lidded bottles.
Pacifica Beauty has been around for nearly 25 years, dedicated to making products that are good for the planet and animals, and they've got dozens of different nail polish colors, from shiny and shimmery to stylish matte.
Cirque Colors, designed and handmade in Brooklyn, has recently partnered with the candy company Smarties for their ninth birthday with a series of bright holographic polishes — their entire line is bright, colorful, and fun. And for those who still remember their color-changing mood rings, they have polish that changes color with a change in temperature!
Along with creating vegan and cruelty-free nail polish, the mission of Jolie Vegan is to "​​be a welcoming space for people to come to and feel empowered and uplifted while being educated about mental health," (via Jolie Vegan). All of their 21 colors come with an encouraging, confidence-boosting message.
Nail polish can be made from natural ingredients
Kure Bazaar's nail polish ingredients are up to 90% natural-based on wood pulp, cotton, maize, potato, and wheat. Kartika Luyet, the supermodel founder, wanted to create a natural nail polish after the birth of her son, and it took years of research to come up with their final product: "Yes, we wanted a natural-based formula, but on the other hand we were not willing to make any compromise whatsoever" (from Kure Bazaar).
JINSoon is named for influential nail artist Jin Soon Choi, and she created her polish line in 2012 to be "as healthful and eco-friendly yet enduring as possible" (via JINSoon).
LVX is a Chicago brand that prides itself on its long-lasting nail lacquer that's both luxurious and vegan. Their colors each season come from high fashion runway shows, which is a big deal. "That's not something that other brands do," founder Branka Tomic told Racked.
Zoya has — wait for it — over 600 colors to choose from! They're known for not only being vegan and cruelty-free but also highly pigmented, only needing one or two coats for full coverage (from Chicago Tribune). They also have a series of accessories for your at-home mani or pedi.
The aptly named Beauty Without Cruelty is a U.K. brand that's been around for 60 years. They've got a wide collection of colors made without harsh chemicals and with 85% bio-sourced ingredients.