Meet Louis Bélanger-Martin, Tyra Banks' Boyfriend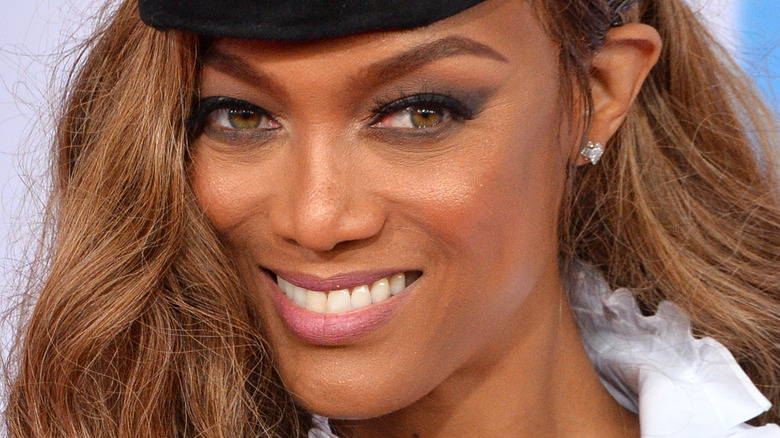 Shutterstock
When she isn't hosting "Dancing with the Stars" and working to open her ModelLand theme park, Tyra Banks has been spotted with her boyfriend, Louis Bélanger-Martin. Page Six revealed that the former model turned television host has been dating the Canadian businessman since 2018 and they moved in together the following year. So who is the man who has stolen the former supermodel's heart?
Bélanger-Martin is "a pioneer of the inflight entertainment industry," according to Oprah Daily. Throughout his career, he has held top positions at various companies, including as the COO and then the CEO of Advanced Inflight Alliance AG, as well as the Vice Chairman of Global Eagle's Board of Directors. In addition, the 46-year-old founded private equity fund Groupe W and DTI Software, Inc., the world's leading in-flight entertainment software and solutions provider. Headquartered in Montreal, DTI also has offices in Singapore, Tokyo, Dubai, and Los Angeles, and has partnerships with companies including Disney, Berlitz, Atari, Electronic Arts, and The Tetris Company. And Bélanger-Martin sits on the board of SONIFI Solutions and E2IP Technologies (per LinkedIn).
As for his personal life, Bélanger-Martin shares a 12-year-old son with ex-wife Valérie Martin Scraire. The former couple own several homes, including an apartment in England, a house in Barbados, and a home in Quebec (per Yahoo! News). "Louis also spends some time with his own child in England and around the world for business," a source said.
Tyra Banks shot down rumors she wears an engagement ring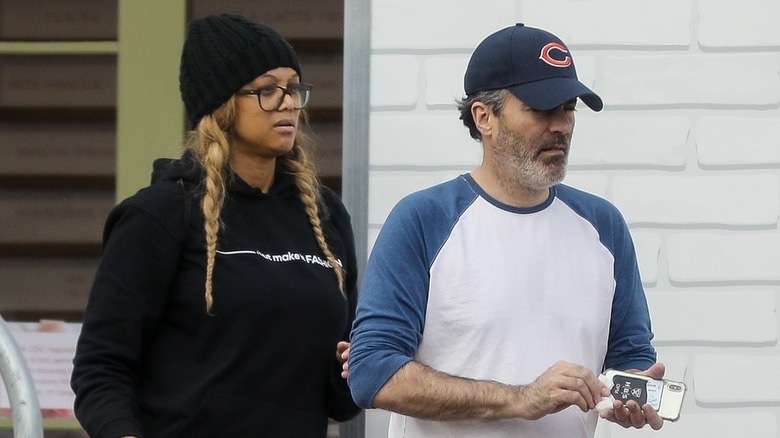 Spot/Backgrid
Although he is dating one of the most famous women in the world, Tyra Banks' boyfriend, Louis Bélanger-Martin, manages to keep a low profile. When he isn't busy traveling around the world for business, he spends time with his son from his previous marriage, as well as Banks and her son, York Banks Asla, whom she shares with her ex-boyfriend, photographer Erik Asla (per Showbiz Cheat Sheet). Sources have said that Banks and Bélanger-Martin are "very, very much in love" (per Page Six). But when she was photographed in 2020 wearing what appeared to be a massive engagement ring (per the Daily Mail), the "Dancing with the Stars" host told Tamron Hall that the ring was "shaped like a crab ... and it's an opal, not a diamond. It is not a crab opal engagement ring. It is just a ring." Banks added that "the press gets it right sometimes, but a lot of times, they're bored."
Time will tell if the two tie the knot, but Banks did reveal that her son would love nothing more than a sibling — and her mom agrees with him! "God, my mom wants more grandbabies," Banks said (per Yahoo! News). "My son is rolling and running around and she's like, 'You see? He needs a friend. He's saying that these stuffed animals are his babies and he's calling himself a big brother.'"