Meet Kyle Kuzma, Winnie Harlow's Basketball Player Boyfriend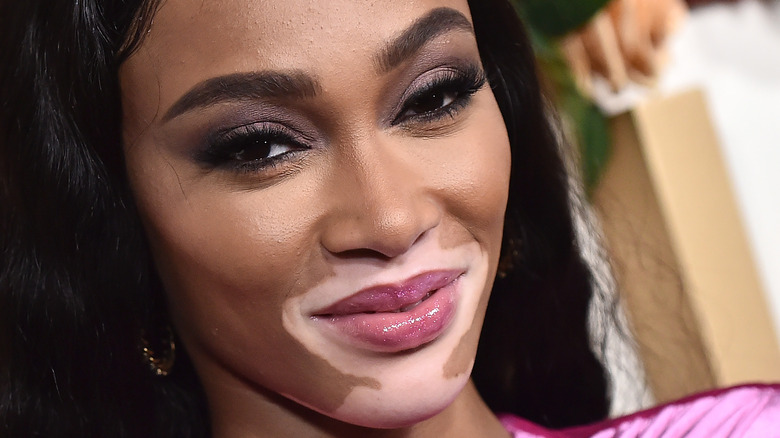 Shutterstock
Winnie Harlow is a groundbreaking model; besides being absolutely stunning, she is revolutionizing the modeling industry (per CNN Style). Harlow has such a following on Instagram - 8.8 million as of writing – that her fans rallied together and helped get her on Season 21 of "America's Next Top Model." Although she was eliminated from the show early, she continued to rise to fame, via Goalcast. She's been featured on magazine covers and walked in many big fashion shows and created a lane for women, particularly Black women, in fashion with skin conditions.
Harlow's career is not the only successful aspect of her life. She is also in a happy relationship with Los Angeles Laker Kyle Kuzma. The pair met on Instagram, according to TMZ Sports. "I got a DM a year prior from my boyfriend, and I never seen it. I don't know what the glitch in the system with Instagram is, but that never came up for me. A year later, at the top of quarantine, he DMed me again. He posted a picture of me in an outfit and I was like, 'Oh, hi!'"
The pair's quarantine romance has continued to blossom. So, who exactly is Mr. Kuzma? 
Kyle is a natural talent on the court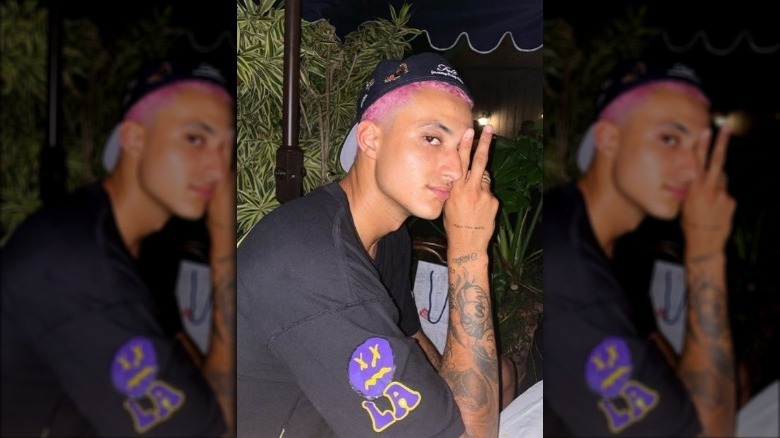 Shutterstock
Kyle Kuzma is a celebrity in his own right. Kuzma is a 26-year-old basketball player who was drafted by the Brooklyn Nets in 2017, via the official NBA website. He never actually made it to New York City, though. 
Kuzma was practically instantly traded to the Los Angeles Lakers. As fans may recall, the professional basketball player played college basketball for the Utah Utes before joining the NBA. Since then, and the trade, Kuzma has become a star on the Lakers. According to his professional website, he was the first-ever NBA rookie to compile at least 330 points, 120 rebounds, and 30 successful three-pointers in his first 20 games. 
Kuzma would go on to win the NBA Championship with the Lakers in 2020. On his success, Kuzma tweeted, "Went from: born in flint. 1 naia offer. Boarding school at 16. GED. Gray shirt at Utah. 5 minutes a game as a freshman. Told I would go Undrafted if I left school. 1st round pick. NBA Champion. Embrace your journey. Marathon life. Crazy."
Winnie and Kyle's relationship was a seamless transition
After Kyle Kuzma slid into Winnie Harlow's DMs, the pair began talking often, according to Bleacher Report. After a few months of texting and talking on FaceTime, Harlow decided to make the trek to Los Angeles and make things official. The pair began dating in May of 2020.
Ever since, the couple has been inseparable. Harlow told People, "I think what makes us work is [that] Kyle is such a relationship guy. He's so All-American, super sweet." She continued telling the story of how they made things official during her long nighttime routine. "I was taking a really long time and he was like, 'Can I cuddle with my girlfriend?'" she recalled. "And I was like, 'Girlfriend. Oh, okay, sure. There we go. I guess it's a wrap now. Hang up my jersey. [That's] how we ended up in a relationship."
The pair have been posting photos of each other on social media since their union. Harlow even got to join her NBA star boyfriend in the NBA bubble during his championship run, per Republic World. They are a power couple!