Meet Desi Arnaz Jr., Lucille Ball And Desi Arnaz's Son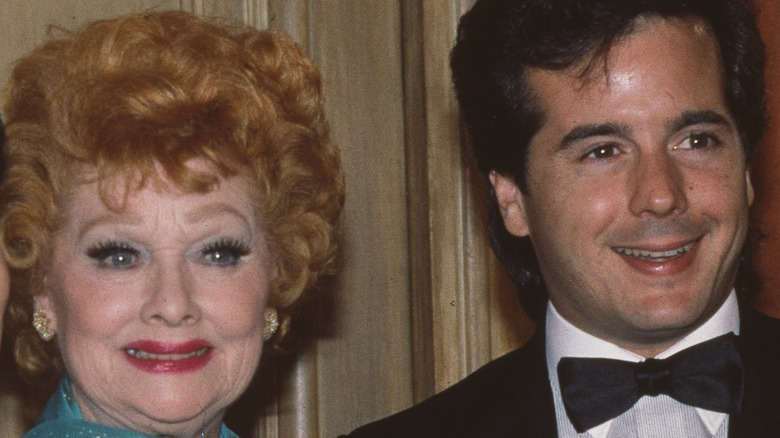 Michael Ochs Archives/Getty Images
Desi Arnaz Jr. has been famous since before he was born. While still in the womb, America anticipated his birth by watching his mother play out a fictional pregnancy as Lucy Ricardo on the legendary CBS sitcom "I Love Lucy" because Lucille Ball's real-life pregnancy had been written onto the show. The night he was born, January 19, 1953, was the same night the episode where Lucy gave birth to Little Ricky on-screen aired. According to Entertainment Weekly, the seeming coincidence had actually been planned as his mother had a scheduled cesarian section. Even as a child, Arnaz Jr. would often play with the actor who played Little Ricky, Keith Thibodeaux (via New York Post).
Arnaz Jr. would go on to star in his mother's later sitcoms during his teenage years, making him a teen idol for a time. He famously appeared on "The Brady Bunch" in the 1970s as himself, with oldest the Brady girl Marcia playing the president of his fan club (via Outsider). But Arnaz Jr. chose to keep himself out of the spotlight during his later adult life, unlike his famous parents. Still, that doesn't mean he didn't love performing or that it wasn't in his blood.
Desi Arnaz Jr. tried his hand at acting as a young man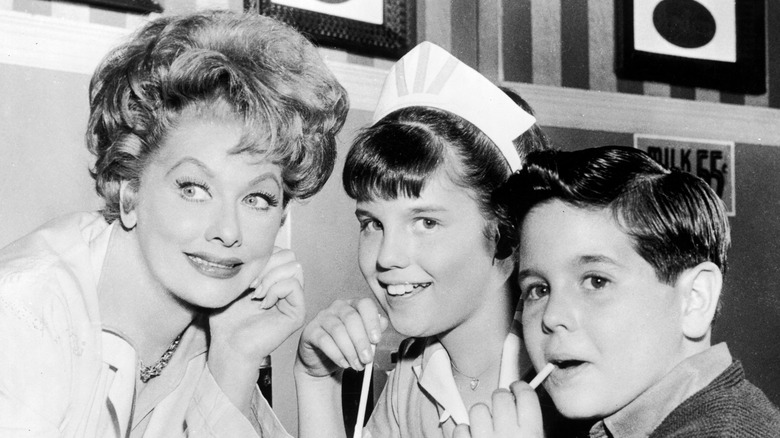 Michael Ochs Archives/Getty Images
Desi Arnaz Jr. was all over the TV dial from the time he was a boy into young adulthood. His first television credit was on "I Love Lucy" in 1957 when he was just a preschooler — he played a small spectator while the fictional Ricardo family dedicated a statue. As art increasingly began to imitate life, he went to snag much bigger roles and eventually became Lucille Ball's fictional (as well as real-life) son. From 1968 to 1972, he starred in "Here's Lucy" as Craig Carter, son of the widowed Lucy Carter who was of course played Ball (via IMDb).
Arnaz Jr. did other episodic TV work in the 70s, including appearances on "Mod Squad," "Love American Style," "Police Story," "The Love Boat," and "Fantasy Island." According to IMDb, his last screen credit was in the feature film "The Mambo King" in 1992, where he played his own father, Desi Arnaz, Sr. After that, Arnaz Jr. chose to drop out of the spotlight, but his parents' love for performing and the arts stuck with him throughout his later life.
Desi Arnaz Jr. later settled down for a quiet theater life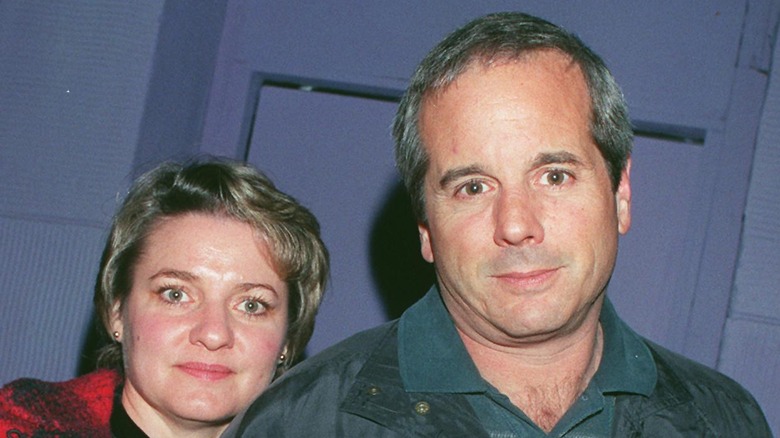 Denny Keeler/Getty Images
After decades living a Hollywood life that included a daughter born when he was just 15, years of drug addiction, a failed marriage to sitcom star Linda Purl, and a stint with the band Dino, Desi, and Billy, Desi Arnaz Jr. married Amy Bargiel and the two eventually settled in Boulder City, NV (via DoYouRemember?).
That's where they purchased the Boulder Theatre, a former movie house they converted into a performing arts space that became home to The Boulder City Ballet, which was directed by Amy Arnaz. When he was first renovating the theater in 1999, Arnaz Jr. reflected on growing up in the spotlight with famous parents. "It's very comfortable and, oddly enough, it brings up good memories of growing up at the studio, [of] behind the scenes, on the catwalks, under the stage as a kid running around. It was a great place to grow up" he told The Las Vegas Sun. 
Sadly, Arnaz Jr.'s wife Amy died of cancer in 2015. The couple shares a daughter named Haley, but Arnaz Jr.'s other child, Desiree, also died from cancer far too young (via Fox 13 News). For the son of Lucille Ball and Desi Arnaz, life certainly hasn't been a cakewalk.