The Top 5 Combat Boots We Cannot Live Without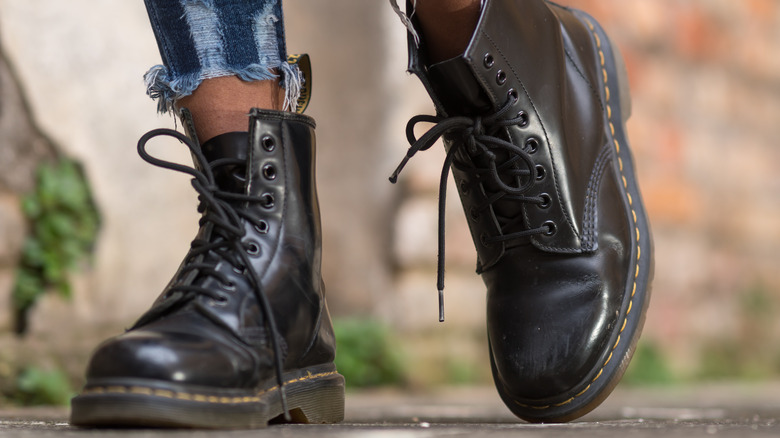 Shutterstock
Comfort and style –- isn't that what we all want? Enter the combat boot: an often leather, lace-up boot in black or brown that has traveled throughout fashion subcultures since its debut during World War II (via CR Fashionbook). While they may be most worn during fall and winter, combat boots have now become the perfect year-round trend. During the spring and summer months, don't be afraid to pair a more masculine and edgier shoe with a flowy silhouette in a flowery pattern. For city dwellers, combat boots can also provide protection from the unknowns of city streets.
While their durable design makes for functional and long-lasting footwear, combat boots do not compromise style (via Editorialist). Indeed, they often provide subtle and casual fashions with an edge, elevating otherwise simple looks (via L'Officiel). With quite a few interpretations of the iconic, military-inspired combat boot, we've rounded up five styles that we cannot live without.
A pop of color and a good chunky sole
Like any other fashion staple, designers continuously put their own take on the classic silhouette.
First up, Irish designer Simone Rocha, for example, is the queen of pairing chunky boots with romantic clothes. Wrapped in magnificent bows and embellished with elegant pearls, her boots act as an extension of her fairytale world (via Editorialist). In her Autumn/Winter 2021 collection, white and black leather combat boots anchored her magical designs to the ground for the ultimate romantic-goth looks (via Simone Rocha).
Other luxury designer's interpretations of the combat classics include Coach, who took a more colorful approach to the convenient shoe. Creating bottle green boots, Coach showed that though they may be pragmatic, not every combat boot is made to survive muddy terrains -– after all, you wouldn't want to ruin these bright shoes (via Editorial). If green is too much color for you, Coach also makes a chalk-colored version of their Lorimer boot (via Coach).
But iterations of the combat boot are not simply limited to luxury designers. Famed boot brand Doc Martens makes perhaps the most well-known and recognizable options of the chunky style. A staple in Gen Z closets, Doc Martens are the perfect starter combat boot. To accessorize, TikTok star Addison Rae loves pairing her boots with fun socks, jeans, and a corseted top (via Footwear News).
Sleek silhouettes for timeless boots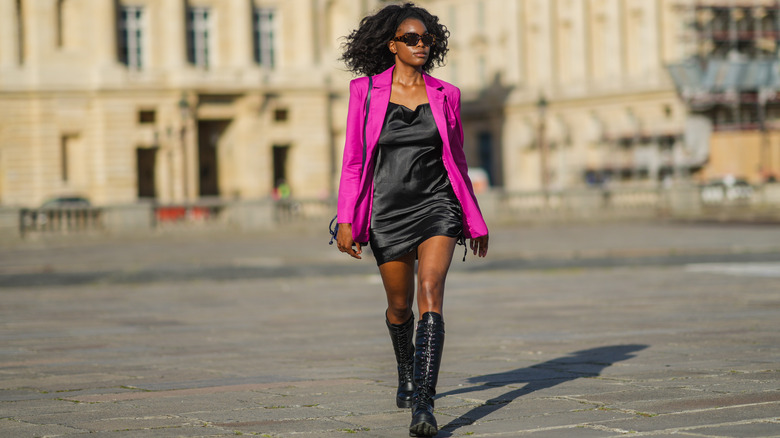 Edward Berthelot/Getty Images
The beauty of combat boots is their versatility. Don't like the "lug-sole" of chunky boots (via Footwear News)? Try a tighter and longer fit! Other than their sole, combat boots are characterized by their lace-up front. Those with a longer front tend to elongate the foot and leg, as the boot will then come up to the mid-calf or higher. This style isn't particularly new, with The Clash rocking sleek boots with looser pants at the start of the '70s punk rock movement (via CR Fashionbook). 
Because of the tighter fit, longer combat boots are best paired with shorter dresses, skirts, or shorts. As Instagram influencer Wuzg00d effortlessly demonstrated, pair sleek combat boots with a slip dress and an oversized blazer, and "voila" — you've got yourself quite the outfit (via Instagram).
If you're wondering where to get the sleeker look, Rag and Bone's Shiloh boot is a high-quality purchase that won't break the bank. The boot is made out of cow leather for the ultimate snug fit. If you want to add a pop of contrast, they also come with both black and white laces.
Sam Edelman has an affordable option in the Lydell boot as well. Rib knit sides combined with leather make for a beautiful, sturdy boot with a feminine vibe.