Sports Bras That Actually Do Their Job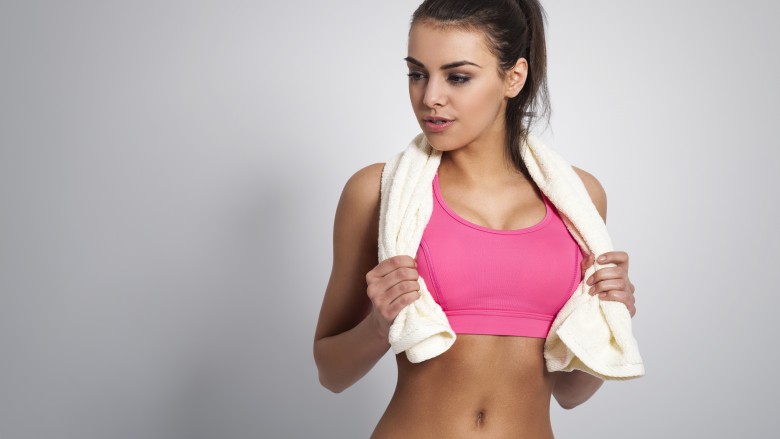 Shutterstock
Sticking to a regular workout routine is difficult enough — the last thing we need is a bad sports bra sabotaging our fitness goals. From the boob smashers to rib crushers, it's not difficult to find a sports bra that's, well, just not good. The real challenge is finding one than can keep up with you in the gym.
"Whether you're sweating it out in a Bikram yoga class, walking the dog, or running a half marathon, it's crucial to have your chest supported with comfort and style, of course," Caroline Lucey, founder of Active In Style, an online destination for the world's most fashionable brands in activewear, yoga, and workout clothing, told me. "Sometimes it's a bit tricky knowing exactly what bra would work for you and your workout."
Elyse Kaye, the founder and CEO of Bloom Bras, agrees. "Finding the right sports bra is always a challenge," she said to me in an interview. "The average female body changes ten percent per month naturally due to hormones, time of the month, natural weight gain and loss, and heat fluctuation. Most sports bras frankly are not made to change with your body." She also noted that, one in five women do not work out because of breast pain. "Studies have shown if we feel like we look good, we are more likely to work out more. Finding a good sports bra makes a world of difference."
If you're on the search to find your ideal match when it comes sports bras, read on for more expert advice I got from speaking to athletes, personal trainers, and bra experts who know a thing or two about sports bras that work for women like you.
Lorna Jane Dream Sports Bra
If you're into high intensity sweat sessions like running, hiking, or climbing, Lucey recommends the Lorna Jane Dream Sports Bra. "In our opinion (and our customers), Lorna Jane makes the best sports bras in the world. They are award winning for a reason – dedicated to innovation, hi-tech fabrications, exploring unique construction methods, not afraid to push boundaries with statement designs, bespoke prints, and bright hues."
Lucey loves the Dream, especially for bustier ladies, because of its thicker straps. "The design and fit takes everything that a bigger busted woman has into consideration so that she can feel 100 percent supported and comfortable. With maximum support it can be taken through the paces of a high intensity workout but can also double as an everyday piece, perfect to go under t-shirts and tanks."
Moving Comfort's Maia Underwire Bra
For her extreme workouts, certified personal trainer and 16-time marathoner, KJ Landis, loves Moving Comfort's Maia Underwire Bra. "It is underwire with extra wide and extra padded straps," she explained. "Your body maintains its shape while not moving an inch while jumping or running."
So if there's a triathlon or some Crossfit games in your future, you might want to consider this bra to come along the for ride. It's got you covered, according to Landis.
Wacoal Sport Underwire Bra
Support is definitely key when it comes to keeping the girls happy during a high energy workout. That's why Kat Haselkorn, a spinning and total body conditioning instructor in Washington, DC, said she's a fan of the Wacoal Sport Underwire Bra. "Running and HIIT classes typically involve a lot of jumping and bouncing around. You need something more restrictive," she told me. "This is a great supportive bra for running and other high intensity activities. It's super light weight and unlined so it rinses out easily and dries extremely quickly. Not exactly sexy, but the best bra I've found for intense workouts."
Champion Distance Underwire Sports Bra
If barre or pilates is more your idea of the perfect workout, then your bra needs might be a little different. "A barre or pilates class might involve a lot of targeted movement that makes you sweat, but not necessarily need as much support," said Haselkorn.
When going a bit less intense during your workout, Haselkorn recommends the Champion Distance Underwire Sports Bra. "This is another good bra choice for women with larger chests but it doesn't support as well as the Wacoal Underwire," she said. "It's very comfortable and can be a great option for those that don't need a heavy duty compressing top. One of my clients mentioned this is her favorite sports bra for cycling. It never chafes and really wicks the sweat away during long bike rides."
Champion The Absolute Cami Sports Bra
Landis is also a fan of Champion sports bras. Among her favorites is the brand's Absolute Cami Sports Bra. "This bra is double lined to wick moisture and has an inch-wide band underneath the breast so it keeps everything in place without underwire," she told me. "The racer back style pulls the girls upwards too so there are no sweat blisters under my breasts."
Incredible by Victoria Sport
If you want to feel supported and extra stylish in your sports bra, Talia Mariani, a personal trainer in NYC, recommends the Incredible by Victoria Sport. " It offers me fantastic support and comfort without smashing my girls into a uni-boob (which is always a nice perk)," she told me. "The straps are adjustable, and the traditional bra band and cup sizing ensures it is an exact fit. I swear by it, and recommend it to all my clients."
And in true Victoria's Secret style, the brand often releases new colors or fabrics for this bra, so you can constantly add to your collection. "I'm all about focusing on getting in and crushing a workout," says Marini. "But I also want to feel good and look good as I do so." I couldn't agree more.
Mesh Around Seamless Bra by Athleta
Sometimes we just need to take it easy. For those days, we need a bra that's not going to compress, squish, or pull our chest in 100 different ways. For these days, Mariani likes Mesh Around Seamless Bra by Athleta. " This bra is better for when I'm having a low impact day, like yoga or walking," she said. "It's also a great option for when my breasts are a little sore or sensitive due to time of the month. It gently keeps them close and comfortable during these times."
Gaiam Shine Sports Bra
For her lower impact days, Landis is a big fan of the Gaiam Shine Sport Bra. "The soft material and double straps are more like a tight tank top feel," she said. "Plus it is longer than most sport bras. It is great for yoga and walking around the lake or in the woods."
Gaiam also offers a huge variety of yoga mats, towels, and bags, so you can put together an entire stylish look for your next yoga class.
Free To Be Tranquil Bra
Okay, so we couldn't create an entire list of sports bra without mentioning Lululemon. I happen to love this brand for activewear. So naturally, I was excited when Haselkorn mentioned the Free To Be Tranquil Bra on her list of favorite sports bras. "This sports bra is just gorgeous. It's strappy, cute enough to wear on its own (if you're confident enough to bare all!), and has a decent amount of support for downward dogging," she explained. "This is a bra I have in rotation for any kind of stretch class. It's reasonably priced for Lululemon and it looks amazing under tank tops. It's also a good option for water classes if you forget a swimsuit!"
A perfect fit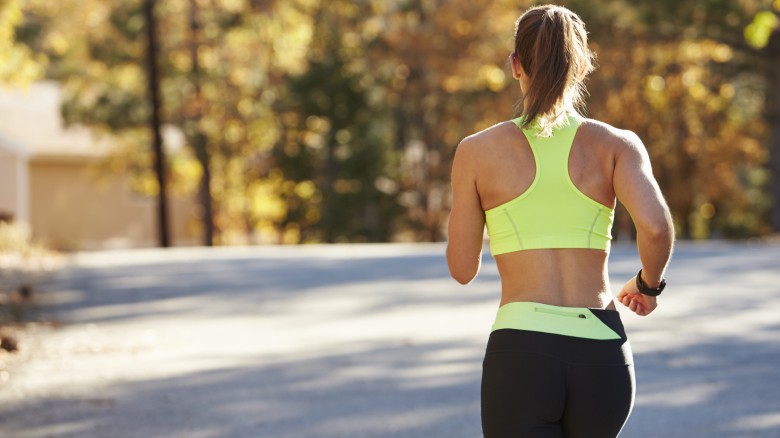 Shutterstock
No matter how hard you decide to hit the gym, you need a sports bra that moves with you. That's why fit is key when it comes to selecting your perfect workout bra. "It's so important to have a bra that fits well because ultimately it can make or break your workout," Hasselkorn said. "I'm much less likely to feel motivated for a long run if my bra is ill-fitting. The right support and compression can make you feel faster, lighter, and invincible when you start exercising. It's absolutely essential to a great workout."