Here's What The Nanny Star Nicholle Tom Looks Like Today
Nicholle Tom was only 15 years old when she landed the role of Maggie Sheffield, the oldest daughter of Maxwell Sheffield who had a nanny named Fran on the hit CBS sitcom "The Nanny." It was 1993 and Maggie was a shy, preppy girl who needed someone like Fran, a loudmouth, bold, and confident door-to-door makeup saleswoman from Queens who took the Sheffield's lavish Manhattan townhouse by storm when she moved into care for a trio of kids.
Under Fran's watchful eye, the young girl with short blonde hair, simple headbands, and plainclothes as part of her private school uniform came into her own during the six seasons "The Nanny" aired, becoming more assertive and less subdued in the way she dressed. During that time, Tom also came into her own, appearing in "Beethoven 2nd," as well as a series of TV movies, including "What Kind Of Mother Are You?" and "My Daughter's Honor" (via IMDb).
Nicholle is all grown up and busy in Hollywood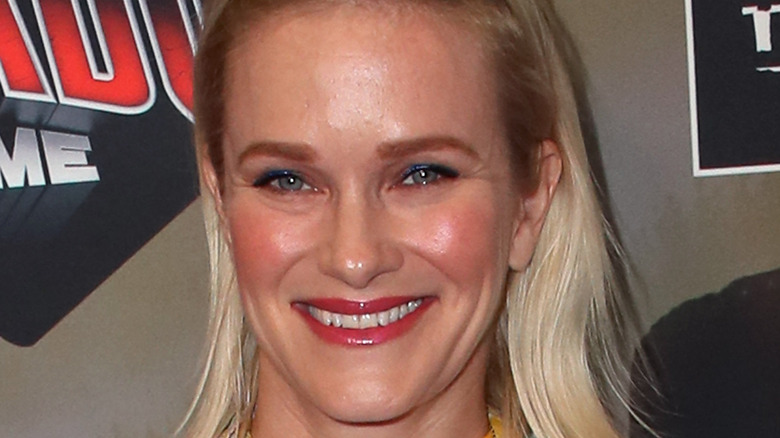 David Livingston/Getty Images
By the time Nicholle Tom started playing "The Nanny's" Maggie, she'd already had an introduction to Hollywood life when her sister, Heather Tom, started playing a teenage Victoria Newman on "The Young and the Restless." 
She'd also made her first feature film with a lead role in the first "Beethoven" movie and has barely stopped working since. After her sitcom came to a close in 1999, she lent her voice to Supergirl in "The New Adventures of Batman," "Superman: The Animated Series," and "Justice League: Unlimited" (via IMDb).
Tom even got to work with her actress sister. She and Heather, who now plays Katie on the CBS soap opera "The Bold and the Beautiful," alternated playing the role of Daisy in a stage production of "Biloxi Blues" (via Cast Productions). Over the years, you've also seen Nicholle on your small screen in various made-for-TV movies, including "I Didn't Kill My Sister," "Hollywood Darlings," and "Do I Say I Do?" (via IMDB). Of course, you can also still see her as Maggie on HBO Max, where "The Nanny" now streams.