Here's What Steve Urkel Looks Like Today
He did for suspenders in the 1990s what Robin Williams' Mork from "Ork" did in the 1980s – he made them cool. Steve Urkel was the breakout character for the hit Friday night ABC sitcom "Family Matters" while Jaleel White who played him was the show's breakout star. 
From 1989 to 1998 (via IMDb), White's Urkel would make his classic entrance into the Winslow living room with a bright smile on his face, along with his signature Coke-bottle glasses, bright suspenders, striped shirts, and flood pants, ready to romance Laura Winslow (Kellie Williams-Jackson), who most certainly did not want to be romanced – by Urkel, at least. And that laugh that would invariably turn into a snort would eternally endear this character to audiences (via TIME).
Originally introduced as a supporting guest character in the first season, by the second season of "Family Matters" he was a part of the main cast as the quintessential annoying sitcom neighbor who becomes part of the family — and shocked them with his many scientific and unusual inventions. White even got to play other memorable characters, including Urkel's cousin, Southern bell Myrtle Urkel, and his scientifically engineered alter-ego Stefan Urquelle (via Entertainment Weekly).
Jaleel reflects on his youth as Urkel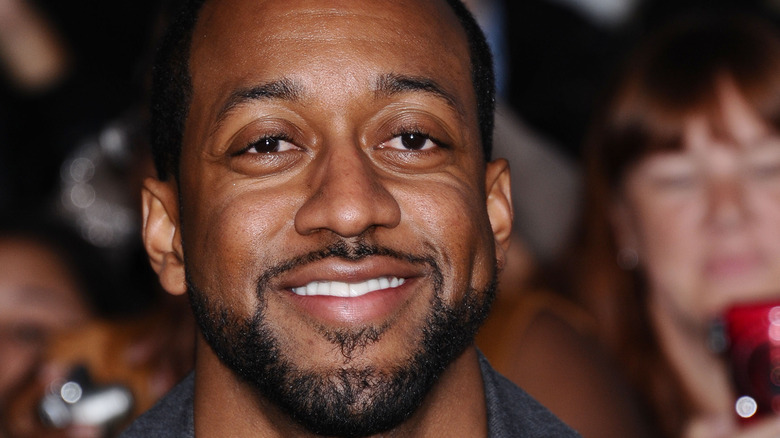 Shutterstock
Fans watched Jameel White's Urkel go from a young boy to teen over the course of a decade and as of this writing, White is a grown man in his 40s who spent much of 2020 hosting his own podcast called "Ever After" where he interviewed other former child stars, including Danica McKellar from "The Wonder Years" and Mayim Bialik from "Blossom.".
In May of 2021, White appeared on TV One's "Uncensored" and remembered how the original main cast was a little taken aback by his popularity at first, as it was so unexpected, and how eventually, they all became a happy, on-set family.
"It was what it was," he said. "They knew more than I did about the business ... at that age. They understood how the dynamic was changing. But I do think they do deserve credit at times for having helped foster a more harmonious environment by Season 3, by Season 4, by Season 5. And we did become very much a family." (via Entertainment Weekly)
He also spoke of how the other two teen regulars on the show, Kellie Shanygne Williams who played Laura Winslow and Darius McCrary who played Eddie Winslow, resented him at first, as well, but then embraced his presence. White noted, "Over time, Kellie and Darius became truly my brother, my sister."