Inside Simone Biles' Relationship With MyKayla Skinner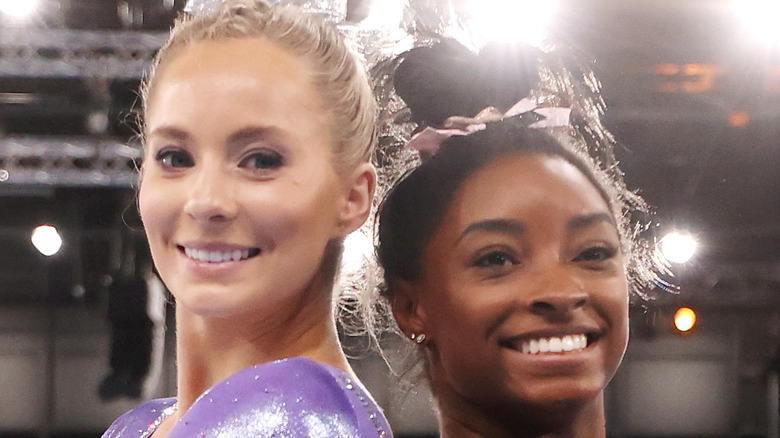 Jamie Squire/Getty Images
They're two of the most successful gymnasts competing, but Simone Biles and MyKayla Skinner are anything but enemies. After the G.O.A.T shocked the world by dropping out mid-competition at the Tokyo Olympic Games, her teammate took to Instagram to let Biles know she was thinking of her. "Looks like I get to put a competition Leo on just one more time. Can't wait to compete in vault finals. Doing this for us @simonebiles. It's go time baby!" Skinner wrote, alongside a shot showing off her leotard.
As PureWow noted, Biles previously shared an Instagram Story in support of Skinner, writing, "So proud of this one. No one understands the hard work & dedication it takes to come back from collegiate gymnastics & make an Olympic team. You did the damn thing! Thanks for reminding us that grandma's can do it too! Thanks for keeping gym light-hearted and fun! I love you." They also shared their adoration for each other during the qualifiers. Evidently, these two are in it for the long haul, and that couldn't have been more clear when Skinner dedicated her Olympic silver medal to Biles (via People). 
These two star athletes are each other's biggest fans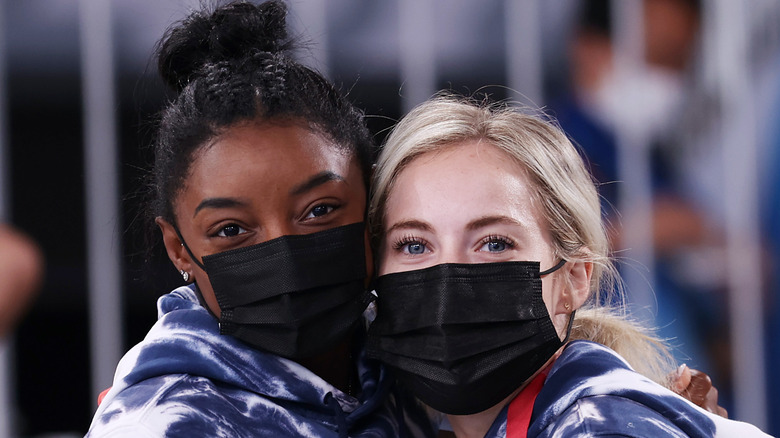 Jamie Squire/Getty Images
As PopSugar noted, the unbreakable bond between Olympians Simone Biles and MyKayla Skinner was on full display when, following Biles' shock departure, her buddy was given an unexpected final chance to get a medal before retiring. She ultimately nabbed the silver, and Biles, clearly knowing the position her BFF was in all too well, was spotted cheering Skinner on from the stands. Under the strict COVID-19 precautions in place in Tokyo, no family or friends were allowed to attend the event, meaning even Skinner's husband was missing from the stands. However, Biles and fellow teammates Jordan Chiles and Grace McCallum ensured they were there supporting Skinner from the sidelines. 
Biles later shared a gushing Instagram Story, describing herself as "so freaking proud" of Skinner's accomplishment. Skinner proved their support goes both ways too, dedicating her win to Biles and admitting, "I wouldn't be here today if it wasn't for her." Skinner continued, "I told her I would be doing this one for her. She said, 'don't do it for me, do it for yourself,' so technically it's for all of us." In fact, it was the G.O.A.T herself who convinced Skinner to stick around after she failed to qualify. "I was actually going to get on a plane to go home," Skinner admitted to gathered press, as per People. Once Skinner took Biles' place, naturally, her teammate was the loudest one in the stands.