Of All Of Harry Styles' Looks - This Stands Above The Rest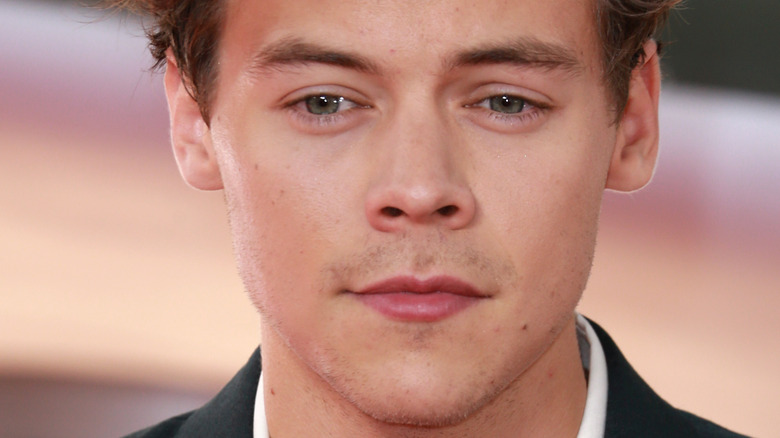 Shutterstock
Harry Styles is primarily known for his music, including his extremely popular solo albums and his insanely famous work with hit boy band One Direction, but he's more than just a musician — he's also a style icon. Really, his name says it all! Whether he's wowing audiences at the 2021 Grammys with a head-turning leather ensemble, complete with feather boa, or he's causing a stir on the cover of Vogue in gender-fluid attire (via The Guardian), Styles keeps his finger to the pulse of the latest fashion trends.
It's easy to track Styles' fashion trajectory over the years as he matured from the 16-year-old boy he was while competing on "The X Factor" to the independent individual he is now (via Insider). He continues to grow into his style evolution as he opts for more vibrant and playful ensembles with each new public appearance he makes. Styles isn't afraid to try something daring and original, which is one of the main reasons why he's beloved by fashion experts and fans alike! Everyone from GQ to Vogue is raving about Styles' unique looks.
Harry Styles' fashion evolution was gradual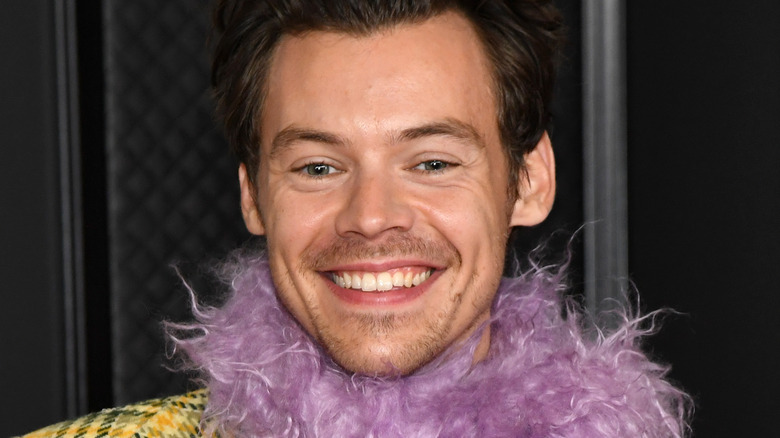 Kevin Mazur/Getty Images
Whether Harry Styles is making headlines for his blossoming relationship with Olivia Wilde or he's gaining attention for major fashion statements, it's clear that he's always being 100% himself. It's hard to believe there was ever a time when Styles dressed like an average, everyday Brit, but it's true! Back when he was a teenager in the early years of his One Direction fame, Styles was known for laid-back ensembles that blended in with the crowd (via Vogue). He often paired jeans with an array of t-shirts and button downs whenever he made an appearance with the group.
It wasn't until Styles branched out on his own following One Direction's hiatus in 2015 that he really started to take risks with what he was wearing (via E). Starting in 2017 with a few bold-patterned suits and brightly colored pants, he slowly navigated his way through the ever-changing world of fashion (via Insider). Gradually, Styles added new elements to his style lexicon like his signature heeled boots (via Teen Vogue). He became more comfortable with who he was and how he wanted to dress thanks to some inspiration from his favorite musicians. In an interview for his Vogue cover feature, Styles said, "The people that I looked up to in music — Prince and David Bowie and Elvis and Freddie Mercury and Elton John — they're such showmen. Now I'll put on something that feels really flamboyant, and I don't feel crazy wearing it. Clothes are there to have fun with and experiment with and play with." The rest, as they say, is history!
Harry Styles' most iconic look is an elegant fashion choice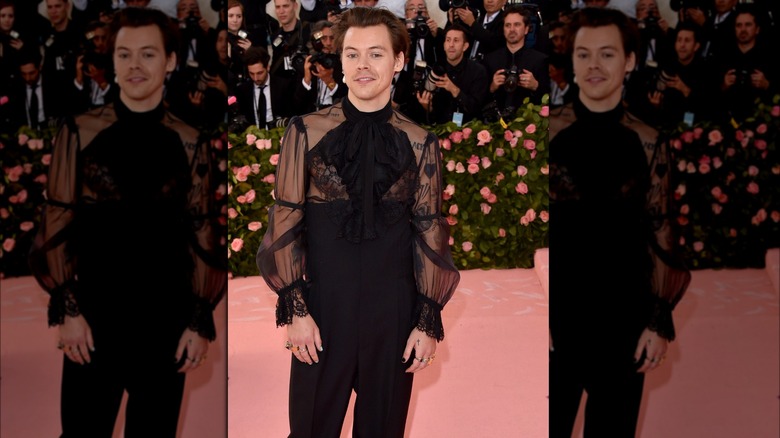 John Shearer/Getty Images
Harry Styles has had some truly noteworthy fashion moments over the years, but his most memorable is his bespoke Gucci outfit designed specifically for his appearance at the 2019 Met Gala (via Vogue UK). The Met Gala was important to Styles, primarily because he was one of the three co-chairs nominated for that year's ceremony (via Vogue). The theme of the 2019 Met Gala was inspired by Susan Sontag's seminal essay "Notes On Camp" which artfully defined the camp aesthetic movement (via The New York Times). Styles stayed true to the underlying themes of camp by choosing an outfit that blurred the lines between masculinity and femininity.
This notorious Met Gala look featured a sheer black blouse with frills at the collar and wrists which was elegantly paired with high-waisted black trousers, his signature heeled boots, and a gorgeous pearl earring. Designer Harry Lambert said of Styles' sophisticated ensemble, "This look is about taking traditionally feminine elements like the frills, heeled boots, sheer fabric and the pearl earring, but then rephrasing them as masculine pieces set against the high-waisted tailored trousers and his tattoos" (via Vogue UK). Though it was an understated choice compared to some of Styles' red carpet looks, it perfectly showcased his completely unique fashion sense (via HuffPost).