Kathy Griffin Shares Intimate Details About Her Drug Addiction And Mental Health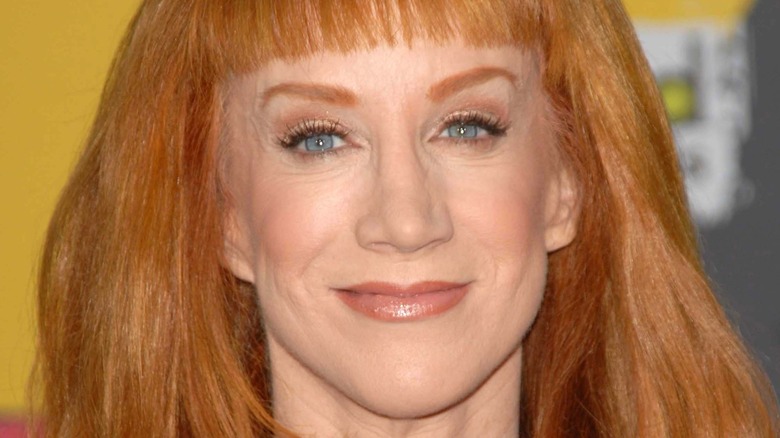 Shutterstock
The following article includes topics including substance abuse and suicide. 
Kathy Griffin is sharing some very private details about her life. The comedian, who has starred on television shows such as "Suddenly Susan" and "Dilbert (via IMDb) opened up to her fans via social media to reveal that she has been diagnosed with lung cancer, despite not being a smoker. Griffin not only made the shocking announcement, but she also revealed that she was getting ready to head to surgery in order to get part of her lung removed due to the disease, per Us Weekly. "I've got to tell you guys something. I have cancer. I'm about to go into surgery to have half of my left lung removed," Griffin tweeted. "Yes, I have lung cancer even though I've never smoked!" she added.
Griffin also shared her prognosis with fans. "The doctors are very optimistic as it is stage one and contained to my left lung. Hopefully, no chemo or radiation after this and I should have normal function with my breathing. I should be up and running around as usual in a month or less. It's been a helluva 4 years, trying to get back to work, making you guys laugh and entertaining you, but I'm gonna be just fine," the actress wrote.
Griffin is set to go into more detail about her diagnosis during an interview on "Nightline" on August 2, 2021. During the interview, she'll also open up about her battle with mental health and substance abuse.
If you or anyone you know is struggling with addiction issues, help is available. Visit the Substance Abuse and Mental Health Services Administration website or contact SAMHSA's National Helpline at 1-800-662-HELP (4357).
Kathy Griffin got candid about her sobriety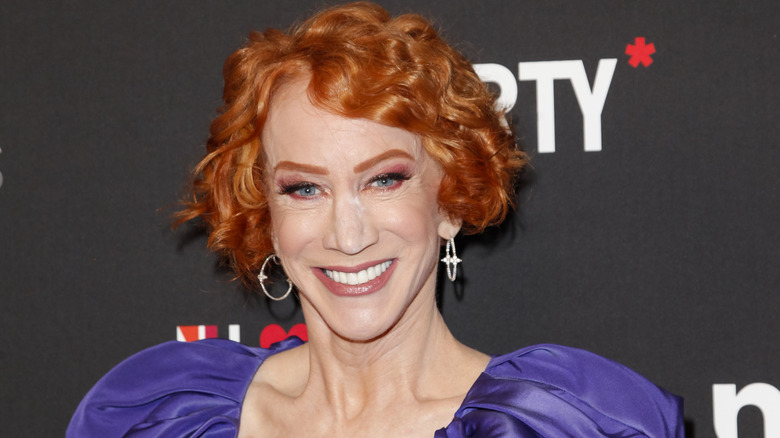 Tibrina Hobson/Getty Images
According to People, Kathy Griffin will share her story about struggling with drug abuse during an interview with "Nightline" on August 2, 2021. The comedian will also dive into her mental health journey, including a suicide attempt. Griffin has shared details about her journey, and said that one of the hardest things to do was to get sober. "The detox was nasty. I mean, it was [going on for] months," she said. "I was so unsteady. Like, when I would brush my teeth, my husband [Randy Bick] had to hold my hips so I wouldn't fall over. It was crazy," she admitted.
Griffin has been outspoken about addiction and recovery since getting sober. Back in December 2020, she shared an important message about addiction via Twitter. "We all 1) are dealing with addiction 2) know someone very well who is dealing with addiction 3) need (and hopefully) want to talk about it with others 4) can learn more," she wrote. "I am encouraged by the online discussions today about drug addiction and alcoholism. It's about time," she concluded.
Griffin said that after getting sober and being diagnosed with cancer, it's been "a challenge," but that she's "pretty strong." Fans can watch the actress' interview with "Nightline" on August 2, 2021 at 12:35 a.m. ET. 
If you or someone you know is struggling with mental health, please contact the Crisis Text Line by texting HOME to 741741, call the National Alliance on Mental Illness helpline at 1-800-950-NAMI (6264), or visit the National Institute of Mental Health website.