New Ways To Get Sunscreen Into Your Routine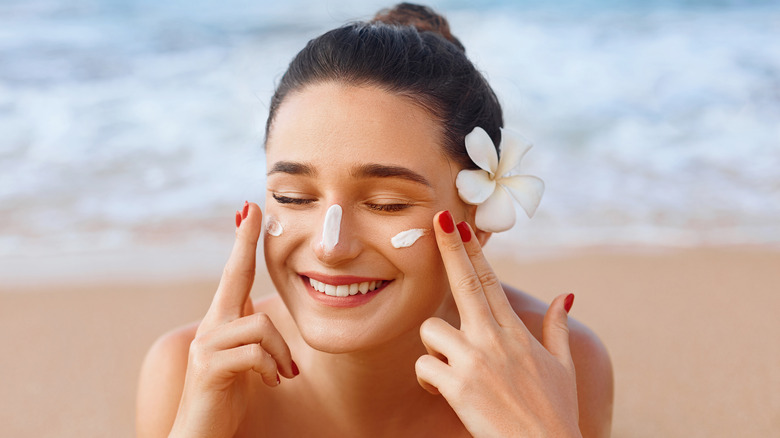 Shutterstock
Once upon a time, when we decided we were going to wear sunscreen, we were probably prepared to slather on coconut-scented lotion that was thick greasy, and either left a slimy residue or a chalky complexion. As such, we probably only wore it to the beach or when we knew without a doubt that without it we'd be walking away from the day with a nasty burn. But these days, we are fully aware of the necessity of sunscreen and how it helps prevent premature aging, certain types of cancers, and all sorts of other things we'd rather avoid (via Healthline). 
And as we've become more educated about why we need sunscreen, science has also made a whole host of discoveries about which types of sunscreens are healthiest, most effective, and most environmentally friendly. And cosmetic and skincare companies have found ways to integrate this information with customer feedback about wanting sunblock that is wearable for everyday use and even under makeup. 
Here we have a list of the best ways to get sunscreen into your daily routine, even if you don't want to slather on that coconut goo every morning.  
The best ways to sneak sunscreen into your routine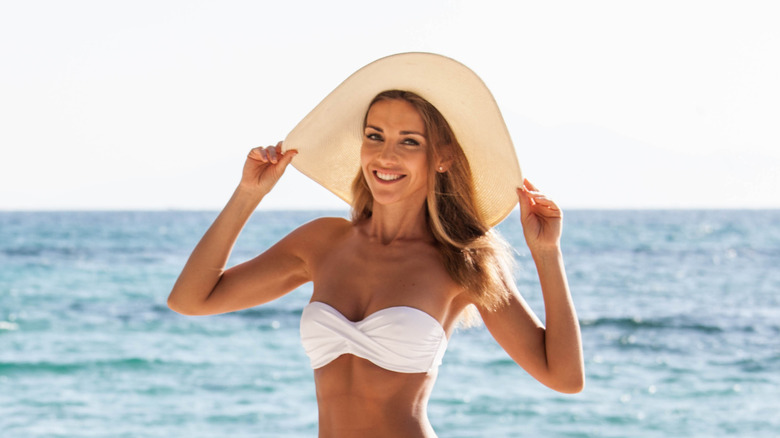 Shutterstock
If you have thinner hair or prefer not wearing hats when out at the beach or on other outdoor adventures, you might find that you get sunburn on your scalp (ouch!). If this is the case, we have a product for you! Supergoop! Poof 100% Mineral Part and Scalp Powder SPF 45 is a completely mineral sunscreen that you simply spray onto your scalp. Not only does it keep you safe from the sun, but it also absorbs excess oil like a dry shampoo (via Byrdie). Yes, please! If you are looking to protect your scalp and your hair from the sun and heat, you could try Coola Organic Scalp & Hair Mist SPF 30. While it does use chemical sunscreens rather than mineral, it protects from heat, UV rays, and color fading and is rich in antioxidants, is vegan, cruelty-free, and 70% certified organic.
Another interesting product to check out is Dr. Barbara Sturm Sun Drops. If you're a fan of mixing and making "cocktails" out of your skincare serums and creams, this might be for you. You just place a few drops in your hand and press into your skin for SPF 50 protection, and you can even mix it with a moisturizer or foundation for a flawless finish! And Tarte Tarteguard Mineral Powder Broad Spectrum Sunscreen is a sunscreen and lightweight makeup in one that can be reapplied throughout the day without ruining your look.