Will The Bachelorette End Without A Final Rose?
Katie Thurston's season of "The Bachelorette" has more than delivered on drama, even if the lady herself isn't necessarily one to lose her cool. Refinery 29 notes that, as we get down to the wire, even Thurston has started to sweat. With the finale looming, everybody is wondering who she's going to pick in the end — particularly considering that Thurston's season wrapped a week ahead of schedule, with a source telling Us Weekly firmly, "​​Katie was in control and made sure the men she wanted were there and the men she wasn't interested in, she sent packing."
Moreover, the finale is just one episode, rather than two as in previous years, and is slated to air on August 9. This has been a fun "Bachelorette" season overall, thanks in large part to Thurston herself, who's proven to be a no-nonsense candidate for the long-running dating show. Likewise, co-hosts Kaitlyn Bristowe and Tayshia Adams, both members of Bachelor Nation themselves, have been very useful in guiding Thurston along the way. But, with the end in sight, is there reason to believe a final rose won't be given out at all? 
Hometown took a bad turn on The Bachelorette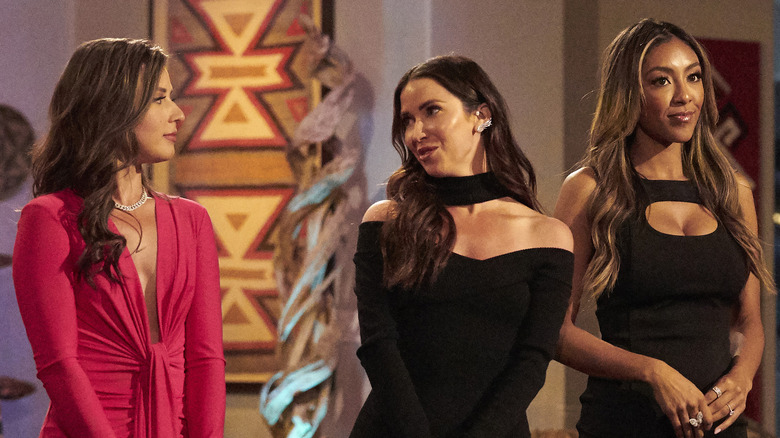 ABC
As People reports, Monday's episode of "The Bachelorette" was the popular Hometown installment, during which Katie Thurston visited with her three final guys: Blake, Greg, and Justin. "I'm hoping to figure out who it is that I see blending into my life," she explained, adding, "You don't just marry a man, you marry his family, so this is huge." Blake's date went well, with the couple coming to a mutual decision not to exchange "I love you's" just yet, even though he could totally see them getting married eventually. 
Justin fared slightly worse, considering his parents refused to take part, which gave Thurston cause for concern about how serious he was overall. Still, they ended on a positive note. 
Greg, meanwhile, was the clear frontrunner even if Thurston refused to actually label him as such. "Greg will be here next week. Greg is someone I want to continue to pursue our relationship with," the "Bachelorette" lead told his mother. Unfortunately, when Thurston couldn't say "I love you" back, Greg took it very badly, even accusing her of being dishonest with her feelings. After confronting Thurston and demanding answers, Greg told her he was done with the show.
Does Katie Thurston end up picking anyone?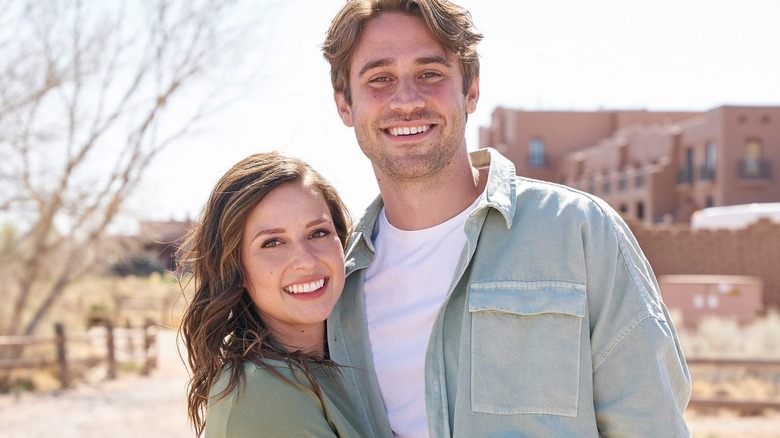 ABC
She started off the Hometown episode on top of the world, but by the end of it, "Bachelorette" star Katie Thurston was heartbroken. People notes she repeated, "I am done. I am done. I am done" after Greg walked out on her. When co-host Kaitlyn Bristowe asked how the sobbing Seattleite wanted to proceed, Thurston reasoned that her time on the show felt like a waste of time and stated simply, "I want someone to book my flight home." However, all may not be lost just yet. 
As Cheat Sheet notes, not every season of the hit show ends with a proposal even though that's always the goal. Still, judging by a photo shared to Reddit, purportedly taken at the After the Final Rose ceremony, Thurston is wearing an engagement ring, suggesting things do actually work out for her. "I will say the journey ended in the most unexpected way," Thurston teased Glamour, even describing it as "a first, definitely, in various ways." Blogger Reality Steve reckons he knows who wins (click through for spoilers) but we're going to have to wait and see.