Inside Clay Aiken And Kathy Griffin's Relationship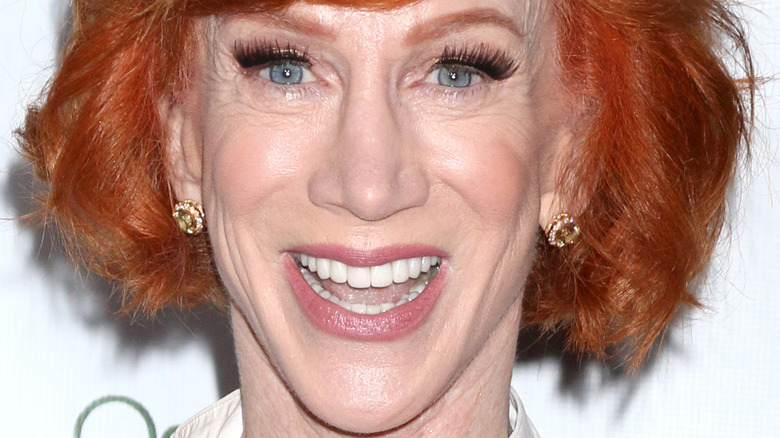 Shutterstock
No one has had a more controversial career than comedian Kathy Griffin. Among the celebrities and public figures she has clashed with is Andy Cohen, and of course, most famously, Donald Trump (via New York Post). And, then there's former "American Idol" star Clay Aiken, who the comedian dubbed "Gayken" in her standup act (via Pride).
At a 2008 event called "Rosie Live" put on by Rosie O'Donnell, Griffin tried to apologize to Aiken, who came out as gay that same year via a People magazine cover (via Today). "I held up one of those ghetto blasters playing one of Clay's songs, and I begged him to take me back and he said no," she riffed. The redheaded star added about the singer, "There were no words of thanks or even really any words at all, for that matter. I would have to say he was not very nice."
A lot of time has passed since Aiken came out, and Griffin used his sexuality as a bit in her act. On Monday, August 2, 2021, the "My Life on the D List" star revealed via social media she was diagnosed with lung cancer. And among the many celebrities who rallied around her in support was someone you may not expect.
Clay Aiken supports Kathy Griffin in light of her lung cancer diagnosis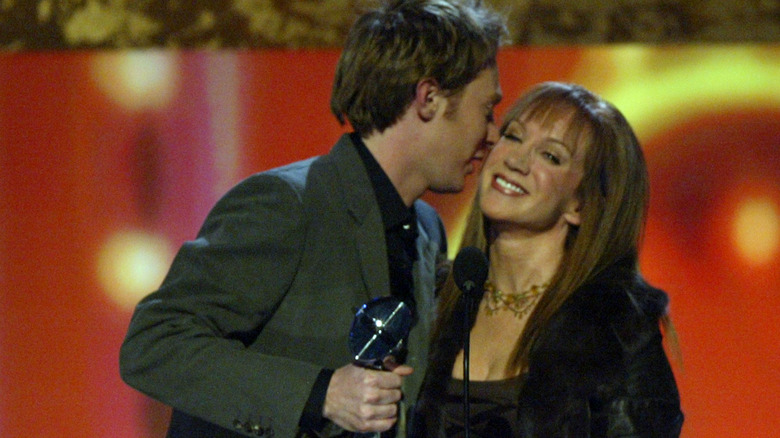 Kevin Winter/Getty Images
From O'Donnell, to Amy Schumer, and from Kate Beckinsale to Andie McDowell, star friends quickly showed their support for Griffin via Instagram amid her lung cancer diagnosis .
Surprisingly, Aiken also took to social media to share his well wishes for the comedian, tweeting, "Love and prayers for a speedy recovery to my dear friend @kathygriffin! Selfless and gracious, she even hosted a fundraiser for my congressional campaign years ago. Get well soon Kathy. I miss your jokes!"
Indeed, as fans remember, the "Idol"'s bid for a North Carolina congressional seat resulted in a loss back in 2014 (via Variety). Roll Call confirms the benefit took place that same year, helping to raise $233,000 that quarter.
Clearly the two managed to become friends in the end. Meanwhile, fans are quick to point out that Griffin has long been considered an advocate for the LGBTQ+ community (via NBC News). But at least one person thinks she is actually a bully.
Another friend of Clay Aiken isn't supporting Kathy Griffin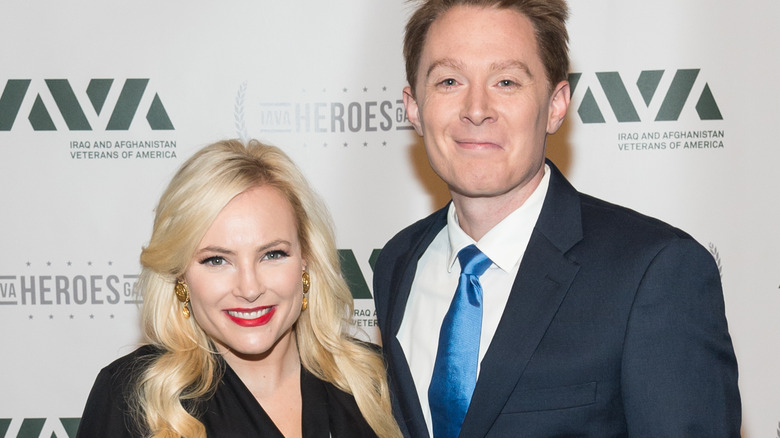 Mark Sagliocco/Getty Images
Not taking the high road upon hearing about Griffin's diagnosis was Meghan McCain, who said on "The View," "I don't like her, I'm never going to like her" (via Page Six). The reason has to do with Aiken as it turns out.
In 2020, the conservative host talked about her relationship with the former reality star, calling him "my dear close friend" (via Cheat Sheet). It seems her need to defend the singer took center stage even after learning that Griffin was sick, with McCain saying on air about Aiken that he could have "end[ed] up becoming an opioid addict given the degree of bullying that happened to him when he was still struggling to come out of the closet."
O'Donnell was among those who took issue with McCain's words, tweeting, "whats wrong with u mm ? she just announced she has lung cancer." At time of writing, Aiken had not specifically addressed his friend standing up for him after his other friend disclosed her illness.