The Summer Nail Trend You Need To Know Before Your Next Manicure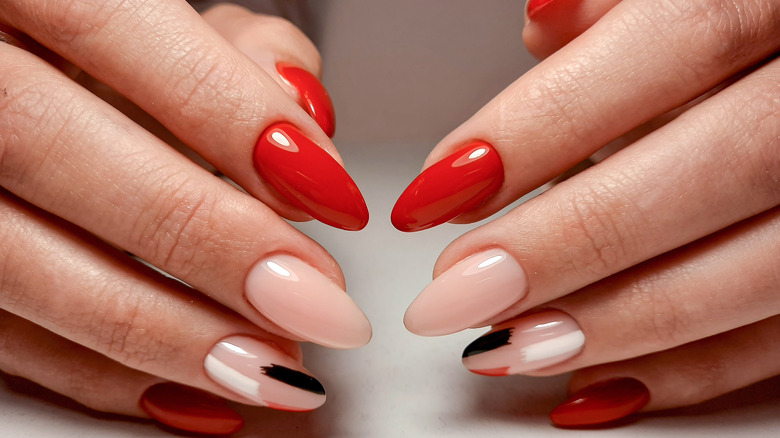 Shutterstock
As the seasons change, so does your manicure. The summer months have arrived, and you're probably finding yourself in the mood for a seasonal refresh for your fingertips. Before you head to your favorite nail salon to get your usual square tips, you're going to want to take a second look at what's trending for summer 2021. Square tips, short and round shapes, and stilettos are moving aside to make way for this season's hottest nail trend: almond nails.
Almond-shaped nails are universally flattering, and the shape is versatile in terms of length. You can request ultra-long almond acrylics for a statement, or opt for a shorter, more subtle version of the nut-inspired nails, per InStyle. This shape makes for the perfect canvas for your nail tech to create eye-catching nail designs, and the elongated look the shape gives your hands makes for an elegant vibe. 
Keep scrolling to learn about some ways to make your almond nails stand out this summer. 
Make your almond nails pop with design and color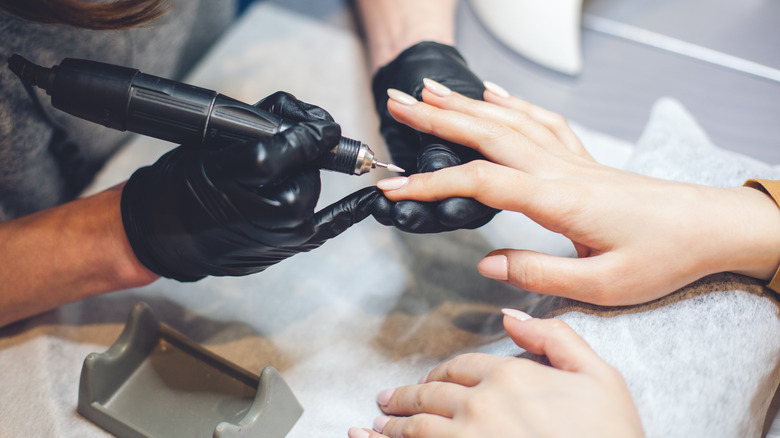 Shutterstock
Whether you go for a design or for a solid hue, this almond nail trend will be the perfect accessory all summer long. Nail artists, however, have seen an uptick in requests for funky designs, and there are countless options for you to choose from.
It's no secret that geometric patterns are having a major nail moment. In fact, BelleTag says the fun design choice is "a trend of the year." Ask for a neutral hue and any combination of lines, shapes, and colors to add a touch of whimsy to your manicure. If you're going for a full set of acrylics, The Trend Spotter suggests you request a transparent tip with a geometric pattern on top of it for an ultra-trendy vibe.
Many people are also choosing to update the classic French manicure this season with non-white hues, according to The TrendSpotter. Ask for pink, lavender, or light blue for the perfect pop of summer color. Double up on what's trending by requesting a nature-inspired design on an accent nail.
You can update your almond nails at home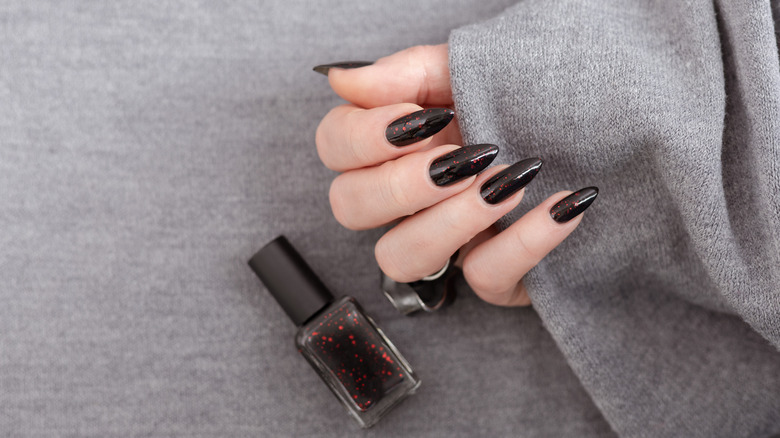 Shutterstock
If you're doing your nails at home, you can easily update your manicure for a professionally done look. You'll want to begin with your nails slightly grown out so that you can clip them into an almond shape. Once you have a rough almond shape, file each side towards the center and carefully make sure each side is even, as noted by Sundays.
Holographic nails are having a major trending moment, according to The Trend Spotter, and a swipe of holographic topcoat from a brand like Starrily will make for a super eye-catching manicure. You can also easily add a glitter coat for an eye-catching sheen, or paint each nail a different color for a fun and easy manicure. If wearing multiple colors is too much for you, black nails are timeless, and they get a contemporary update with the almond shape.
Whatever color or design you choose for your summer mani this season, you can't go wrong with an almond shape. Almond nails are easy to achieve at home or the salon. And with the shape's naturally elegant vibe, your nails will be the perfect accessory to any outfit.