This Surprising Piece Of Princess Diana Memorabilia Is Being Auctioned Off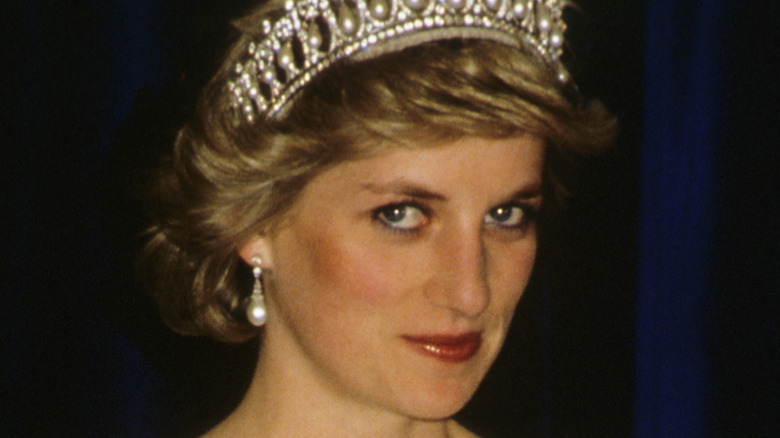 Georges De Keerle/Getty Images
Princess Diana was born as Diana Frances Spencer on July 1, 1961. She became part of the British royal family after marrying Charles, Prince of Wales, in 1981, with whom she shared sons Prince William and Prince Harry. The couple's divorce was finalized on August 28, 1996, and she tragically died on August 31, 1997, with her funeral taking place on September 6 and being watched by mourners around the world (via ThoughtCo.).
Now, a piece from her past is about to be up for auction through Dominic Winter Auctioneers, an independent specialist auction house based in Gloucestershire and founded in 1988.
What is the unique memorabilia that is being auctioned off to the public? Is it, perhaps, a piece of jewelry that belonged to this fashion icon? Is it something personal, such as a journal or photos? No, it is sweeter than that. It is a piece of cake from her wedding!
This piece is from one of the 23 wedding cakes at Princess Diana's wedding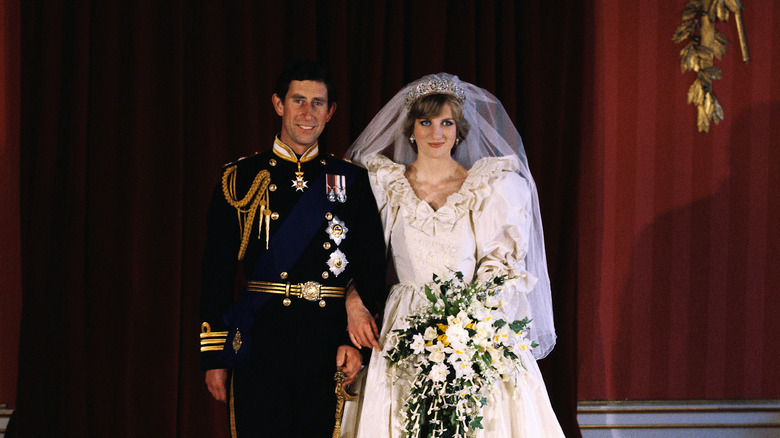 David Levenson/Getty Images
When Charles, Prince of Wales, and Diana, Princess of Wales, tied the knot in July 1981, they had 23 different wedding cakes (via NPR), and now, Dominic Winter Auctioneers is auctioning off a slice from one of them. The slice in question has white icing, along with a sugared decal of the royal coat of arms, a silver horseshoe, and white decorative detailing. It weighs 28 ounces and does have some damage after all of these years, such as some cracks.
According to the auction house, the slice was more than likely sent off to the Queen Mother's staff, and one of the employees, Moyra Smith, ended up with it. The auction house received the sweet piece of history in 2008, and it has been sitting in its plastic wrap and cake tin since then. It will be up for grabs on August 11, 2021 and is estimated to go for £200 to £300, or $278.12 to $417.18.