Why You Recognize The Song In Facebook's Longboarding Commercial
You might have seen Facebook's new longboarding commercial (via YouTube) over the last couple of weeks. It's the one with scenes of skateboarders in Barcelona, Los Angeles and Seoul, that's shown on NBC during their Olympics coverage – to coincide with these being the first Games to feature skateboarding as a sport (via Muse by Clio). 
Directed by singer FKA twigs, the commercial features longboarders showcasing their sublime skills around the world, and keeping in touch via the Longboard Family Facebook group (via iSpot.tv). As it says in the commercial, "Why learn from one dance partner when you can learn from thousands ... We change the game when we find each other," showing the benefits of Facebook in communicating with like-minded people worldwide. 
A song plays throughout the commercial too, accompanying the impressive skateboarding going on, and it's one that you might have found yourself recognizing — for good reason. Here's why.
The track is by R&B singer Brent Faiyaz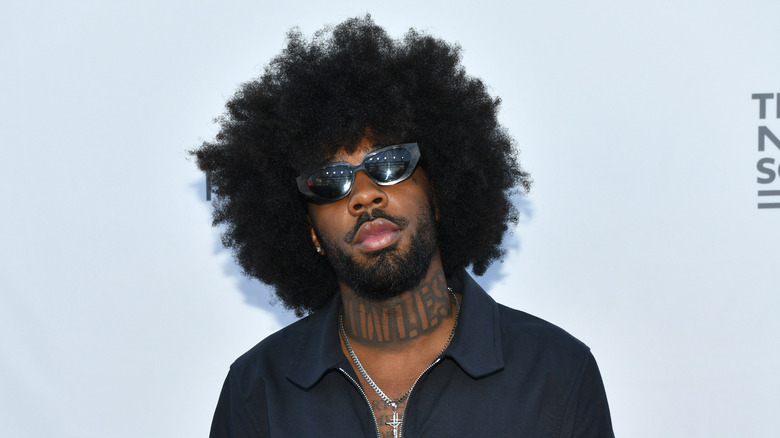 Craig Barritt/Getty Images
The song in question is "Dead Man Walking" by American R&B singer Brent Faiyaz. Even before releasing his debut album "Sonder Son" in 2017, the 25 year old gained a following online, having started uploading music to SoundCloud in 2014 (via Billboard). 
The track itself was released in 2020, peaking at No. 6 on Billboard's Bubbling Under Hot 100 chart, and has been certified gold by the Recording Industry Association of America. On Spotify, "Dead Man Walking" is one of Faiyaz's most popular tracks, with over 121 million total streams, so there's a good chance that you've heard the song before. 
Since the release of 'Dead Man Walking', Faiyaz – real name Christopher Brent Wood – has been working on his upcoming second album, "Make It Out Alive," and released singles featuring Tyler, the Creator (via Rap Radar) and Drake (via Rap-Up) this year. "Dead Man Walking" might be among the singer's more recognizable tracks, but there are definitely a lot more where that came from.