The Touching Meaning Behind Gia Guidice's Name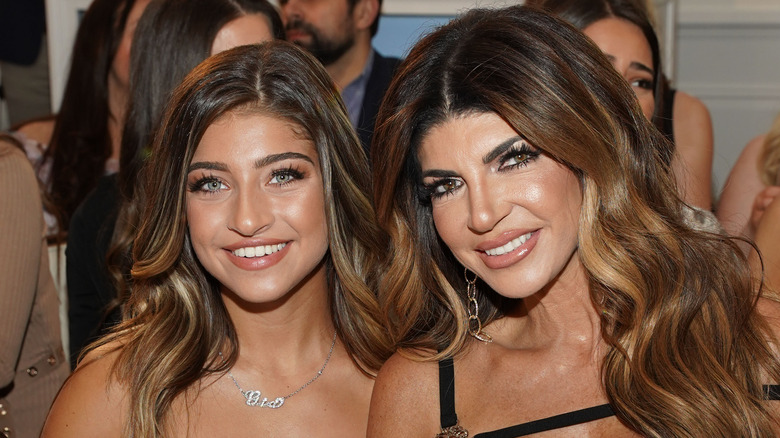 Manny Carabel/Getty Images
As the only cast member to appear in every season of "The Real Housewives of New Jersey," Teresa Guidice has garnered tons of attention for herself and her family throughout the last 12 years. Fans watched as Teresa and her now ex-husband, Joe Guidice, raised their four daughters together through major ups and downs, including a 15-month stint in jail for Teresa and a 41-month stint for Joe (via The U.S. Sun). 
Despite the troubling times, the pair maintained a deep dedication to their family and raising their children. Following the tax fraud case that sent the New Jersey parents and reality television stars to prison, Joe faced deportation and was sent back to his native Italy and has since been living in a small town, Salerno (via E!).
In 2019, Teresa brought their four daughters, Gia, Gabriella, Milania, and Audriana, to Italy to reunite with their father, and it was on this trip that the couple made their separation official. Despite the dissolution of their marriage, Joe and Teresa Guidice are still dedicated to giving their daughters a good family life, as Teresa tearfully stated to her estranged husband during "The Real Housewives of New Jersey" episode that covered the trip. "Seeing my four daughters, it's hard for me to even say it," she said (via People). "I know you've been waiting for this day for so long. Seeing you as happy as you guys are just makes me happy and overjoyed."
Gia Guidice was named after a beloved family member
Despite the troubles that the Guidice family has faced together, it's clear that Joe and Teresa Guidice remain dedicated to their strong family values. It should come as no surprise that, in the case of the couple's first daughter, Gia Guidice, the parents decided to pass down a family name. Gia was given her name to honor her grandfather, Giacinto, whom the Guidice girls affectionately referred to as "Nonno." Giacinto was Teresa's father (via The Things).
Giacinto, unfortunately, passed away in 2020 at the age of 76 following a battle with a long illness, leaving a hole in the hearts of the Guidice family. Following his death, Gia posted a touching tribute to her late namesake on Instagram with a heartfelt caption. She wrote, "One year without my favorite person on this planet... I cherish you every single day, I miss you more than you know best friend. I love you endlessly my beautiful angel, that smile brings me joy every day, I miss it so much." 
Giacinto's death came just three years after the death of his wife, Antonia. At least his name will live on through his devoted granddaughter, Gia.