A Closer Look At Bella Thorne's Engagement Ring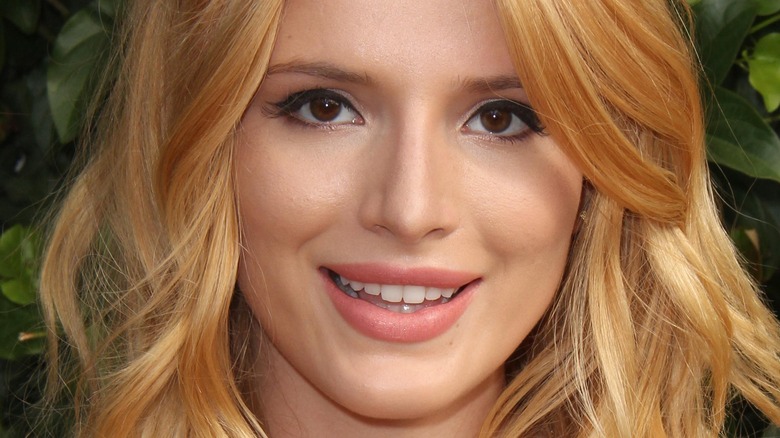 Shutterstock
Earlier this year, Bella Thorne said, "Yes," to Benjamin Mascolo's intimate proposal — and it came with a gorgeous diamond ring. Mascolo, who's part of the Italian music duo Benji & Fede, was first seen with Thorne a few days after her breakup with rapper Mod Sun in April 2019, per People. The two musicians fittingly met at Coachella, according to Mascolo's Instagram post in April 2020: "About one year ago, out of the blue you landed like a UFO alien in my very normal Italian popstar life and f****d up all the plans I had for a outrageous Coachella weekend and summer in Ibiza and Mykonos," he wrote.
They were dating for about a year before the pandemic complicated things (as it did for many of us), and the two spent months in the throes of long-distance dating rituals. However, the bi-continental couple already had practice for the unexpected distance in their relationship. In 2019, Thorne told People, "Ben is a cutie pie and seeing him on FaceTime all the time makes me smile very big." She continued, "Clearly, he lives in Italy so it's an interesting thing."
The former Disney Channel star and musician reunited with Mascolo in July 2020, as Thorne confirmed in her Instagram Story. "I'm gonna see my boyfriend holy s**t. Let's go 5 months," she wrote, per From The Stage. The relationship has since progressed, and the diamond ring Mascolo picked for Thorne accompanies her everywhere. Let's take a closer look at her engagement ring. 
Bella Thorne bought Mascolo an engagement ring too
Benjamin Mascolo's engagement announcement showed up on his Instagram feed with the words "She said YES" in March. Bella Thorne's response was posting to her 24 million followers, writing, "You would have said yes too," accompanied by a photo with glowing letters that spelled the phrase "Marry Me." Mascolo's proposal also came with a massive heart-shaped floral arrangement that simply stated, "B+B." 
Thorne happily showed off her new bling, too, and posted the remarkable pear-shaped ring that Mascolo had chosen for her onto her Story with the caption, "He knows exactly my style," as reported by People. And if the diamond looks expensive, that's because it is. Page Six reported that the 3.5 to 4-carat ring costs between $75,000 and $125,000. A month after the announcement, Mascolo showed off his own diamond ring with an Instagram post captioned, "She got me an engagement ring."
While most of us aren't receiving invites to the wedding, Thorne did post a pre-bridal photoshoot, which gave a glimpse into what her big day may look like. Thorne could have been a Disney princess incarnate, as she sat amongst a garden of fake flowers and lights in a flowing, white dress that cascaded along the glittering stairway. She captioned it, "put on some white and feeling like a bride to be. what do you guys think i'll wear to my wedding?? taking suggestions..." The wedding date hasn't been announced yet, but we can't wait for the (hopeful) livestream!