Why Royal Experts Say 40 Is A Fabulous Year For Meghan Markle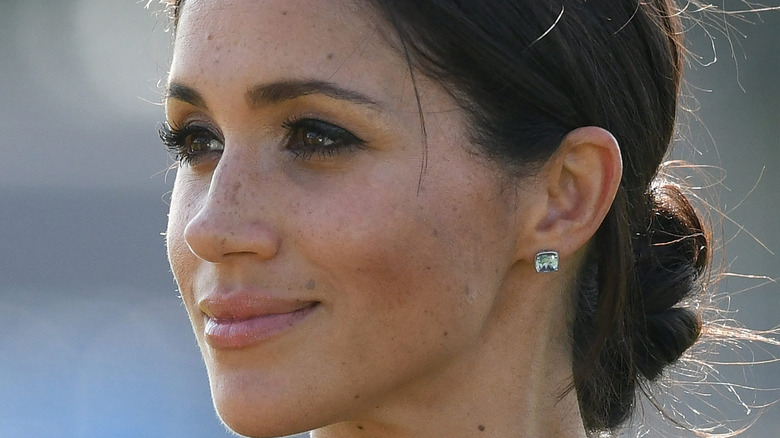 Shutterstock
Meghan Markle just hit a big milestone. The Duchess of Sussex is celebrating her 40th birthday on August 4, 2021, but it appears that she'll do so with a quiet celebration. According to Harper's Bazaar, Meghan isn't going all out with a lavish party and tons of gifts. Instead, she's reportedly planning a relaxed day at home with her husband, Prince Harry, and their two children, Archie and Lilibet, in their hometown of Montecito, California.
Currently, both Meghan and Harry are still on parental leave following the birth of their daughter in June 2021, per Page Six. While Harry and Meghan have often headed out on small vacations and romantic getaways to mark the occasion, Meghan's 40th will look a little different. Harry took Meghan to Africa for her 36th birthday, and the couple attended the wedding of their friend Charlie van Straubenzee and Daisy Jenks in Surrey for her 37th birthday. In 2019, the couple spent a few days with little Archie at their British residence, Frogmore Cottage, and during Meghan's 39th birthday, they stayed home amid the COVID-19 pandemic.
No matter how Meghan and Harry decide to celebrate her special day this year, royal experts say that the duchess will be happier than ever at age 40.
Meghan Markle may be her happiest and most content at 40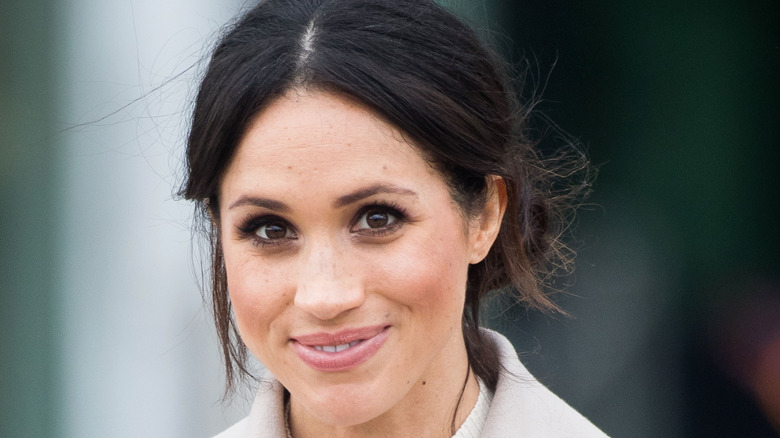 Shutterstock
The Sun noted that Meghan Markle could be gearing up for the best year ever as she celebrates her 40th birthday. Royal expert Duncan Larcombe claimed that Meghan has everything she could want, with Prince Harry and her children by her side and the royal family thousands of miles away. "Perched on her throne in the lavish LA mansion she calls home, the Duchess of Sussex is unlikely to be wondering where it all went wrong," Larcombe said. "Millions in the bank, Hollywood A-listers on hold, and a red carpet status beyond her wildest of dreams. The mother of two beautiful young children and the wife of a handsome prince," he added.
Larcombe went on to highlight the success of Meghan's interview with Oprah, her children's book in stores, and the number of celebrities she calls friends. "Astonishing to think that only a few years ago she was a thirty-something divorcee with the final series of her only hit role in 'Suits' charging up on the horizon," Larcombe said. "Never before has a chance blind date given rise to such an astronomical change in fortunes."
Meanwhile, body language expert Judi James also said that Meghan has seemed to change since she and Harry left their roles as senior members of the royal family. James said that the duchess doesn't appear to be seeking approval any longer. "Back in the US Meghan's images are one of a wife and mother and enjoyer of freedom," she revealed. It appears that Meghan may really be set to have her best year ever as she and Harry continue to navigate life following their royal exit.