Is This How Greg Grippo Really Felt After His Dramatic Break Up With Katie Thurston On The Bachelorette?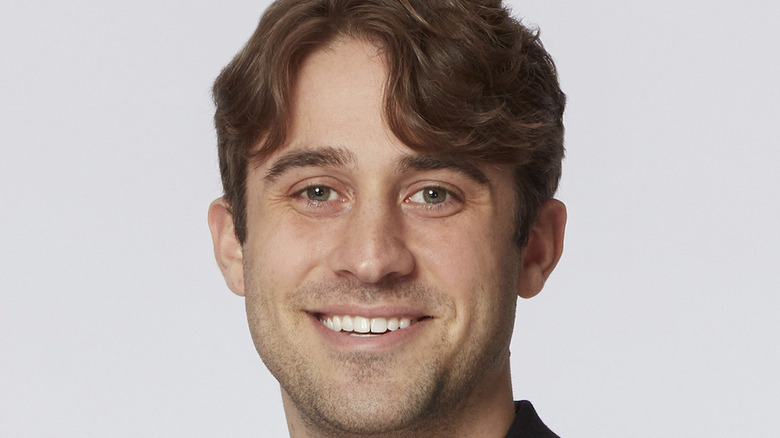 ABC/Craig Sjodin
The following article includes claims of emotional manipulation and gaslighting.
Monday, August 2, 2021's episode of "The Bachelorette" was the most dramatic of the season, and we're not saying that lightly. As Katie Thurston geared up to meet the families of her remaining three men, things took a dramatic and unexpected turn when one of the guys, Greg Grippo, shockingly left the reality star in a huff. During his hometown date, Greg privately shared his feelings of love with Katie, but things quickly turned tense when she didn't verbally reciprocate his feelings. The date ended on an extremely awkward note, and the next day, Greg went to visit Katie in her room. That's when things went from bad to worse (via E! News).
Greg accused Katie of neglecting off his feelings and got very defensive when he claimed that Katie had gotten too taken with "the journey" instead of focusing on the couple's relationship. Greg ultimately stormed out and left Katie in tears before telling her that he was done with the show and planned to leave just one week before the fantasy suite dates. During their conversation, Greg continuously claimed that Katie was not listening to him, nor did she understand the situation. Of course, fans had a lot to say about Greg's behavior during the episode, and later Katie even seemed to hint at her feelings about the situation.
After the episode, Katie shared a post to her Instagram story which detailed gaslighting, a term that means, "to cause (a person) to doubt his or her sanity through the use of psychological manipulation," per Dictionary. Now, one of Greg's friends is spilling details about how he felt following the dramatic breakup.
If you or someone you know is struggling with emotional abuse within a relationship, please contact the Crisis Text Line. Text HOME to 741741 to connect with a Crisis Counselor to access free, 24/7 support, or visit the National Domestic Violence Hotline website for more resources. 
Greg Grippo's friend says he was broken after the breakup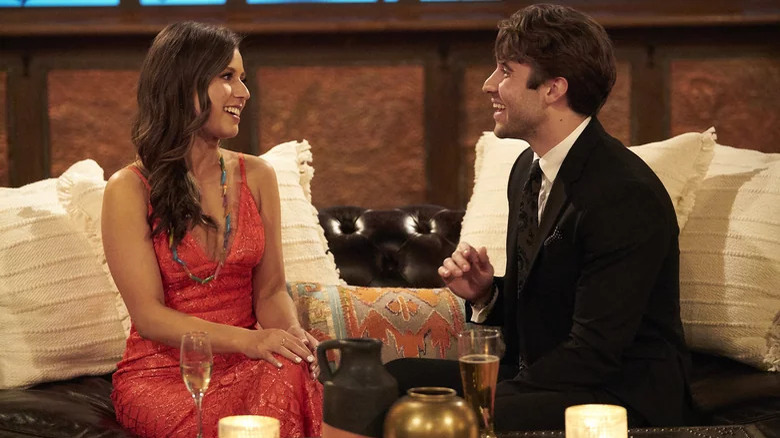 ABC/Craig Sjodin
Following the episode, famed "Bachelor" blogger Reality Steve tweeted a message about the drama that's still to come surrounding Greg Grippo and Katie Thurston's breakup. "This victim game Greg is playing isn't working at all. And we haven't even gotten to the good stuff yet," Reality Steve tweeted, per Us Weekly. Later, Greg's friend and "Big Brother" alum, Kaitlyn Herman, replied to the tweet in defense of her pal. "The VICTIM GAME? That was the most vulnerable I've ever seen a man speak in my entire life. And the response was 'I just like looking at you.' I watched this man cry EVERYDAY when he got home. He was BROKEN," Herman fired back.
Following Kaitlyn's response, another "Bachelorette" fan asked why Greg didn't simply allow Katie to share her thoughts and her side of the story, calling him "manipulative" in that moment. "He wasn't asking for her to say I love you and he made that abundantly clear. Also not for nothing, many leads have said I love you at this point (to multiple people)," Kaitlyn replied.
Meanwhile, Katie chose not to address the situation head-on during the episode. Instead, she thanked viewers for all of their love and support following the difficult interaction. "Thank you for the virtual hugs tonight," she posted after the episode finished airing. As for Katie's love life, fans will have to tune in to the dramatic "Bachelorette" season finale to see if Katie gets engaged, or leaves without a ring.