Here's What Winnie Harlow's Real Name Actually Is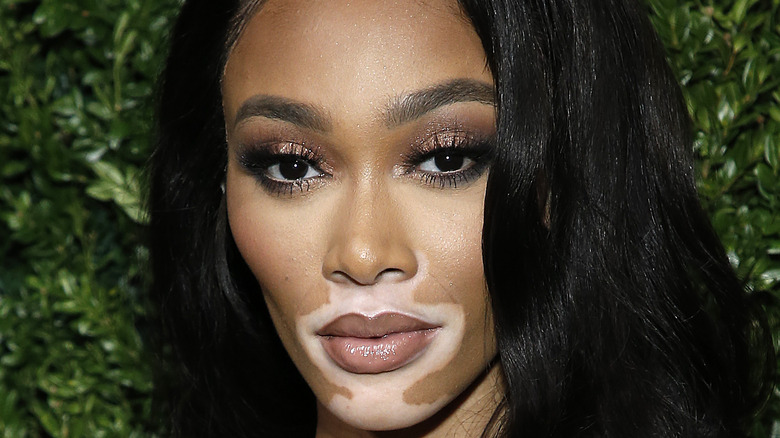 John Lamparski/Getty Images
We first met Canadian model Winnie Harlow on the 21st cycle of America's Next Top Model back in 2014, and since then she's gone from strength to strength, working with brands including Marc Jacobs, Tommy Hilfiger, and Victoria's Secret (via Yahoo!) and magazines like Vogue Italia, Cosmopolitan, and Glamour (via Insider) — the sky's the limit for the talented model — even if she doesn't look back on her TV stint too fondly.
Born in Canada to Jamaican parents — her heritage is something she's open about on her Instagram profile — she was diagnosed with the skin condition vitiligo when she was 4 years old. With vitiligo causing depigmentation of the skin, Harlow often faced bullying as a child and has spoken about her experience of living with the condition a number of times (via HuffPost). While it's something that she's embraced, there was another big change that she made when beginning her career: her name. Here's Winnie Harlow's real name. 
Winnie Harlow took her name from Winnie the Pooh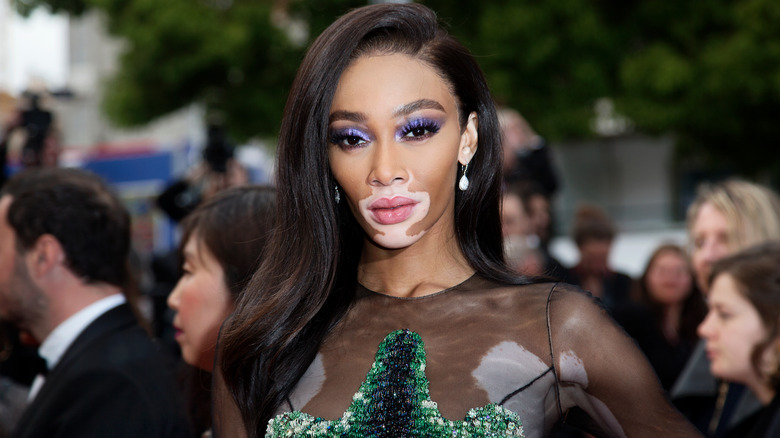 Shutterstock
Yup, Winnie Harlow was not given that name by her parents. As a child, she went by the name Chantelle Whitney Brown-Young, the daughter of Lisa Brown and Windsor Young (via CNN). So, where did Winnie come from?
Like many of us, it appears that Harlow grew up with the yellow bear in the red shirt created by A. A. Milne almost a century ago. Speaking to The Daily Front Row back in 2018, she said, "I was a big fan growing up, and it was actually from a joke with some friends. We were on the phone with some boys, I grabbed the phone from one of my girls, and was like, 'Don't give my friends attitude!' And the boys asked, 'Who is this?' I looked over, my friend was wearing a Winnie the Pooh T-shirt, so I said my name was Winnie."
As for Harlow, it comes — somewhat indirectly — from Marilyn Monroe. A big fan of the legendary star, she thought it'd be "cheesy" to use the name Monroe itself, so instead turned towards Jean Harlow, one of Monroe's biggest inspirations. "In the beginning, I tried to go by Chantelle Winnie," she explained, "But then decided to keep Winnie Harlow and Chantelle separate. My family calls me Chantelle."