Brandi Glanville Shares Gruesome Health Update With Fans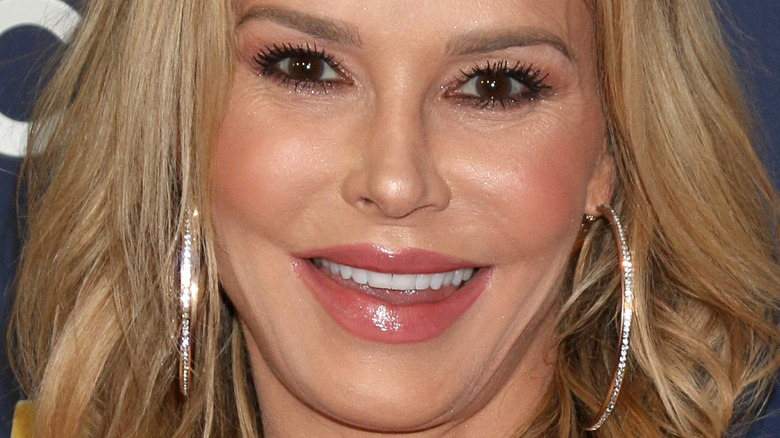 Shutterstock
It's been a scary year for Brandi Glanville! Back in March, the former "Real Housewives of Beverly Hills" star shared that a psoriasis treatment left her with second degree burns on her face. At the time, she lamented that having people put her down for her swollen appearance was enough to make her cry. Now, the reality mom is sharing yet another upsetting health update with her fans that involves a gruesome injury (via People).
On Wednesday, Glanville shared a photo of herself in a hospital bed, while holding up a gnarly-looking swollen red hand, to Instagram, captioning the image, "Hey guys yes I was admitted to the hospital yesterday and I have amazing first responders taking care of me!We are not exactly sure what we are dealing with we believe it may be an infected spider bite. More tests to run."
Another cringeworthy image of her injury was shared to her Stories, with the 48-year-old noting her hand was "finally starting to go down."
Brandi Glanville did not want to seek medical attention at first
Just a day earlier, Glanville first told fans about her bite, and showed a picture of the inflamed hand to her Twitter account, writing, "My little piggy hoofer has an infected bite of some kind (not human) spending my day at ER I wanted to leave but they said I could lose a limb so I'm chilling -ON A TUESDAY!!!!"
Earlier she had tweeted, "I think I got bit by something in the night!:/I have so much to do today I'm not sure I can go to the doctor" (via Fox News).
Meanwhile, according to WebMD, most spider bites are not harmful to humans, with the exception of the black widow and brown recluse here in the U.S. That said, as Health Grades notes, rarely a bite can indeed get infected, and like in Glanville's case, start to look worse instead of better. The site notes one should seek medical attention if this happens — so it's lucky the "RHOBH" star did so.