How Dancing With The Stars Producers Affect Who Wins The Show
If you think fan votes are all that goes into the selection of each season's winner on "Dancing With the Stars," you may want to think again. Although the millions of votes from viewers are certainly factored into the decision, former contestant Alfonso Ribeiro — who nabbed the coveted Mirrorball trophy in Season 19 with the help of his professional dance partner Witney Carson — recently shared some disappointing news about what goes down behind the scenes when it comes to naming the top dancer of each installment of the long-running ABC dance competition series.
While chatting with AOL Build in October 2016, Ribeiro suggested that while the show isn't exactly rigged, producers do try to influence which stars stay and which get sent home. "There's a lot of manipulating going on with the producers, about what weeks you're doing which dances, and are you doing your best dances early or are you saving them for later," Ribeiro said.
The best dancer might not win on Dancing With the Stars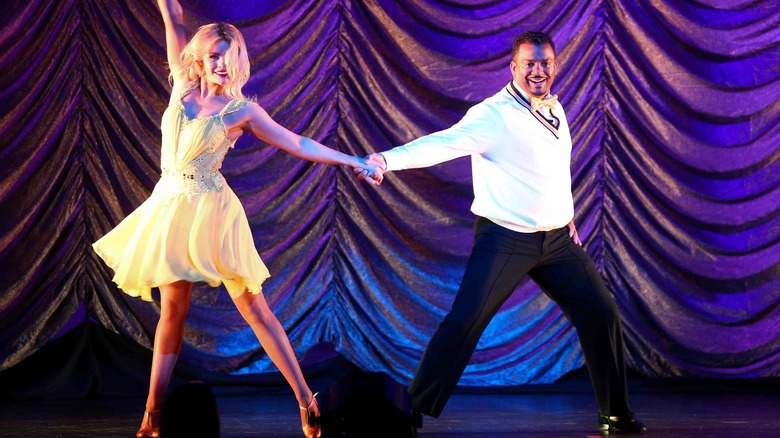 Shutterstock
"There's a lot that goes into pulling out a win on the show versus being the best," Alfonso Ribeiro continued to AOL Build amid the 23rd season of "Dancing With the Stars."
"The show is about a journey," the "Fresh Prince of Bel Air" alum added. Ribeiro went on to say that while he believed it would be U.S. Olympic gymnast Laurie Hernandez who would take home the Mirrorball Trophy that year, which she did, he was well-aware that more than just dancing went into picking a winner.
"This season Laurie Hernandez is the clear favorite to win on the dance floor. The question is, as I know, is that it's not all about the best dancer," he shared. "The fact that she's 16, that's a negative for her on the show. It's not very often do young contestants win because that's not how the audience votes."