Is This The Real Meaning Behind Meghan Markle's Favorite Hairstyle?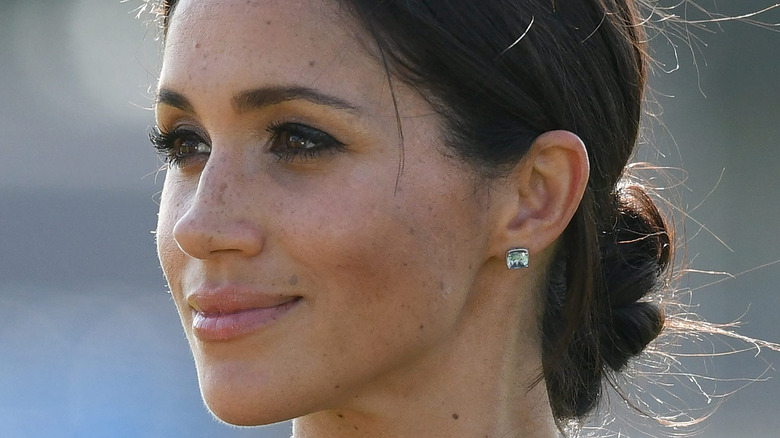 Shutterstock
Meghan Markle is one of the most famous people in the world. She was first noticed while acting on the popular television series "Suit" (via IMDb). However, once she began dating Prince Harry it seemed that everyone knew her name. The couple married in 2018 and since then they've been making headlines on a consistent basis, for both good and not so flattering reasons. And now, it seems that Markle may be ready to expand her range even further by becoming a media mogul.
"She has a lot of ambition and a lot she wants to achieve," public relations expert Andy Barr told Closer. "I fully expect them to have their own production company within five years and to be bigger than their A-list peers who are floating around Hollywood right now. I believe she's looking to take Oprah's crown – which is ironic, considering she's given them a foothold in America."  As America's royal family, the Duke and Duchess of Sussex appear to have a lot of plans about the future; Barr says that Markle may even consider a run for office one day.
While Markle is busy working to achieve her goals, she'll likely be dressed to impress (per usual) and rock her signature hairstyle, which has become her go-to when she's ready to roll up her sleeves and get to work.
The real reason Meghan always wears her hair in a bun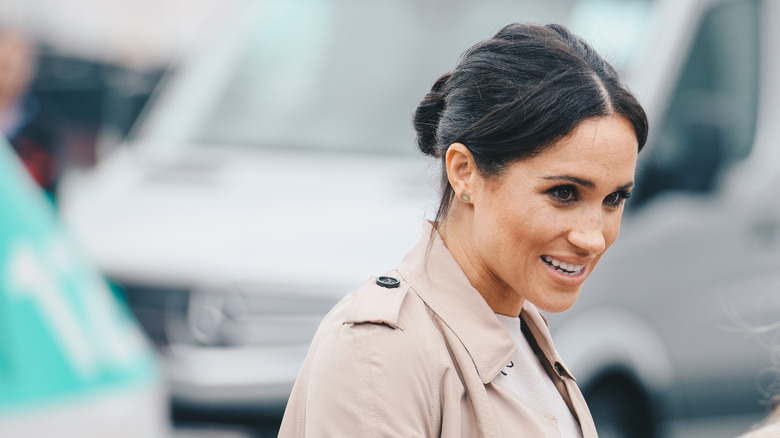 Shutterstock
According to The Daily Mail, Meghan Markle has often been seen out in public, or in videos sporting the same hairstyle, a low bun at the base of her neck. The style is casual, yet elegant, and is said to hold meaning with the Duchess of Sussex. Celebrity hairstylist Tom Smith tells the outlet that when Markle has her hair twisted into her low bun it signifies that she means business.
"This particular hairstyle for Meghan is quickly becoming a trademark, when she wants to portray that she's taking something seriously," Smith said, adding that she wore her hair in a similar way during her tell-all interview with Oprah Winfrey back in March. "Her low bun gives an elegant, serious and strong energy," he continued. "Meghan retains her approachable nature by leaving out the soft strands around her face. This stops her look from appearing too severe and helps to modernize the style," Smith added, claiming that the curled strands around her face compliment "her entire appearance." The stylist went on to admit that during serious situations Markle often wears her hair in the bun because leaving her hair down and loose would make her look to "youthful, girlish, and playful."
It seems that if Markle is looking to become a media giant like her friend Winfrey, fans may see her continue to sport her favorite hairstyle on a regular basis.