Here's The Meaning Of The Unusual Necklaces Meghan Markle Wore On Her 40th Birthday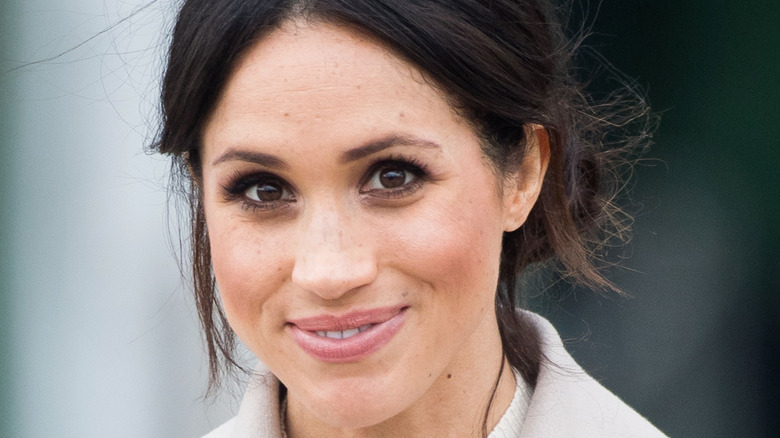 Shutterstock
Meghan Markle celebrated her 40th birthday with a special announcement: The launch of her 40x40 initiative, which focuses on helping women return to the workforce. "I believe mentorship is one way to help women regain confidence and rebuild their economic strength, and for my birthday, I have asked 40 friends, activists, athletes, artists, and world leaders to help kickoff a global effort by contributing 40 minutes of mentorship to support women re-entering the workforce," she explained via a statement on the site for Archewell, the charitable organization founded by Markle and her husband, Prince Harry. "With this time, I hope they each help someone advance a professional life on her own terms, and, I hope that they inspire countless others to give 40 minutes of their time as well."
The Duchess of Sussex was inspired to start 40x40 because of the millions of women around the world who have had to leave their jobs due to the COVID-19 pandemic. She promoted the new project with a funny video with actress Melissa McCarthy. While McCarthy was done up in a floral dress, pearls, white gloves, and a large fascinator, Markle was dressed in a classic white ensemble with some special accessories that pay tribute to her two children, 2-year-old son Archie and 2-month-old Lilibet (via InTouch Weekly).
Meghan Markle's necklaces are a tribute to her children
During a video with actress Melissa McCarthy to announce the launch of her 40X40 initiative, Meghan Markle wore two unique necklaces that were a tribute to her children. One necklace was of a Taurus constellation that is for Archie, while the second piece features a Gemini constellation piece for Lilibet (via InTouch Weekly). Each one was created by Los Angeles-based jewelry designer Logan Hollowell. The Gemini necklace costs $1,785 and the Taurus design retails at $1,600. 
"The Zodiac necklaces in my collection are made here in Los Angeles with conflict-free diamonds and 100 percent recycled gold," Hollowell explained in a statement. "Each is designed with the intention that its wearer feels more connected to their true self and reminded that they are on their divine path."
Markle often wears jewelry for sentimental reasons. Back in 2015, she revealed that she had bought herself a Cartier French Tank watch for a specific reason. "I had it engraved on the back, 'To M.M. From M.M.,'" she told Hello! at the time. "I plan to give it to my daughter one day. That's what makes pieces special, the connection you have to them."