How Kelly Ripa And Mark Consuelos Make It Work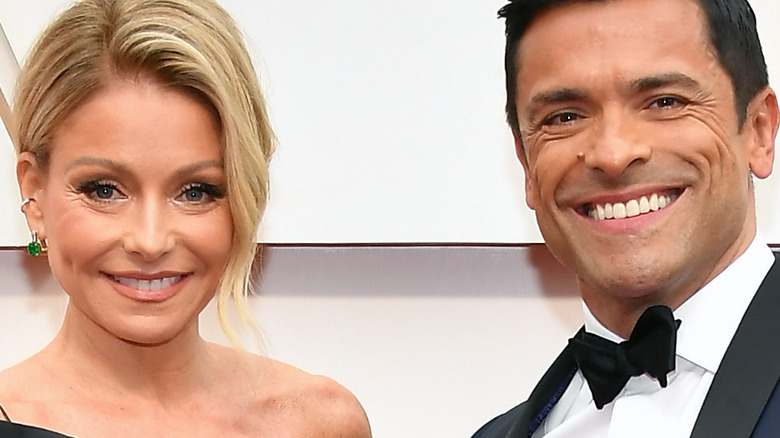 Amy Sussman/Getty Images
While Kelly Ripa and Mark Consuelos met on the set of a soap opera, their lives are much more ordinary than those of the characters they played — despite being two hard-working celebrities always in the limelight.
Ripa was only 20 years old when she landed the role of Hayley Vaughan on the ABC soap opera "All My Children" in 1990, according to Biography. As she took Hayley from punk rock wild teen to a somewhat more subdued young adult, the soap cast a new love interest for her character, Mark Consuelos as Mateo Santos. The two became close right away, but only revealed that their reel-life romance had turned into real-life romance after they tied the knot one weekend in Las Vegas in 1996 (via Insider).
"We just understood each other really well. If two people were ever supposed to be together, I'd say it was us," Ripa told Soap Opera Digest just months into her new marriage.
Kelly Ripa and Mark Consuelos became parents three times over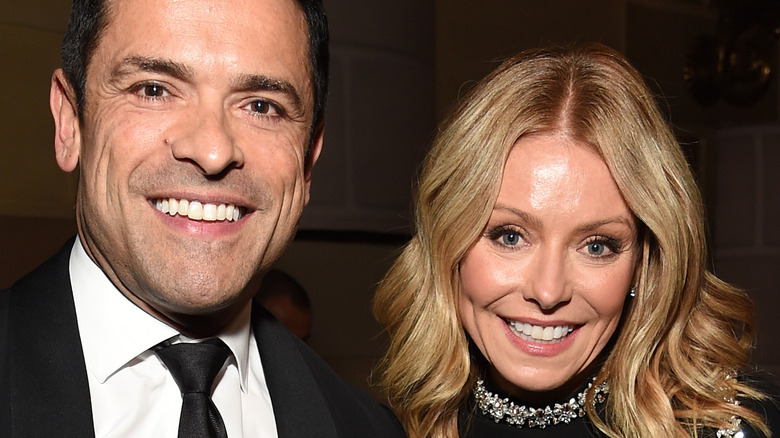 Michael Kovac/Getty Images
Just a year after they wed, Kelly Ripa and Mark Consuelos welcomed their first child, Michael. They were both still on "All My Children" at the time and not yet household names. However, Ripa was about to become a big star when she became pregnant with her second child.
Kathie Lee Gifford had just left "Live With Regis and Kathie Lee" and Ripa was one of the many performers who guest-hosted before she finally landed the job and the show's name changed to "Live With Regis and Kelly." She even announced her second pregnancy on the air with Regis Philbin — thanks to a psychic.
Ripa recalled that moment with Jimmy Fallon on "The Tonight Show" early in 2021, telling Fallon that a psychic who appeared on the show knew she was pregnant and she was forced to come clean (via E! News). Daughter Lola was born in 2001 and son, Joaquin, was born in 2003 (via Insider). The couple had three young children, had left the soap opera world, and had to navigate marriage and parenthood through stardom.
Kelly Ripa and Mark Consuelos figured out how to have a happy marriage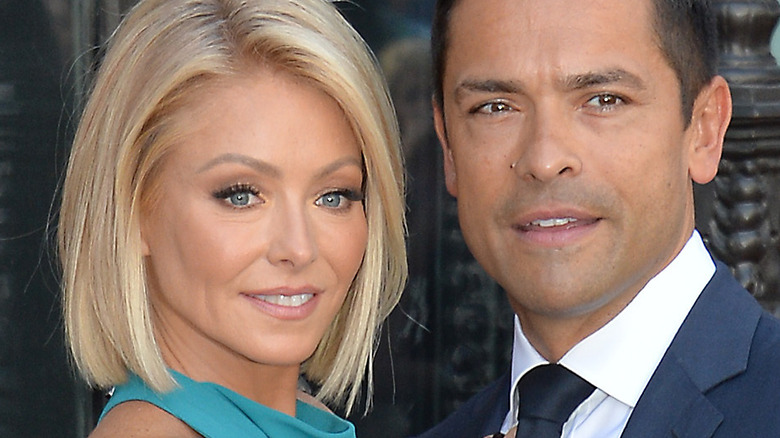 Shutterstock
Kelly Ripa and Mark Consuelos opened up about their marriage and the problems they've encountered in the years they've been together on the podcast, "Double Date With Marlo Thomas and Phil Donahue."
As their children took up their time and their careers became busier than ever, the couple had to decide if they'd let the little things get in the way of happiness. On the podcast, Ripa admitted they used to argue too much about the little things, like leaving the cap off the toothpaste, and she had to ask herself if that's what she really wanted. "Are we going to have a nice marriage or are we going to be dramatic all of the time?" she pondered. She knew they had to let things go and communicate.
"We've often said that if we had gotten divorced so many times over things at the time that seemed like a huge deal, we would have missed out on so much life and incredible moments and fun," Ripa told Donahue and Thomas (via She Knows). "There's no such thing as this perfect marriage," Consuelos chimed in. "It's the crazy stuff that you get through together that makes it all worthwhile."