What You Didn't Know About Scarlett Johansson's Twin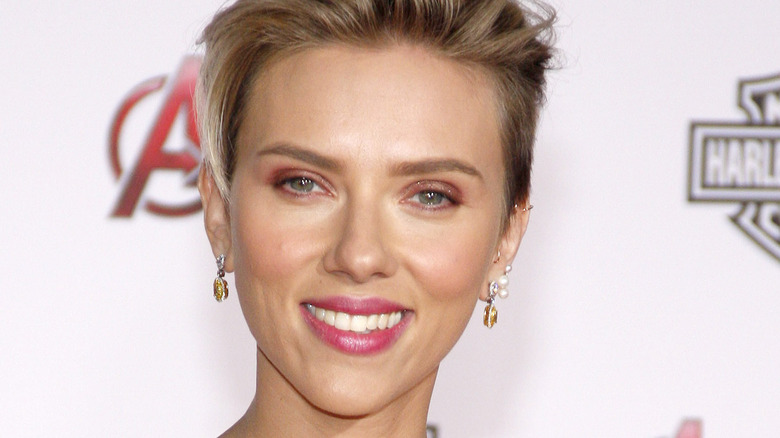 Shutterstock
For those who were "today years old" when they realized Scarlett Johansson has a twin, we'd like to confirm — yes, there's another Johansson to obsess over, and both make it easy. Scarlett Johansson played the exceptionally skilled spy in the movie "Black Widow" and had the starring role in the award-winning movie, "Marriage Story" (via Variety). The actress is currently navigating a lawsuit she filed against Disney about the release of "Black Widow," but has Hunter Johansson, a hero IRL to rely on.
Hunter, who founded nonprofit organization Solar Responders to empower first responders with backup renewable energy, called Scarlett his "other half" in an interview with Parade. "Nothing is more important to me than my twin," he continued. Scarlett reciprocated,"I feel very connected to him ... He's the most golden-hearted person. I think a lot of people spend their life looking for a partner, someone to be a mirror to reflect upon, to remind them that they've lived. You want someone to tell you what he witnessed in your life. My twin brother has always been that for me."
Hunter is three minutes younger than Scarlett Johansson
Jamie Mccarthy/Getty Images
Scarlett Johansson comes from a large family; she has an older sister, Vanessa Johansson, who's accompanied her to Glamour magazine's 2006 Golden Globes After Party as well as an older brother Adrian Johansson (via E!). It doesn't stop there, though. She also has a half-brother Christian Johansson and a younger adopted sister, Fenan Sloan who she brought along for the unveiling of her star in the Hollywood Walk of Fame.
However, of all of her siblings, she's been the closest to her twin, Hunter — emotionally and in age (via Parade). Technically, Scarlett is three minutes older than Hunter, but the actress looks up to her brother for everything that he does. "If there is a truly altruistic person I know in my life, it's my brother," she told People. "He reminds me to be a better person all the time. I'm incredibly proud of him." The two have a sibling relationship that even Elsa and Anna (from "Frozen") could only aspire to and we hope to see a bit more of Hunter with Scarlett on the red carpet.