The Heartbreaking Death Of Molly Ringwald's Father Robert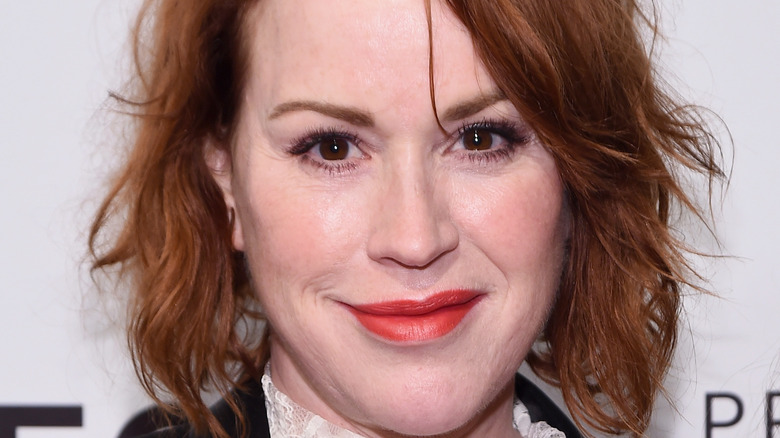 Ilya S. Savenok/Getty Images
Actress Molly Ringwald first found fame as a lovestruck teen in several classic John Hughes movies, including "The Breakfast Club" and "Pretty In Pink." Lately, however, Ringwald has enjoyed a fascinating career renaissance as Archie's mom on hit TV show, "Riverdale" (via IMDb). Although millions of fans fell for Ringwald as a sweet high school student, her modern work might just become even more beloved, introducing as it has a whole new generation to the actress's work. 
However, the John Hughes stalwart, who is well-known for her naturalistic, emotionally resonant performances, sadly found herself in unknown territory following the loss of her beloved father, Robert. Sharing the news on Instagram, alongside a slideshow of the super-close duo in happier times, Ringwald wrote, "It's with a heavy heart that my family says goodbye to my father. I consider myself very lucky to have had in my life as long as I did. Robert Scott Ringwald 1940-2021." 
Molly Ringwald is mourning the great loss of her father
Honoring her father, the later Robert Ringwald's, life actress Molly Ringwald shared the incredibly moving obituary she'd written for him with the Sacramento Bee. "Robert Scott Ringwald, known to most as Bob, and to a lucky few as Dad and PopPop, died Tuesday," she wrote, noting, "Anyone who knew Bob also knew his mischievous streak, and his ever-present, slightly ribald sense of humor." Molly even quipped, "If you didn't sufficiently beg to get off of his email joke list, you would have received one just a couple of days before he died." As Deadline reported, the jazz musician died on August 2 at the age of 80, with no cause revealed. Robert was born close to Sacramento, which explains his daughter's choice of venue to share her obituary. Likewise, Robert co-organized the very first Sacramento Jazz Festival, back in 1974.
He was legally blind as an infant, and fully blind by the time Robert reached adolescence. Despite this apparent setback, Robert began taking piano lessons at the age of 8, later mastering the guitar and banjo too, which naturally set him on the path to becoming a prolific jazz musician. Robert was married to Adele Frembd for 60 years and the couple shares three daughters. "Riverdale" star Molly included a lyric from the song "Old Bones" in her obituary, noting Robert frequently performed it in later years and she felt it "summed up his philosophy around a full life well-lived."