Pajamas To Keep You Cool During The Night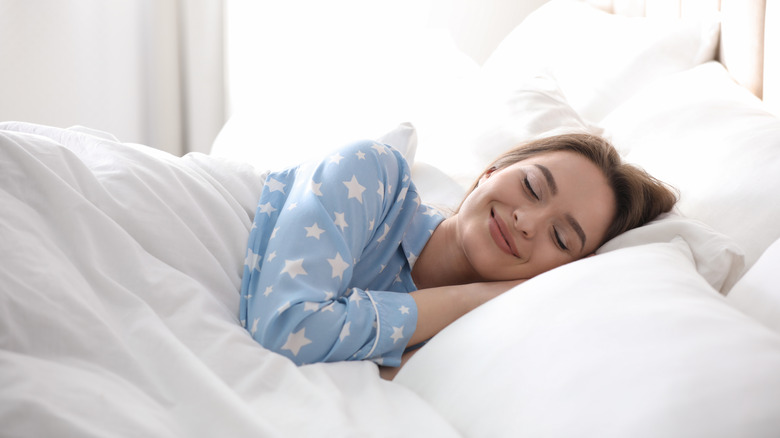 Shutterstock
We may receive a commission on purchases made from links.
Sweating at night is a common problem, and according to MedicineNet, this can be caused by medications, hormone problems, low blood sugar, perimenopause or menopause, neurological problems, and certain infections or cancers. One way to combat night sweats is by wearing pajamas that are designed to keep you cool at night.
For instance, there are the Sleepy Time Bamboo Pajamas, made up of a tank top and shorts and made from moisture-wicking, breathable, eco-friendly bamboo. For more coverage that is still cool and comfortable, there is the Eberjey Gisele Pajama Set, which includes a long-sleeve shirt and pants (via Health).
Quince's Silk Tank & Shorts Pajama Set uses thermoregulating technology to help maintain body temperature, as reported by Real Simple, making them another option for those with night sweats to consider. There is also the Noble Mount Pajama Set. The linen pants have an elastic waistband, a drawstring, and side pockets, while the linen long-sleeve top has a collar, a chest pocket, and cuffs.
Night sweats are common, but these pajamas will help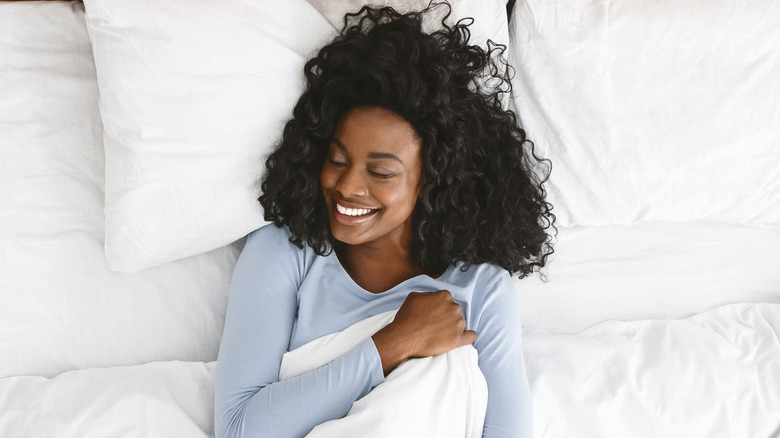 Shutterstock
Some cooling pajama ideas from Insider include the Dagsmejan Sleep Dress (the design makes it eight times more breathable than cotton) and the SHEEX® Cross-Back Cami and P.J. Shorts. The fabric is soft and keeps sleep temperature in mind, all while resisting odors.
The Lunya Cool Short and Short Sleeve Tee keeps sweat from gathering in unwanted places, while the Cool-Jams Nightshirt features a wrinkle-resistant, breathable, and pill-resistant material, a proprietary antimicrobial treatment, and comfy fabric with no itchy tags (via Well+Good).
Even pajamas made out of wool can be created with this sweaty problem in mind, such as the Chill Angel RnR Long Sleeved Crew and Jammie Boxer, with temperature-balancing properties. Shoppers may want to also consider the CoolRevolution T-Shirt (which is fitted on the shoulders and bust, roomier in the middle, and longer in the back) and Shorts, which are both made from naturally cooling fabrics, designed with hot sleepers and women with night sweats/going through menopause in mind (via New York Magazine).