The Truth About Taylor Swift And Lena Dunham's Friendship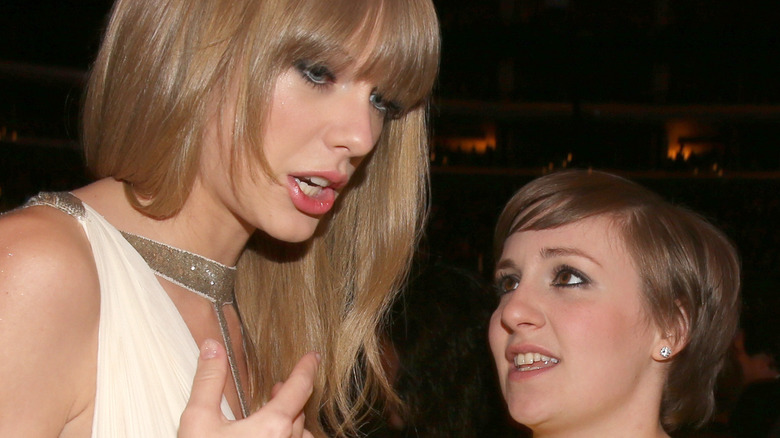 Christopher Polk/Getty Images
Just as Taylor Swift is famous for the men she's dated – and some she hasn't – the actress is also famous for surrounding herself with a number of famous BFFs. In fact, Swift became so notorious for surrounding herself with famous besties, that the group of (mostly) women in her orbit were dubbed "The Squad" (via Insider). "The Squad" represented various sectors within the entertainment industry, including models, singers, and actors, like Karlie Kloss, Cara Delevingne, Selena Gomez, Blake Lively, Emma Stone, and the multihyphenate Lena Dunham.
Back in 2012, when Swift and Dunham first became friends, Dunham's star was on the rise, thanks to the creation of her hit HBO show, "Girls." The two initially connected over social media when Dunham tweeted, "Update: @taylorswift13's album is triumphant. If she'd been here when I was in college I would have written papers on her, not Sylvia Plath." The appreciation was mutual, and eventually, online interactions gave way to IRL ones, with Dunham even joining Swift onstage at MetLife Stadium during her 1989 World Tour and appearing in Swift's "Bad Blood" video (via Billboard, Grazia).
And although they met separately, Swift's partnership with producer (and Dunham's ex-boyfriend) Jack Antonoff helped cement their friendship, with Swift even penning the "1989" track "You Are In Love" about the pair (via On the A Side, NME).
Is Lena member of The Squad? Not exactly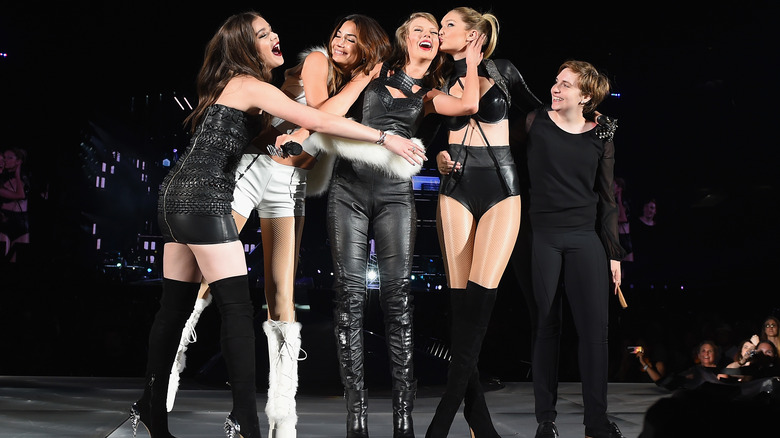 Larry Busacca/lp5/Getty Images
Despite the fact that Lena Dunham is widely considered to be part of Taylor Swift's Squad, the actor-writer-director doesn't quite see it that way, insisting in an interview with Howard Stern that she wasn't a member (via Grazia). "I'm more of a one-on-one hanger," she told Stern. "A big group hang is not my specialty."
In the years since, Dunham has remained close with Swift – even despite Dunham's breakup with Swift collaborator Jack Antonoff – and her own surprise at their friendship (via The Cut).
Dunham has publicly defended Swift in her years-long tiff with rapper Kanye West and praised her for both her music and her new-found political advocacy (via Insider). She also penned a sentimental Instagram post for Swift's 30th birthday, writing in part, "This woman is turning 30 today and what can I say. She can cook a lasagna or a lemon drizzle cake. She can cut your cat's nails gently and even knows the term 'dew claw.' She can style an outfit, paint a birthday gift by hand, plan a day that feels like an hour. She can fix a broken heart (not just with her music but with her love and wisdom.) She can dance (both hot and goofy.) She can unite friends and send the best links of the week and also, oh I forgot, slay the forces of oppression for female artists and become an irreplaceable icon."
It looks like the pair's friendship remains strong – even if Dunham has no plans to join Swift onstage ever again (via Billboard).