How To Paint Aurora Nails At Home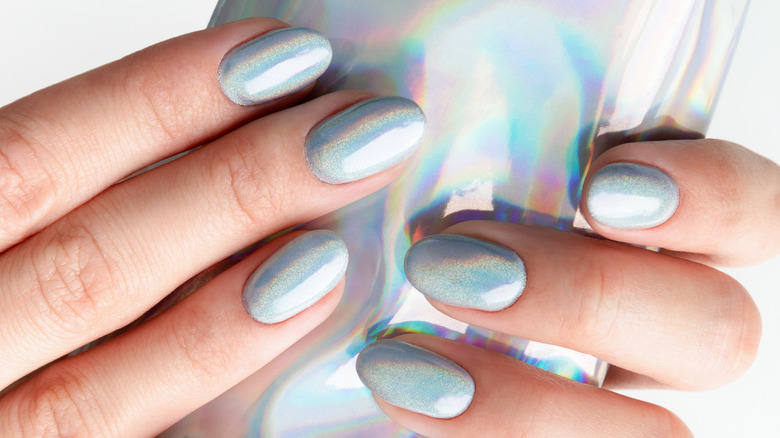 Shutterstock
From graphic to holographic trends, there is plenty of nail art that's popular (via The Trend Spotter). But the latest nail art trend might be just the best (and prettiest) yet. Per Vogue, aurora nails are everyone's latest nail art trend. Inspired by the Northern Lights — hence the name aurora — these nails feature iridescent looks, the outlet noted.
What's great about this nail trend is that it's stylish — you can splash it up with mermaid art or seashells if you'd like. Plus, did we mention that you can definitely paint aurora nails at home? Though, Bustle does recommend giving it a go at a salon first, unless you're a really experienced nail painter. "In a salon, the look is created by rubbing the nail with iridescent chrome powder," Suzi Rezler, the founder of a press-on nail brand said. "Next they would cut out an oblong of holographic foil which is smaller than your nail plate and lay it centrally top-to-bottom on the nail, using hard gel to encapsulate the foil and build a raised area. Then paint with [a] top coat for even more shine." 
But, who has all that money to spend at a salon, when you can perfectly do it yourself with just a few trial and errors in the mix? Read on to learn each step of DIY aurora nails.
The steps towards achieving a DIY aurora nails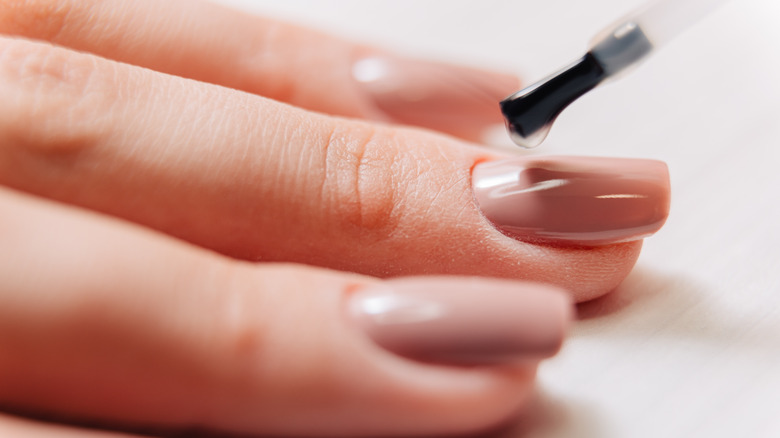 Shutterstock
Okay, so technically — as Bustle previously mentioned — aurora nails are achieved with aurora gels, which are only recommended for salon use. However, there are plenty of nail polishes that dupe the look of an aurora nail, per Vogue.
The polishes, the outlet said, should be opalescent, sheer nail polishes such as Essie Original Celebration Collection 696 Hello World White Shimmer or Nails Inc Worlds Your Oyster Babe Iridescent. These polishes, Vogue noted, will capture the aurora nail look perfect because they'll replicate the manicure signature light-reflecting properties and shimmery finish.
So, not only can you get a perfectly aurora nail manicure at home, but did we also mention how inexpensive these polishes are? Both are under $10 (via Vogue), which beats a $40 (or more) aurora manicure at the salon. And, as always, if you're not into painting your own nails (or simply don't know how to), there's also press-on nails, available at Etsy, Bustle revealed.