How To Make Your Pajamas Stylish Enough To Wear In Public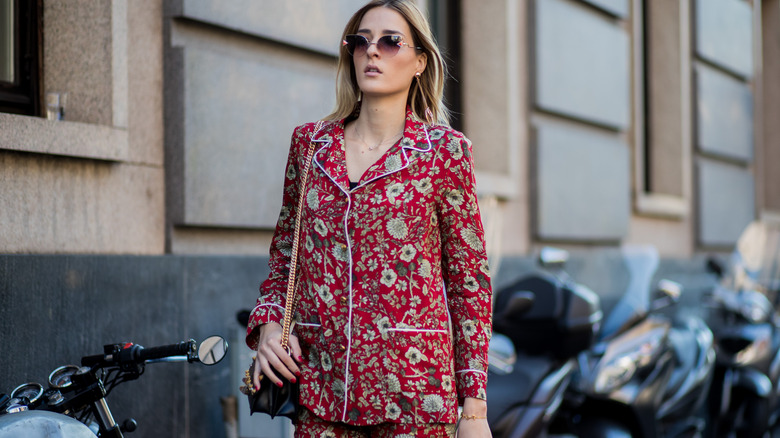 Christian Vierig/Getty Images
If you happened to work from home during the COVID-19 pandemic, you probably found yourself working while wearing your pajamas. Now that many offices are opening back up, you might find yourself longing for those easy days of working from home in your PJs. While they might never be suitable for the office, unless you work in an incredibly casual setting, you might be able to pull off wearing your bedclothes in public without anybody being any the wiser, according to InStyle. 
Although the pajama dressing trend didn't begin with the pandemic, it certainly gained more followers after so many people got used to dressing solely for comfort amid lockdowns. Vogue reported that pajamas as streetwear showed up a few years ago when people wore glammed-up versions of their nighttime favorites while going about their daily lives. You, too, might be able to make this look work, but it takes a bit more effort than simply rolling out of bed in your trusty old PJs.
The dos of wearing pajamas on the street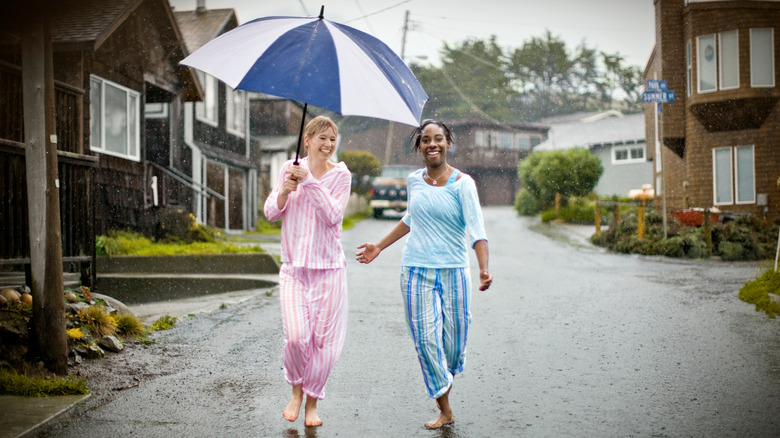 Shutterstock
There are a few great ways to make your pajamas stylish enough for streetwear, according to InStyle. Typically, you should avoid wearing a whole set as daywear. Instead, take one element from your nightwear and pair it with a complementary piece. From wearing your PJ top as a button-down, tied up for a comfy crop, or as an oversized sweater paired with structured bottoms or outfits, you can make the outfit pop with some careful consideration. A solid satin PJ top also looks terrific with baggy, patterned jeans. 
If you're more interested in enjoying the comforts of roomy and stretch pajama bottoms, you can do that too (via InStyle). Take a pair of patterned pants and pair them with a structured top that pulls out one of the colors in the pants and slide on some chic slides. If shorts are more your thing, then use a sleekly patterned silk pair with a solid colored top. Even your bathrobe could make an appearance. Think of the sheer overcoats popping up everywhere this summer. If you have a similar sexy, sheer robe, consider putting it on over shorts and a top and leaving it up, flowing as you walk.
If you simply must wear a matching set, InStyle suggested fully committing to the look and wearing it confidently. No matter what you wear, ensure you feel comfortable and happy before leaving the house.