This Is What Paris Hilton Typically Eats In A Day - Exclusive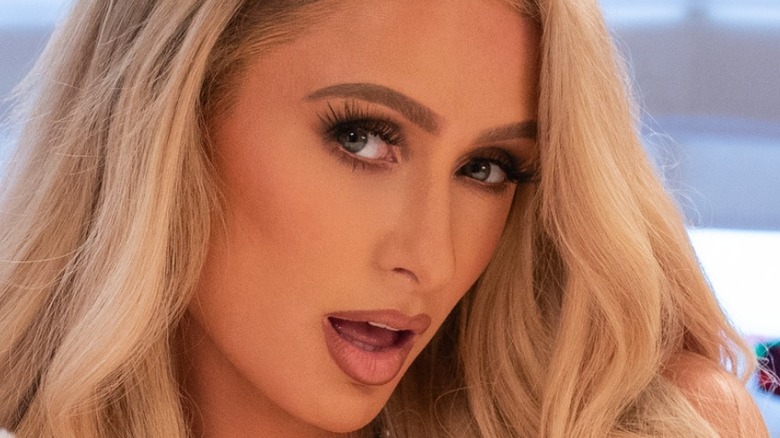 Netflix
For those who have already watched at least a few episodes of Paris Hilton's latest television series, "Cooking with Paris," on Netflix, chances are you've wondered what her meals typically look like. After hearing her wax poetic on cereals, observed her love of cheese and, of course, her admiration for McDonald's fries, per Eater, curiosity takes over. Besides, when meals tend to require some preparation a day in advance, chances are that isn't the status quo. Luckily, Hilton talked with The List and dished on what a day of meals looks like for her.
"I love breakfast. That's one of my favorite meals," Hilton explained. "So every morning, I have either French toast or pancakes or a breakfast sandwich and cereal, like Lucky Charms or Frosted Flakes and fresh-squeezed orange juice and celery juice, if I'm trying to be healthy," she detailed. Her typical breakfast really aligns with the brunch she made with Kim Kardashian on "Cooking with Paris" too. The friends created cereal-encrusted French toast among other delicious breakfast dishes, such as the frittata, that have since become a go-to for Hilton as she told The List.
These are her meals for the rest of the day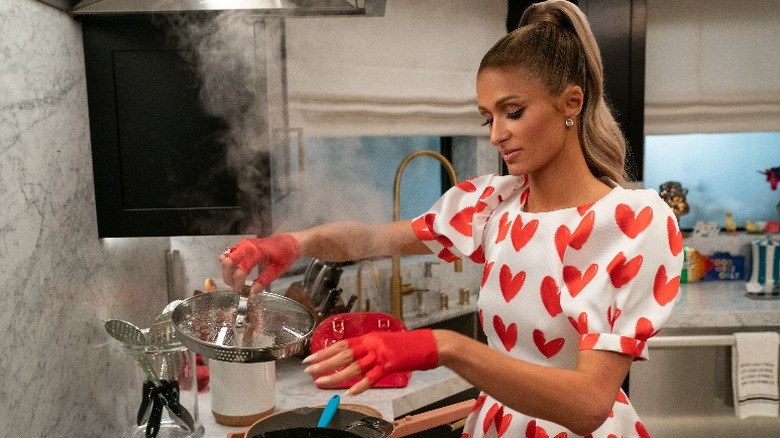 Netflix
After putting in more effort to make breakfast items like French toast, pancakes or a breakfast sandwich, lunch is much more simple for Hilton. "And then for lunch, I love making sandwiches, with baguettes and turkey and cheddar cheese and lettuce and mayo and mustard, with fruit and smoothies," Hilton said. The simple assembly for both sandwiches and smoothies should make for a quick lunch that is fairly balanced. Besides, using great, high-quality ingredients like baguettes and good deli slices can elevate any sandwich.
For dinner, Hilton takes to the kitchen again to whip up another list of more involved dishes. "Dinner could be anything," she said. However, one of her favorite go-to dinners is actually what brought "Cooking with Paris" to life: her sliving lasagna, seen on YouTube. "I love making lasagna obviously and pasta. I'm really good at doing Italian night. So anything Italian, I love to eat, and that's usually what I have for dinner," Hilton said. If the dish was good enough to get her a deal with Netflix as she told The List, it must be good enough to eat on the regular.