Of All Of Dolly Parton's Looks - This Stands Above The Rest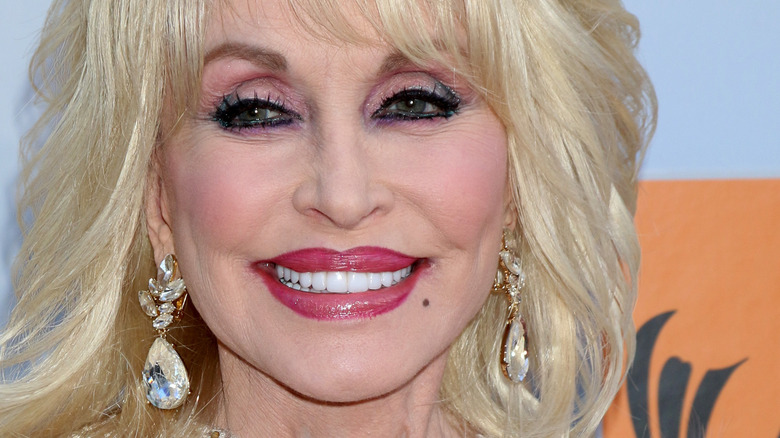 Shutterstock
Dolly Parton is one of the world's most beloved pop culture icons. The singer/songwriter has been a fixture in the industry since the '60s! With that many decades in the spotlight, it's no surprise that Parton has provided her fans with many iconic fashion choices.
What Parton wears has been widely discussed. We've come to know her signature look always includes long sleeves. There has been much speculation as to why she chooses to have her arms covered. Distractify shared that fans have often assumed Parton had sleeves of tattoos that she wanted to hide. As it turns out, there is some truth to this assumption. Parton does have some tattoos, but whether or not that's why she always wears sleeves seems to be up for debate.
Regardless of the reasoning behind her fashion choices, one thing is for certain: Parton knows how to dress. She has had some beautiful looks over the last several decades, but one stands out above the rest.
The look that stands above the rest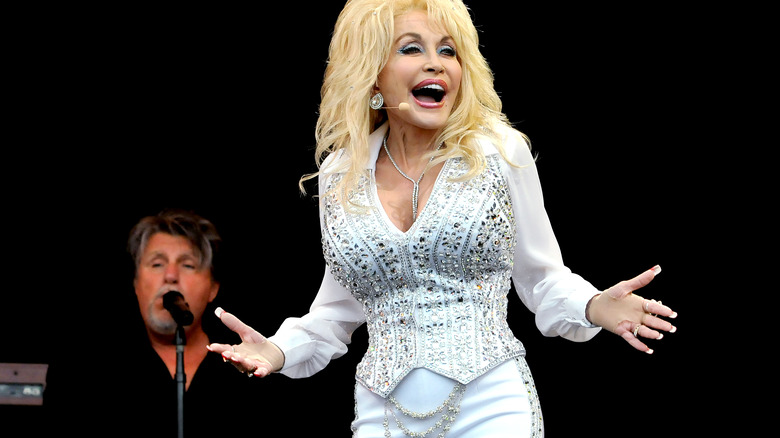 Jim Dyson/Getty Images
Parton is considered a fashion icon to many. However, some regard her looks as tacky (via The Guardian). Parton isn't afraid to admit that her fashion isn't for everyone. The singer's own catchphrase is "It takes a lot of money to look this cheap." Fans have come to know and love Parton's iconic fashion over the last several decades, even if she considers them cheap-looking.
Parton has had several iconic looks. She recently sat down and broke down her most iconic looks from the start of her career to the present, via People. One look stood out amongst the rest. Parton was sporting a white sequined pantsuit by designer Steve Summers. This outfit is the quintessential Parton look — It is what fans have come to expect from the singer, but it is done to perfection.
She wore this look at the Glastonbury Festival in 2014. The New York Post described Parton's outfit by praising the ode to Elvis. Her trendy white pantsuit that featured sheer panels looked like something directly from the late singer's wardrobe. The outfit paired with her signature blonde hair was everything we've come to love from the singer. This look was Parton perfection.