Cara Delevingne Almost Starred In A Massive Disney Movie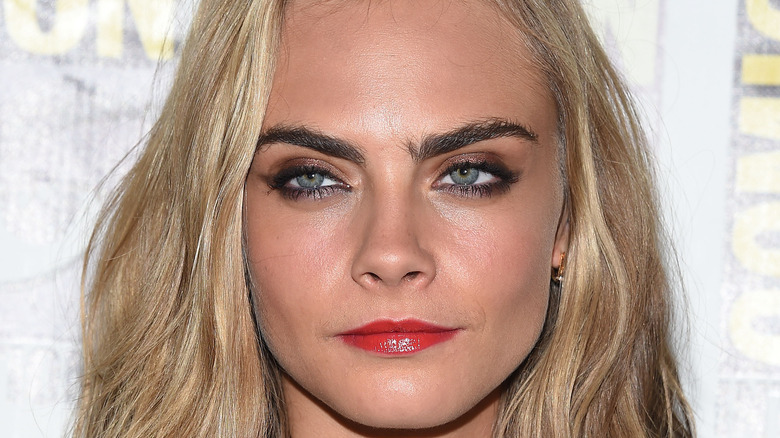 Shutterstock
Thanks to her trademark brows and smoldering eyes, supermodel Cara Delevingne was discovered by a London modeling agency when she was just 10 years old, but it took years to build her confidence. In a 2013 interview with W Magazine, Delevingne stated, "I was thinking, 'how do I set myself apart from the other girls?'... So many girls were taller, skinnier, and prettier. And I'm not a girly girl at all — I didn't get boobs until I was around 18!"
Lucky for Delevingne — and us — she had a secret weapon. "I treat the camera like a person — I gaze into it," she said. "Photos are a flat thing, and you need to put life into them." After reaching the height of her success on the runway, modeling for designers like Chanel, Burberry, and Dior (via Business of Fashion), Delevingne transitioned from the catwalk to the silver screen.
Her first acting roles came with 2011's "Anna Karenina" and 2014's "The Face of an Angel" before landing the lead in John Green's film adaptation of "Paper Towns" (via IMDb). Since then, Delevingne has continued to hone her acting chops, starring in 2016's "Suicide Squad," 2017's "Valerian and the City of a Thousand Planets," and 2019's Amazon Prime original series "Carnival Row."
It's safe to say that Delevingne has taken the modeling, television, and film industries by storm, but, according to ET Online, she almost became a household name way back in 2010.
Cara Delevingne almost played the title role in 'Alice in Wonderland'
While studying at Bedales private boarding school in Hampshire, Cara Delevingne learned that Tim Burton was casting his new live-action remake of Disney's "Alice in Wonderland." In true risk-taking fashion, the 17-year-old sent in an audition tape for the titular role. "My interpretation of Alice was a little crazy ... I overplayed it — the way a young girl would overplay all her emotions," she said (via W Magazine).
Yet, something in Delevingne's audition struck a chord with producer Richard Zanuck and his wife, Lili. "I sent my tape off, and then I was at a wedding and [Zanuck] came over to me. She said, 'You don't know me, but I know exactly who you are,' " she recalled (via W Magazine). Delevingne made it so far in the casting process that she even had a private meeting with Burton at his home. As we all know now, the eccentric director ended up going with another Brit, Mia Wasikowska, to take on the role of Alice, but the entire experience was integral to Delevingne eventually making it in Hollywood.
"I didn't get the part, but that experience lit a fire in me," she said. With multiple films still to come from Delevingne, it appears that fire won't be going out any time soon.