The Best Sunscreens To Use If You Have Rosacea
Shutterstock
We may receive a commission on purchases made from links.
Here's the thing about sunscreen — it's essential, even if you don't realize it. You may think you're invincible, but the sun can cause long-term damage if not properly managed, and there are countless brands and styles of sunscreen which means there is definitely one for you. Whether you're into spray sunscreen or lotion sunscreen, you should investigate this essential product (and never believe these false beliefs about sunscreen).
Finding the right sunscreen for you might take time, but it'll be worth it. Nowadays, sunscreens are even formulated with special properties so that every kind of skin has a sunscreen that's perfect specifically for it. And there are reasons you should take advantage of this. If you wear sunscreen daily, you can lower your risk of developing skin cancer, lower skin inflammation, lower your chances of skin discoloration, and, of course, lower your risk of getting a sunburn (via Mahoney Dermatology).
It can be hard to find the right sunscreen for your skin, but that's why we've got you covered. Below are the best sunscreens to use if you have rosacea.
These are the true MVPs of protecting people with rosacea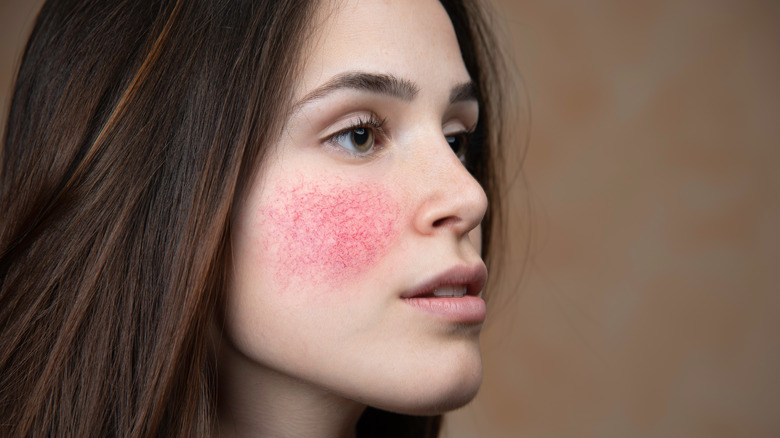 Shutterstock
Rosacea can be tricky to work around, but there's no reason to worry — we've got you covered with the best sunscreens for people with this skin condition. According to Byrdie, rosacea is "a common condition where the skin flushes more easily, resulting in redness, sensitivity, and uneven texture." Sunscreens can be particularly triggering for rosacea because of their chemical filters and fragrances, but some are formulated now to apply smoothly without triggering the skin. This is especially important because people with rosacea are more susceptible to UV radiation, per Byrdie.
This is why specialty sunscreens are needed. Some of the best sunscreens for people with rosacea to use include La Roche-Posay's Anthelios Tinted Mineral Ultra-Light Fluid Broad Spectrum Sunscreen, CeraVe's 100% Mineral Sunscreen, InstaNatural's Vitamin C Moisturizer, Drunk Elephant's Umbra Sheer Daily Defense Broad Spectrum Sunscreen, Black Girl Sunscreen's Make It Matte, and Biossance's Squalane + Zinc Sheer Mineral Sunscreen (via Byrdie).
Each of these sunscreens boast properties that help rosacea and dry skin, and they'll protect you from the sun's harmful rays all day. These also offer a variety of skin tone options, meaning anyone with rosacea can find a product that they can not only use, but love.