This Is How Most Parents Really Feel About Kids Wearing Masks In School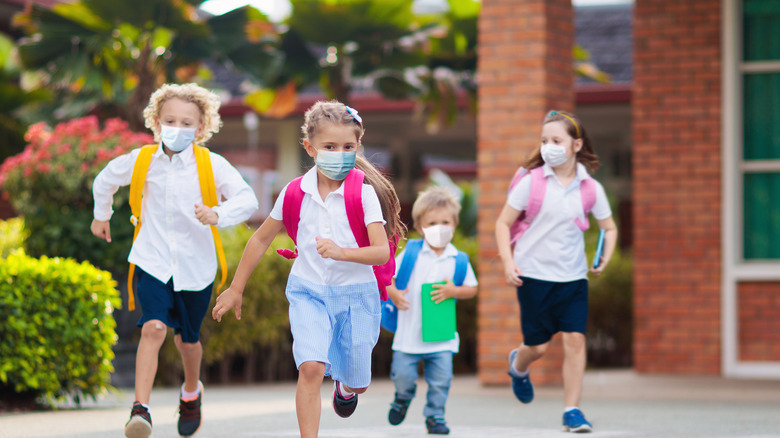 Shutterstock
With schools across the United States opening or set to open any day, the country is undergoing a fourth wave of the COVID-19 due to the much more contagious Delta variant that is ripping through the unvaccinated population. All children under the age of 12 are part of that population as vaccines have yet to be approved for America's youngest citizens (via New York Times). This has also caused the mask debate to once again come into play as some governors are forbidding schools from implementing mask mandates like Florida's Ron DeSantis (via CNN) or leaving it up to individual districts like Pennsylvania's Tom Wolf (via The Philadelphia Inquirer). This has left many parents up in arms wondering if their children will be safe, especially in states with lower vaccination rates.
On May 13, 2021, the CDC told vaccinated Americans they could stop wearing masks in indoor settings but the unvaccinated should continue to mask, leaving a good chunk of the population to work within the honor system (via Reuters). On July 27, the CDC reversed course for areas with high COVID transmission when evidence emerged that even vaccinated people could spread the new Delta variant, according to NBC. The same day, the CDC recommended that K-12 children should be masked in schools regardless of their vaccination status (via CNN). But how do parents feel about a second school year starting where their children are masked up, especially with Delta sending children to the ICU more than previous coronavirus variants?
Parents prepare for a new school year with the mask issue back at the forefront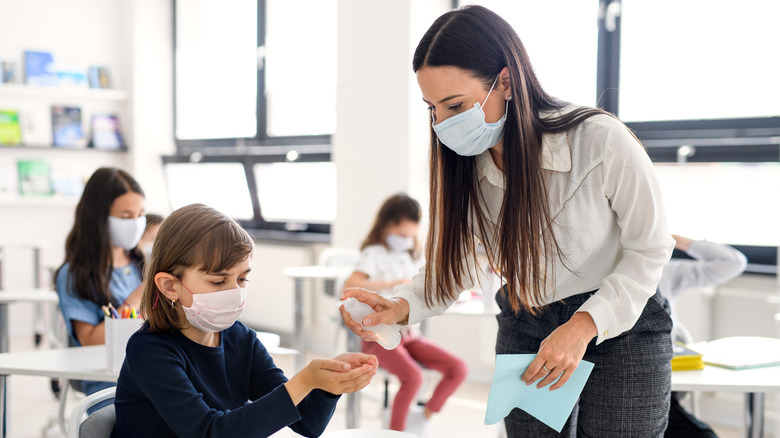 Shutterstock
According to a poll from the Kaiser Family Foundation, most parents want to keep their children protected from the COVID-19 Delta variant via masks. A full 63% of respondents said they want schools to require masks for unvaccinated teachers, staff, and students (via The Washington Post).
The responses were also divided down party lines, as masks and public health safety have been part of the political debate since the pandemic began in 2020. The Kaiser poll found that 88% of people identifying as Democrats are in favor of requiring masks, while 69% of people identifying as Republicans are against it.
The poll also found that 58% parents with adolescent children who are eligible for the COVID-19 vaccine do not think schools should mandate it, despite parents having to show their child's vaccination records when first registering them for school as small children. As of late July, only about 30% of teens aged 12-17 were vaccinated against COVID, despite it being available for 12 and up since May, according to CNN.