Inside Scarlett Johansson's Relationship With Bill Murray
Kevin Winter/Getty Images
In 2021, Scarlett Johansson is probably best known as Natasha Romanoff, aka the Black Widow, who died in "Avengers: Endgame" but whose story was told in a prequel, aptly titled "Black Widow." She is currently making headlines for suing Disney over releasing the film in theaters as well as on the streaming service Disney+ (via The Wall Street Journal) so that people still vulnerable to COVID-19 can see the film in their own homes. 
But, in 2003, she was a little-known teenage actress who found her breakout role starring opposite comedic legend Bill Murray in "Lost in Translation." Johansson was only 17 years old when she made the Sofia Coppola movie, and she barely had any adult roles under her belt at the time, according to Showbiz CheatSheet. 
Meanwhile, Murray was a seasoned pro who had been in Hollywood for decades. He came to fame in New York as an early cast member on "Saturday Night Live" and was making hit film after hit film by the 1980s, including "Stripes," "Caddyshack," "Groundhog Day," and "Ghostbusters" (via IMDb). 
Despite the age difference between the two co-stars, what you see on screen between Murray and Johansson works because each plays characters from very different backgrounds who form an unlikely bond on a trip to Tokyo.
Scarlett Johansson said Bill Murray was a pleasure to work with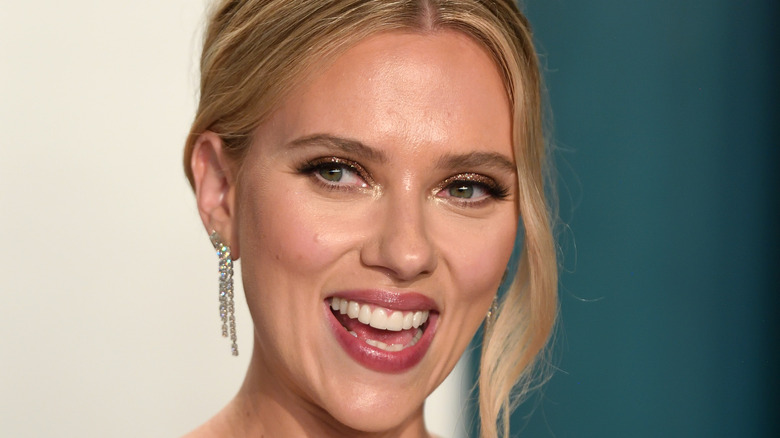 Karwai Tang/Getty Images
Being the teenage actress playing the young adult lead in a major motion picture would be challenging for anyone, but Scarlett Johansson admitted it was especially hard for her because Bill Murray's personality surprised her. The age difference didn't help, either. "It was hard to relate to one another, but I think what worked is that when the cameras were rolling and [it] actually came time to do the work, we worked really well together," Johansson told Howard Stern in a 2017 interview.
She admitted that Murray would ad-lib a bit, but that didn't take away from the work at hand. "There were lines that kind of were a guide and then he would improvise, but most of the dramatic scenes that we do together were written," she said.
Johansson said she was a bit starstruck by Murray, although he was still a pleasure to work with. "I've always been a huge fan of Bill's and 'Groundhog Day' is one my most favorite movies ever," she told LiveAbout.com. "It was a lot of fun. He's very serious as an actor, like most comedians are, and he was very giving on camera and off."