How To Pull Off A Goth Look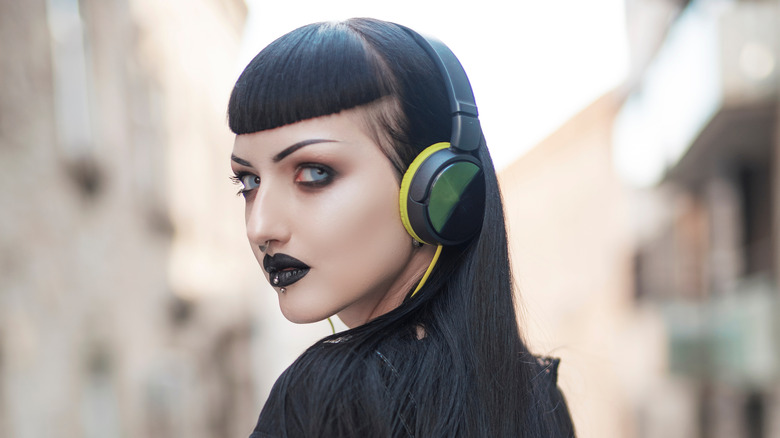 Shutterstock
It's time to find your best all-black outfit and thick black eyeliner. Because the goth look is in. Perhaps it's the aftermath of an incredibly "off" year. Or maybe the dark rebel look never really left. But the darker vibes of goth are ricocheting on every window facing the street. For the color-obsessed, this look might be confusing. 
What is goth? When all is said and done, goth is a serious ode to all that is dark and mysterious (via What Is Goth). This love of darkness can infect your interior design taste, your deepest thoughts — and yes, your wardrobe. If you're intrigued, then let us share with you how to pull off a goth look.
Firstly, there are plenty of different goth looks you can go for: hippie goth, corporate goth, cyber goth, Victorian goth, and geek goth (via Rebels Market). Dark colors are your go-to for pulling off the look. The good news is you don't always have to go for black. Deep green, red, indigo, and purple are other colors goths wear. 
Choose your favorites, as well as fashions that suit you. Fancy a black bucket hat and some black velvet suspenders? Then you're likely a geek goth. Are you picturing how your sleek black-on-black ensemble will go over with the board of directors? Then you're likely a corporate goth. Feel free to play around with styles that you like best, from long gowns and corsets (Victorian goths) to free-flowing clothing and crystals (hippie goths).
Wear goth looks you love best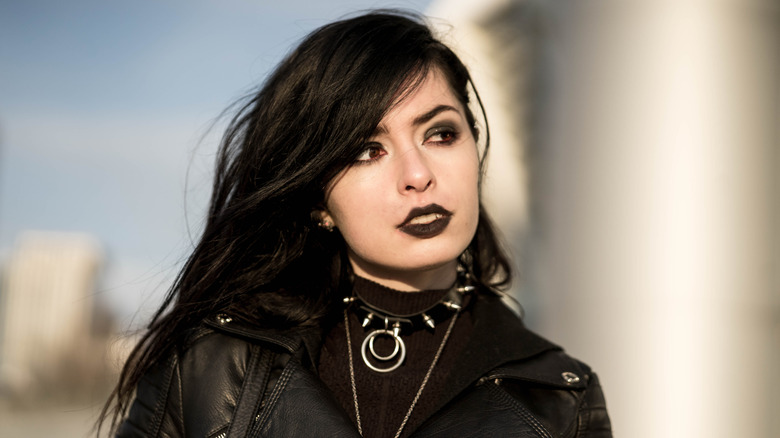 Shutterstock
Goths love a great shoe, from platform high heel boots to Doc Martens. If they have silver studs on them, even better. Don't forget the accessories, as these really help you express your dark personality. Everything from cross pendants to chains to dark floral headbands is up for grabs. Since goths love celebrating the darker things in life, look for necklaces, bracelets, rings, and handbags featuring skulls, coffins, spikes, or fangs — whatever fits your personal style.
Are you in the mood to experiment with your makeup? Many of us immediately think of black lips and smoky eyes when it comes to the goth look. But really, a dark purple lipstick and a heavily lined upper eyelid might make your whole look more sophisticated (via Mysa). You may also want to play around with a navy or metallic purple shimmer on your eyelids. No one said goth and glitter couldn't be friends.
When it comes to hair, naturally, black locks are goth-friendly. But those known as pastel or hipster goths play around with all kinds of colors, including pink, blue, green, and blond (via Rebels Market). Once you've identified your style, you'll know where to take your goth look.