Mitch McConnell Has Something Unexpected To Say About Joe Biden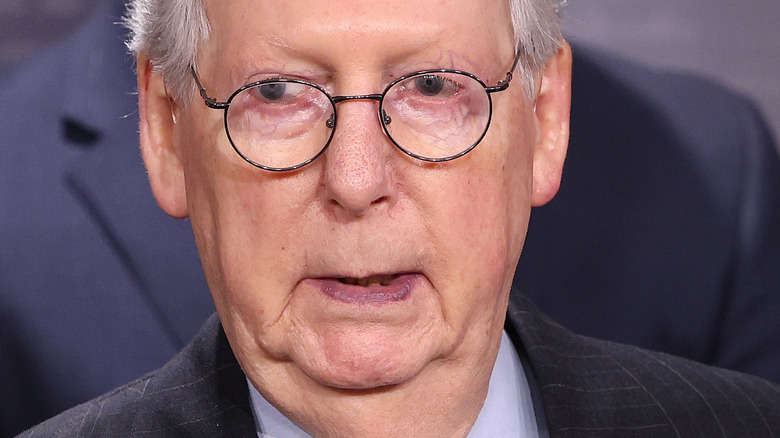 Kevin Dietsch/Getty Images
When President Joe Biden's landmark Infrastructure Investments and Jobs Act passed on August 10, the president highlighted the importance of bipartisanship within the Senate by crediting both sides for making it happen. "I want to thank the group of senators, Democrats and Republicans, for doing what they told me they would do... They said they were willing to work in a bipartisan manner. And I want to thank them for keeping their word. That's just what they did," Biden said (via ABC News).
Biden also acknowledged the difficulty in securing a bipartisan deal, particularly in today's polarized political environment, saying, "I know compromise is hard for both sides, but it's important — it's important, it's necessary — for a democracy to be able to function" (via The Wall Street Journal).
While the president's words might have been expected, what followed from his political opponent, Senate Minority Leader Mitch McConnell, was not, as he gave Biden credit for getting the bill over the finish line. McConnell's comment reflected the same measure of relief expressed by the president as he said: "When the president ran for office, he said he was a moderate, so I was looking for some evidence of it. And we finally, finally found it."
Mitch McConnell said it was easy for both sides to cooperate on an infrastructure deal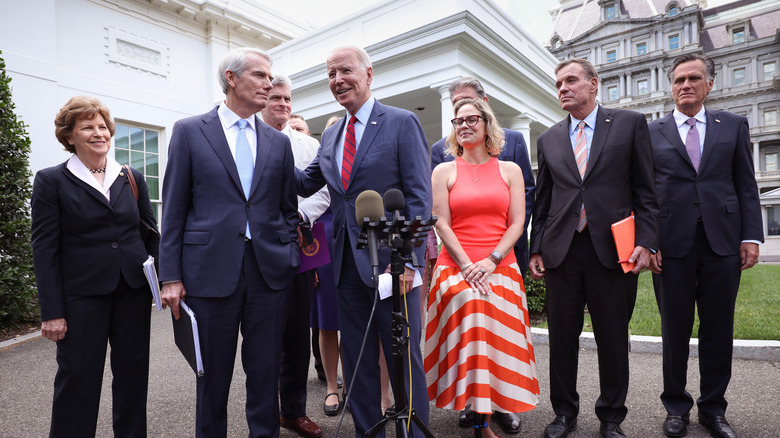 Kevin Dietsch/Getty Images
The bipartisan agreement comes as something of a shock to observers from both sides, because just three months ago, McConnell went on the record to say that "100% of his focus is standing up to this administration" (via NBC News). 
But McConnell now tells The Wall Street Journal that what he said wasn't meant to be interpreted in the way that it was, because he had always believed there was room to cooperate, particularly where infrastructure was concerned. "Infrastructure is popular with both Republicans and Democrats. The American people, divided, sent us a 50-50 Senate and a narrowly divided House. I don't think the message from that was, 'Do absolutely nothing,'" the Senate minority leader said. "And if you're going to find an area of potential agreement, I can't think of a better one than infrastructure, which is desperately needed."
But not everyone is pleased. The bipartisan infrastructure deal has made former President Donald Trump so angry he has threatened "lots of primaries" that are expected to target sitting GOP senators (via Forbes). But as CNBC points out, that threat didn't get any traction with senators that backed the legislation, because a number of them, including Ohio's Rob Portman who led negotiations on the Republican side, are retiring. (McConnell, for his part, didn't want to comment on Trump.)
Other opportunities for bipartisan cooperation may be limited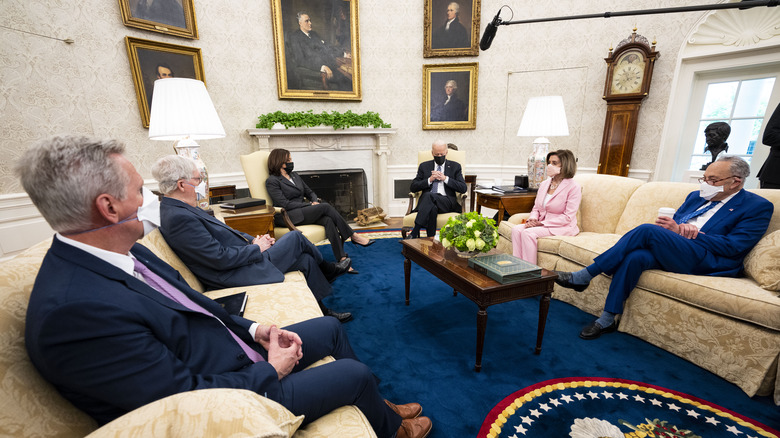 Pool/Getty Images
Other than the fact that the infrastructure deal was a win for both sides, Mitch McConnell also had a pragmatic reason to support the legislation. There are growing calls to end the filibuster rule that requires 60 votes to advance legislation in the Senate, and as Texas GOP Senator John Cornyn put it, "He [McConnell] wanted to help to try to demonstrate that the Senate isn't completely broken and it can work on a bipartisan basis" (via The Wall Street Journal). 
This means that the Democrats cannot expect all legislation to pass as smoothly, and this was seen when the $3.5 trillion budget resolution was passed by the Senate in a vote along party lines just hours later. McConnell has also said his party would not work with the Democrats to raise the debt ceiling, to pass voting legislation, or to roll back tax breaks enacted by the Republicans in 2017.
Still, the Senate Minority leader now indicates he is prepared to listen. As he told the WSJ, "When they want to try to do something in the middle, we can talk."