What Happens When You Don't Wash All Of The Dye Out Of Your Hair?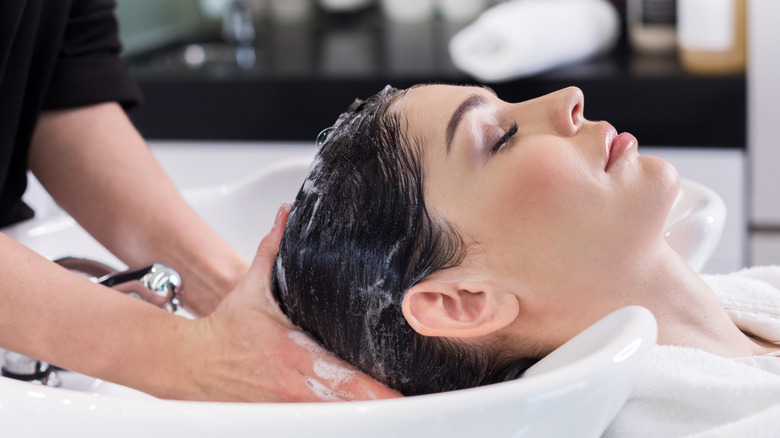 Shutterstock
Whether you dye your hair to conceal your gray strands, to look trendy, or for any other reason, the procedure can completely transform your looks. According to renowned British hair colorist Josh Wood, dyeing your hair can also enhance your confidence. "Like any other color that we embrace, hair color is fundamental to our self-confidence and the way we want the world to perceive us," he told Psychologies.
What's more, you don't even have to worry about your hair becoming dry, brittle, and lifeless due to the presence of chemicals in hair dyes anymore. With new technologies and formulae, you now have the option to use bleach and ammonia-free hair colors that not only prevent your tresses from being damaged but also help them look healthier by sealing down the cuticle of the scalp (via Elle Canada).
Aside from that, and as against some myths, hair colors can add more volume, strength, and even make your hair free of frizz (via Leon Studio One). Experts, however, encourage using certain products to maintain the vibrancy of color-treated hair, such as special conditioners and shampoos (via Good Housekeeping).
While coloring your hair can be beneficial, there are some dos and don'ts you should follow if you want your hair to remain healthy. For instance, you might want to know how soon your must wash your hair after applying the dye or what happens when you don't wash all of the dye out of your hair. Keep reading to find out.
What happens when you leave the dye in your hair during a wash?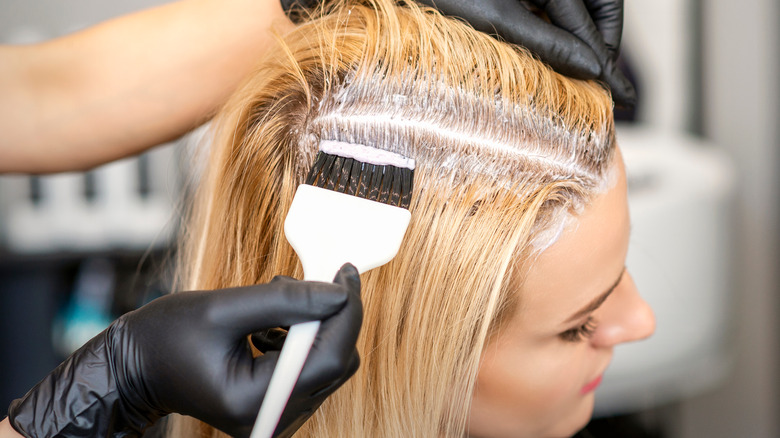 Shutterstock
While some people might have the urge to leave a little bit of dye on their hair during the first wash thinking the color will stay longer, others end up doing it unknowingly. Hair experts, however, suggest that you should wash your hair properly and get all the dye out of your hair when washing it for the first time. 
If you don't properly wash off all the dye from your hair, your tresses could end up looking dull and flat. Moreover, residue from the hair dye could make your hair brittle and weak, and therefore, prone to more breakage than usual (via Beach Wave Perm). 
Leaving dye in your hair can even lead to discoloration and fading, especially if you have used a darker shade of dye. Moreover, due to the presence of several chemicals in hair dyes, your hair might smell bad if you don't properly wash it off.