The Essentials You Need To Pack For Your Beach Vacation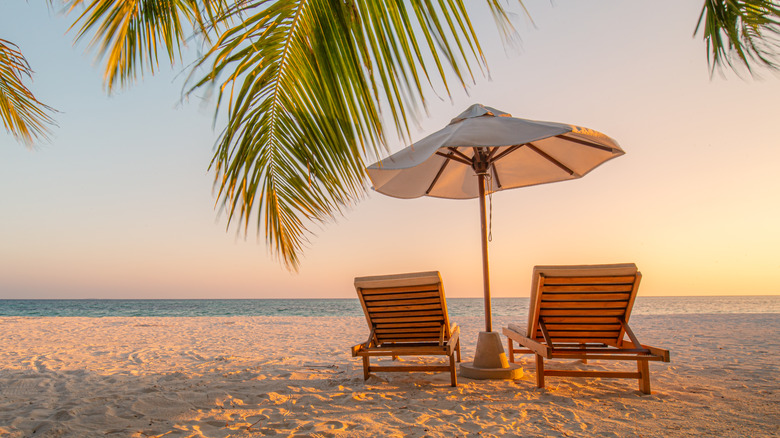 Shutterstock
We may receive a commission on purchases made from links.
The beach is a prime vacation spot any time of the year, offering the perfect scene for a long romantic weekend or a week spent with the family. With many beach destinations across the globe, there may be one area you favor over another, but whether you hit the Caribbean or the Jersey Shore, there are essentials that must be brought along. First and foremost, make sure you have your government ID, medical insurance cards, credit cards, and passport easily accessible. Of course, you don't need your passport unless you're leaving the United States, but some prefer to travel with it regardless of their destination.
While a beach destination is typically warm and sunny, you might encounter rainy days and cooler evenings. Wendy Mak, author of The Capsule Wardrobe: 1,000 Outfits From 30 Pieces, told Afar magazine that for a seven-day vacay, she'd "pack two to three pieces of swimwear (so that they have time to dry in between), a pair of shorts and a couple of skirts, four tops" to match her bottoms, and "a dress in case" she visits "somewhere special." She added that mixing and matching the tops and bottoms can create a minimum of 13 outfits, and suggests bringing pants and a light sweater for the evening. Flip flops or slides, casual sandals, and one nicer shoe for classier evening wear are also a must. Fitness enthusiasts should also pack workout gear.
Where you stay determines what you should pack, too. Keep reading for more details. 
What you bring depends on where you stay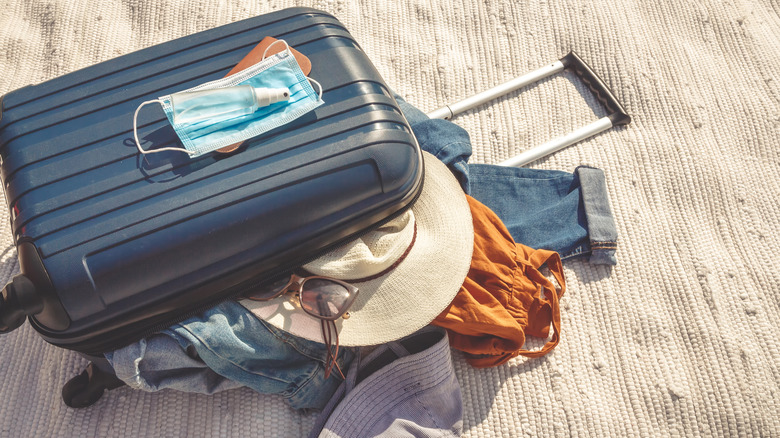 Shutterstock
Where you stay — an Airbnb, a swanky hotel, or an all inclusive resort — will determine how much you really need to pack. If the hotel does not provide beach chairs, towels, or umbrellas, you'll need to take those along. According to Afar, you will also want a beach bag to carry your sunscreen, lip balm, portable speaker, dry bags, and snacks in, as well as a cooler and beach reads.
The vacation spot you stay at may provide toiletries, like soap and shampoo, but make sure you call and confirm before leaving some of your beauty essentials home. Necessities you don't want to forget include a toothbrush, toothpaste, deodorant, eye drops, a razor, and your skin care items. Also bring a first-aid kit of over-the-counter medicines for pain relief and allergies, Band-Aids, bug spray, and burn relief, as well as all necessary prescriptions. Finally, Traveling Mom reminds us that the times have changed, and with varying pandemic rules, packing masks, hand sanitizer, and disinfecting wipes is important.
Of course, you can pack as lightly or heavily as you want, but this list is a great starting point to help you pack for your next beach vacation.